[Reposting to the top with Updating Rankings as of October 22nd!
This will be the final ranks we put out before the season starts, so cross your fingers these look good when we reflect on them at the end of the year!]
Here it is, folks!  Below is our official Razzball Basketball top 200, which we'll be updating through the preseason, listed with Yahoo position eligibility and accompanied by a small blurb for my reasonings.  Which isn't a word?!  What if I have more than one reasoning!?
And as an extra step up from last year, Slim has included his projection for each player.  All in this one, easy to use list!  Slim and I see eye-to-eye on most things fantasy hoops, but he'll of course have some differences of opinion.  So if you see a Slim projection that looks variant from my rank, you'll know why!  And as always, we're both always hitting up the comments and can [attempt to] explain our reasonings… There it is again!  I want it plural, dammit!  Here's our one stop shop for our 2014-15 Fantasy Basketball Rankings: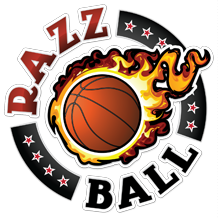 2014-2015 Fantasy Basketball Rankings
(updated Oct. 22)
(rankings geared for H2H Leagues)
(stats by FT%/FG%/3PTM/PTS/REB/AST/STL/BLK/TO :MPG)
| | | | |
| --- | --- | --- | --- |
| RANK | PLAYER, TEAM | POS | NOTE |
| 1 | Anthony Davis, NOP | PF, C | Durant injury puts the Brow to numero uno. Viva El Brow! |
| | Slim's Projection: | | .510/.780/0.4/23.5/9.8/1.8/1.5/3.0/1.9 :38 |
| ↑ 2 | Stephen Curry, GSW | PG, SG | Steady as she blows, big threes and big dimes, with a vault in the latter in 13-14. Kerr as the new coach shouldn't change anything and Curry still has ThrAGNOF king Klay Thompson to camp for treys. |
| | Slim's Projection: | | .465/.900/3.5/24.0/4.1/8.7/1.7/0.2/3.6 :38 |
| ↓ 3 | Kevin Durant, OKC | SF, PF | The surgery actually makes me a little confident. I'm of course just out of medical school, but surgeries are more and more effective these days, and I think he'll be back and at full strength mid-December. Ride the storm until then, make the playoffs, and you have fantasy's best per-game player to win your league title. |
| | Slim's Projection: | | .505/.880/2.2/31.0/7.6/5.0/1.3/0.8/3.5 :38 |
| 4 | LeBron James, CLE | SF, PF | Disappearing blocks, regressing boards – especially with Love joining – and arguably the best supporting cast with the best PG he's played with. Less rock for King! |
| | Slim's Projection: | | .550/.750/1.3/25.0/6.4/5.9/1.6/0.4/3.2 :38 |
| 5 | James Harden, HOU | SG, SF | Considering the unbelievable post-ASB slash of 27.7/4.7/7.4/1.9/0.3 shooting 47% from the field with three treys a game – and no Jeremy Lin – I see a new career-high in assists for an out-of-position option that should surpass Paul's output. And you can't discount the high-volume FT shooting that can win your weekly FTs. |
| | Slim's Projection: | | .450/.860/2.5/26.0/4.9/6.4/1.7/0.4/3.7 :38 |
| 6 | Chris Paul, LAC | PG | Paul's category-killing dimes are awesome, but Harden brings slightly more to the table. Including facial hair. |
| | Slim's Projection: | | .460/.860/1.2/18.0/4.1/10.6/2.3/0.1/2.2 :36 |
| 7 | Serge Ibaka, OKC | PF, C | Iblocka! Plus he should take another baby step forward in FG%, Pts, treys… There's really nothing not to like. |
| | Slim's Projection: | | .525/.770/0.6/17.0/9.3/1.2/0.5/3.0/1.5 :34 |
| 8 | Russell Westbrook, OKC | PG | While he should be beastly, these ranks are still for 9-cat H2H, and his FG% and TO are going to be brutal while running the team. Very good chance he goes bonkers though. But remember, you're drafting for the whole season, not the first month or two. |
| | Slim's Projection: | | .440/.820/1.4/23.0/5.2/7.2/1.8/0.2/3.8 :34 |
| 9 | John Wall, WAS | PG | If Westbrook goes up, so must Wall! Still think these two are a coin flip, the missed time of Durant vaulting Westy. |
| | Slim's Projection: | | .440/.810/1.3/20.5/4.1/9.2/1.8/0.7/3.6 :38 |
| 10 | DeMarcus Cousins, SAC | PF, C | There's just something about his preseason giving me the Anthony Davis vibe from last year. I know it's preseason and it's not much of a sample, but edging him up a couple spots from my original rank. |
| | Slim's Projection: | | .490/.740/0/24.0/12.0/3.0/1.6/1.3/3.5 :34 |
| 11 | Kevin Love, CLE | PF, C | Slim hath swooned me. I wanted Westbrook above Love (alliteration!) now, and still think he and Wall are a coin flip. Plus I'm woogie for Boogie. So had to move Love down. |
| | Slim's Projection: | | .465/.820/2.3/21.0/11.2/2.6/0.7/0.4/2.1 :36 |
| 12 | Carmelo Anthony, NYK | SF, PF | I don't expect the career highs in boards and blocks to carry over to 14-15, but will be the same elite scorer for Phil J's triangle. |
| | Slim's Projection: | | .455/.830/2.2/27.0/6.8/3.5/1.0/0.5/2.6 :38 |
| 13 | Paul Millsap, ATL | PF, C | A bit of a reach, but his best month of scoring/treys in 13-14 was with Horford on the court, and will continue to develop the perimeter game with Horford establishing the paint. |
| | Slim's Projection: | | .465/.740/1.0/19.0/8.7/3.1/1.8/1.0/2.5 :36 |
| ↑ 14 | Al Jefferson, CHA | PF, C | I just seem to trust him more with the clock against me in the early 2nd round. Had an unreal run in the second half of 13-14, going 25.2/11.4/2.3/1/1 from Jan. 14 to the end of the year. |
| | Slim's Projection: | | .490/.730/0/20.0/10.0/2.0/1.0/1.0/1.7 :34 |
| 15 | Al Horford, ATL | PF, C | Was having a career season until the pec injury. Same argument as Millsap – another perimeter threat will help Horford down low. |
| | Slim's Projection: | | .540/.720/0/18.0/8.9/3.0/1.0/1.3/2.2 :34 |
| 16 | LaMarcus Aldridge, POR | PF, C | The FG% from a big is no fun, but a sneaky multi-cat contributor. |
| | Slim's Projection: | | .455/.810/0/22.0/9.8/2.5/0.9/0.9/1.9 :36 |
| 17 | Kawhi Leonard, SAS | SG, SF | The risk is only in usage both in role and minutes, but Pop had an encouraging quote citing he will be coaching Kawhi consistency to be in the upper echelon of players. But even his floor is a pretty nasty multi-cat game. |
| | Slim's Projection: | | .490/.810/1.4/15.0/6.8/2.2/1.9/0.8/1.5 :34 |
| 18 | Dirk Nowitzki, DAL | PF, C | The age is the question, but I don't see much of a fall off. That said, boards are trending down. |
| | Slim's Projection: | | .475/.880/1.4/21.0/6.2/2.6/0.9/0.6/1.5 :34 |
| 19 | Blake Griffin, LAC | PF, C | A breakout last year, I think he replicates his 13-14. But why in the name of Mutumbo can this guy not block more shots?! |
| | Slim's Projection: | | .530/.720/0/24.0/9.4/4.0/1.2/0.6/2.7 :36 |
| 20 | Damian Lillard, POR | PG | Opening the run on PGs, Lillard gives you elite 3s/FT%/consistency. Should be third straight season of solid-ness. |
| | Slim's Projection: | | .430/.870/2.8/22.0/3.5/6.5/1.0/0.2/2.4 :36 |
| 21 | Goran Dragic, PHO | PG, SG | One of my big crushes this year, the FG% from a PG is elite. I see dimes going up and an even better follow-up after his 13-14 breakout, despite IT2 joining the G party in Phoenix. |
| | Slim's Projection: | | .480/.770/1.4/18.0/3.1/6.2/1.4/0.3/2.7 :34 |
| 22 | Kyle Lowry, TOR | PG | A monster breakout last year, I think he can do it again.  Injury-risk after having career-long issues are still a concern. |
| | Slim's Projection: | | .420/.800/2.1/17.0/4.4/7.2/1.5/0.2/2.4 :34 |
| 23 | Kyrie Irving, CLE | PG, SG | It's all postulation, but I think Kyrie can surprise with ratios, get more assists than most (Slim!) expects, but at the expense of a few points. |
| | Slim's Projection: | | .440/.860/1.6/18.0/3.4/5.2/1.5/0.3/2.4 :34 |
| 24 | Chris Bosh, MIA | PF, C | No LeBron, time to own! I'm still not reaching too too hard, but I've moved him up a few spots from his original 30ish rank. |
| | Slim's Projection: | | .495/.820/0.7/18.0/7.4/2.2/0.9/1.0/1.9 :34 |
| 25 | Nicolas Batum, POR | SG, SF | Safe, reliable, multi-cat goodness. Should replicate 13-14 with relative ease. |
| | Slim's Projection: | | .465/.820/2.0/13.5/7.2/5.0/1.0/0.8/2.4 :36 |
| 26 | Nikola Vucevic, ORL | PF, C | Has always been underrated, should have another 1+ 5-cat line with his minutes bouncing back up and terrific %s. |
| | Slim's Projection: | | .510/.770/0/16.0/11.8/1.9/1.0/1.0/2.0 :34 |
| 27 | Ricky Rubio, MIN | PG | The offense continues to be muy mal, but another elite ast/stl season is worth the price of admission. |
| | Slim's Projection: | | .390/.800/0.8/12.0/4.2/8.9/2.4/0.1/3.0 :34 |
| 28 | Mike Conley, MEM | PG | Is the anti-Rubio, safer on all fronts, but without the category-killing upside. |
| | Slim's Projection: | | .450/.820/1.4/17.0/2.8/6.1/1.7/0.2/2.1 :34 |
| ↓ 29 | Ty Lawson, DEN | PG | Injury concerns just continue to mount… Bad ankle and now a bum hammy. I know a special product in Denver that might help though! |
| | Slim's Projection: | | .440/.790/1.2/18.0/3.4/8.8/1.5/0.2/3.2 :36 |
| 30 | Andre Drummond, DET | PF, C | A lot of people are still reaching, but while I'm not getting him close to top 20, I needed to move him up a smidge from where I had him at first. Probably not ending up on a lot of my teams, but if he's there in my third round when I had the 6th or 7th pick, definitely taking him. |
| | Slim's Projection: | | .600/.440/0/14.5/12.9/0.5/1.4/1.7/1.5 :34 |
| 31 | Marc Gasol, MEM | C | 19th overall player final two months, and that's after recovering from a bad MCL sprain. Started slow under the Joerger regime, I'm stoked if Gasol falls to me here. |
| | Slim's Projection: | | .480/.780/0/15.0/7.8/3.8/1.0/1.4/1.9 :34 |
| 32 | Joakim Noah, CHI | PF, C | Had a career season without Rose, obvious regression to hit and lengthy track record of lingering injuries scares me. |
| | Slim's Projection: | | .490/.740/0/12.0/10.4/3.8/1.2/1.6/2.1 :34 |
| 33 | Jrue Holiday, NOP | PG | The Pelicans are turning into a really interesting team if they can stay healthy, with Jrue the true PG running the show. December slash of 16.3/4.6/9/1.4/0.4 while finally gelling with the offense pre-injury shows you the upside. |
| | Slim's Projection: | | .440/.780/1.0/15.0/4.2/7.8/1.6/0.4/3.3 :34 |
| ↑ 34 | Monta Ellis, DAL | PG, SG | A rock-solid safety pick, and he should have no problem duplicating 13-14 with maybe even a tad more upside with Dallas' downgrade at PG.  Finding myself very happy with him on teams with big men that aren't huge scorers. |
| | Slim's Projection: | | .440/775/0.8/19.0/3.7/5.9/1.5/0.2/3.1 :36 |
| ↓ 35 | Victor Oladipo, ORL | PG, SG | Edit: Broke his face.  Literally!  Rough Rough offseason for RainbOladipo. I'll give an estimate on his rank when there's a little more news, but if I were drafting this second, I'd avoid.  I'm hoping to get RainbOladipo on all of my teams – Orlando has cleared out the annoying G vets and given him the keys. Lost 20 pounds and is ready for a big breakout. |
| | Slim's Projection: | | .440/.790/1.2/17.5/4.7/4.8/1.8/0.6/3.2 :34 |
| 36 | Kemba Walker, CHA | PG | Late-January ankle sprain lingered through the end of the season, improving AST:TO ratio while shooting tremendously pre-injury could make a draft day steal. |
| | Slim's Projection: | | .410/.820/1.6/18.0/4.2/6.4/1.4/0.4/2.4 :36 |
| 37 | Chandler Parsons, DAL | SF, PF | Immediately makes me a Mavs fan, and he's still in a high-powered offense. |
| | Slim's Projection: | | .470/.750/1.7/15.5/5.6/3.9/1.2/0.4/1.8 :36 |
| 38 | Derrick Favors, UTA | PF, C | So, so underrated. Shot 52.2% from the field last year, and with a terrible supporting cast, was creating his own post opportunities. Played only 30 MPG in 13-14, will get expanded if he can cut down the fouls and boost the board and blocks. |
| | Slim's Projection: | | .505/.690/0/16.0/9.6/1.4/1.1/1.8/2.0 :34 |
| ↓ 39 | Michael Carter-Williams, PHI  | PG | Still really like him, but shoulder issue seems to keep lingering and lingering…  It's not going to be that long though! |
| | Slim's Projection: | | .410/.710/1.0/18.0/6.4/6.7/2.0/0.7/3.6 :36 |
| 40 | Rudy Gay, SAC | SF, PF | Through mocks and a few drafts, he just isn't appealing to me in the 30s. Serviceable, but boring. |
| | Slim's Projection: | | .445/.790/0.7/19.0/5.5/2.8/1.3/0.6/2.8 :34 |
| 41 | DeAndre Jordan, LAC | C | Played 3 minutes less a game post-ASB, and getting benched late is a worry for me. No way he plays 35 per in 14-15. I think we see more hack-a-Dre. |
| | Slim's Projection: | | .650/.440/0/9.5/11.7/0.8/0.9/2.1/1.3 :32 |
| 42 | Eric Bledsoe, PHX | PG, SG | I expect to be one of the lowest rankers on E Bled, finished only 52nd in per-game last year. While contract is hammered out, injury-risk still there, and he turned the ball over way too much in his first season as a full-time starter. |
| | Slim's Projection: | | .465/.780/1.2/17.5/4.8/5.6/1.6/0.4/3.4 :34 |
| 43 | Kobe Bryant, LAL | PG, SG | Incredibly polarizing – upside is huge, downside is he gets hurt again early on. I feel good with the risk here. |
| | Slim's Projection: | | .430/.840/1.3/19.0/4.6/5.0/1.1/0.2/2.0 :34 |
| 44 | Derrick Rose, CHI | PG | I'm likely passing on D-Rose in all leagues, I think he's lost too much with the knee injuries and I don't like the risk. |
| | Slim's Projection: | | .420/.820/1.6/18.0/3.2/6.3/0.8/0.4/3.4 :32 |
| 45 | Wesley Matthews, POR | SG, SF | Definition of a safe pick, has played in every game in 4 of his 5 seasons, microscopic TOs, a perfect compliment to a high volume TO PG who doesn't make enough 3s. |
| | Slim's Projection: | | .440/.830/2.4/16.0/3.4/2.4/1.1/0.2/1.4 :34 |
| 46 | Gordon Hayward, UTA | SG, SF | His shooting from the field has consistently gone down in more minutes, Exum/Burke are not going to help FG% and TOs. Some slumps are going to be tough to bear, but overall slash should be solid. |
| | Slim's Projection: | | .430/.820/1.4/18.0/5.2/5.3/1.4/0.5/2.6 :36 |
| 47 | Nerlens Noel, PHI | PF, C | This should put him on nearly all of my teams. Immense upside, more polished offensive game than he gets credit for – the probable minutes limitation does make it a gamble. |
| | Slim's Projection: | | .510/.680/0/10.5/7.4/1.3/1.5/2.6/1.9 :28 |
| 48 | Thaddeus Young, MIN | SF, PF | Succumbing a little bit to the consensus and to comments, I think I had him an iota too low earlier in the offseason. The steals are coming a little down, and I don't think the perimeter game is going to carry over as much (K-Mart can only shoot 3s!), but solid here. |
| | Slim's Projection: | | .460/.710/0.9/16.5/6.0/2.1/1.7/0.5/2.0 :34 |
| 49 | Marcin Gortat, WAS | C | Huge season in Wizards debut, should have no problem having a comparable encore. |
| | Slim's Projection: | | .545/.680/0/13.0/9.4/1.5/0.5/1.4/1.5 :32 |
| 50 | DeMar DeRozan, TOR | SG, SF | As I mentioned before, for as high-volume a scorer he is, TOs very manageable. Solid FT shooter, assists have consistently gone up for his career, he can plug a lot of holes for roster comp early in the mid-rounds. |
| | Slim's Projection: | | .430/.820/0.5/23.0/4.1/3.9/0.9/0.3/2.1 :36 |
| 51 | Pau Gasol, CHI | PF, C | While my original blurb before holds true (FG% should jump back up on a better team, out-of-position dimes are huge, chips in blocks still as well… Not much to not like other than injury risk), like Gay, I just never end up getting him so moved him down a little. I don't want no boring! Is looking great in preseason though… |
| | Slim's Projection: | | .500/.750/0/16.0/8.4/2.9/0.4/1.3/1.8 :30 |
| ↓ 52 | Jabari Parker, MIL | SF | I think I had him too high, but I'm still reaching for the rookie – I think counting stats will be reliable and have a pretty consistent 34ish minute role. |
| | Slim's Projection: | | .460/.760/0.7/14.5/7.8/1.0/0.9/0.7/2.8 :30 |
| 53 | Tim Duncan, SAS | PF, C | Despite losing minutes and a racking up a couple DNPs, finished top-40 last year. |
| | Slim's Projection: | | .480/.740/0/14.0/8.9/2.5/0.5/1.5/1.8 :28 |
| 54 | Rajon Rondo, BOS | PG | A broken hand originally was set to cost him 10ish games, but looking like he'll beat that timetable. |
| | Slim's Projection: | | .445/.630/0.7/12.0/5.3/9.6/1.5/0.1/3.2 :32 |
| 55 | Dwight Howard, HOU | PF, C | FT shooting kills him in 9-cat, would be near elite in non-FT/non-TO leagues. Ultimate league settings-variable pick. |
| | Slim's Projection: | | .580/.550/0/18.0/11.9/1.6/0.9/1.9/2.9 :34 |
| 56 | Trevor Ariza, HOU | SG, SF | Big breakout in 13-14 minimized with move to Houston, but 3s with low-TOs should yield another solid season. |
| | Slim's Projection: | | .450/.770/1.9/13.0/6.1/2.4/1.6/0.3/1.7 :34 |
| ↑ 57 | Jose Calderon, NYK | PG | PG depth issues move the next two guys up a smidge. I'm buying a decent Ast resurgence in the triangle O, with similar 3s output and low TOs. Was a surprising value last year. |
| | Slim's Projection: | | .450/.840/2.3/11.0/2.4/6.1/0.9/0.1/1.6 :32 |
| ↑ 58 | Jeff Teague, ATL | PG | Was so brutal in January last year, I'm worried by his streakiness.  But PG is running thin by this point and should be solid if Horford and Millsap stay healthy. |
| | Slim's Projection: | | .455/.840/1.0/17.0/2.7/6.6/1.3/0.3/2.8 :34 |
| ↑ 59 | Kenneth Faried, DEN | PF | If he's here this late, yeah I'm all-in now. |
| | Slim's Projection: | | .540/.700/0/19.0/10.4/1.6/1.1/0.9/2.3 :32 |
| 60 | David Lee, GSW | PF, C | Boring Pts/Reb guy, solid %s and high-floor keep him top-60. |
| | Slim's Projection: | | .510/.780/0/17.0/8.9/2.4/0.7/0.3/2.1 :30 |
| 61 | Klay Thompson, GSW | SG, SF | Poster boy of ThrAGNOF – don't overpay for high-volume threes and low TOs while he does nothing else special. |
| | Slim's Projection: | | .445/.800/2.7/18.0/3.1/2.1/0.9/0.4/1.6 :36 |
| 62 | Andrew Wiggins, MIN | SF | Uncertain role that seems likely to begin off the bench, upside of the second half keeps him a mid-round reach. |
| | Slim's Projection: | | .440/.770/0.9/13.5/4.7/1.2/1.2/0.9/2.4 :30 |
| 63 | Ryan Anderson, NOP | PF, C | Out-of-position treys with virtually no TOs makes him a good pair with the bigger name PGs. While spinal injury last year is scary, I think he'll bounce back and be healthy. |
| | Slim's Projection: | | .430/.850/2.4/15.0/6.2/1.0/0.4/0.3/0.9 :28 |
| ↓ 64 | Deron Williams, BKN | PG | I just never seem to want him at all… Minutes will be down again and injuries always seem to derail him, but still has some upside. Worth the gamble on his ankles at this point. |
| | Slim's Projection: | | .440/.810/1.4/15.0/2.6/6.6/1.1/0.2/2.5 :32 |
| 65 | Darren Collison, SAC | PG | The Kings gave Colly starting money and he'll have the keys. He and Sessions can play together; should facilitate well with low TOs.  Extraordinarily under-ranked in several places. |
| | Slim's Projection: | | .460/.840/1.3/14.0/2.8/5.9/1.4/0.2/2.1 :32 |
| 66 | Brandon Knight, MIL | PG, SG | Numbers were stellar once he was fully back from the early hammy issues, playmakers like Parker and Giannis along with Kidd at the helm give him further breakout upside. |
| | Slim's Projection: | | .425/.790/1.6/19.0/3.6/5.1/1.0/0.2/2.7 :34 |
| 67 | Jimmy Butler, CHI | SG, SF | Fantastic preseason, and the thumb injury is OK so we can breath a sigh of relief. Some cold water though – shot under 40% last year and should see lower scoring with Rose back. Love his real-life game; 13-14 numbers slightly inflated by 38:39 MPG which is likely to go down a bit. |
| | Slim's Projection: | | .420/.770/1.3/14.0/5.2/2.7/2.0/0.6/1.5 :36 |
| 68 | Luol Deng, MIA | SF, PF | I see a good resurgence in Miami, was having a really big year in Chicago before being awful post-trade. He fits better in South Beach. |
| | Slim's Projection: | | .430/.770/0.9/16.0/5.4/2.6/1.0/0.2/1.5 :34 |
| 69 | Tony Parker, SAS | PG | DNPs, injuries, minutes restrictions, oh my! Wicked witch of the Alamo… |
| | Slim's Projection: | | .490/.810/0.4/16.0/2.3/5.8/0.6/0.1/2.2 :30 |
| 70 | Dwyane Wade, MIA | PG, SG | DNPs, injuries, minutes restrictions, oh my! Wicked witch of having bad knees… |
| | Slim's Projection: | | .495/.740/0.3/20.0/4.5/4.8/1.4/0.5/2.9 :32 |
| 71 | Robin Lopez, POR | C | Played 82 games past two years, and low TOs help the overall seasonal-ranking. I probably should be higher, but just can't get over how not great at basketball he is… |
| | Slim's Projection: | | .540/.810/0/11.0/8.6/0.8/0.4/1.6/1.0 :32 |
| 72 | Giannis Antetokounmpo, MIL | SG, SF | 1.7:1.7 AST:TO pre-ASB to 2.3:1.5 post showed huge improvement with the ball, going to get a starting role, offers upside in all 9 cats. A huge Razzball favorite. |
| | Slim's Projection: | | .460/.740/1.0/13.5/6.2/2.4/1.0/1.0/2.2 :32 |
| 73 | Isaiah Thomas, PHO | PG | "I thought IT2 was going to be an interesting sleeper, but he's getting ranked obscenely high." That was when Yahoo had him 48.  Now rankers have him closer to 100 making him a value (99 in Y!).  Nice dimes/Pts/3s later in the draft. |
| | Slim's Projection: | | .450/.850/1.5/16.0/2.4/5.3/1.0/0.1/2.4 :28 |
| 74 | Markieff Morris, PHO | PF, C | Per-36 26/11.3/3.4/1.6/1.4 with 0.8 treys a game last year, and looking at a role close to those minutes.  Hype the past few weeks has caught up to him, as opposed to when we had 50 spots ahead of several rankers/ADPs. |
| | Slim's Projection: | | .480/.790/0.8/17.0/6.8/2.2/1.0/0.9/2.2 :34 |
| 75 | Terrence Jones, HOU | SF, PF | See second sentence of Morris, Markieff. |
| | Slim's Projection: | | .520/.630/0.6/14.0/7.6/1.3/0.9/1.4/1.1 :30 |
| 76 | Jonas Valanciunas, TOR | C | Vastly improved post-ASB, especially with FG% from 50 to 58, and maybe had some sophomore-slump-itis or an injury most of last year. Upside to bounce back, but I can't reach after being burnt last year. |
| | Slim's Projection: | | .540/.780/0/13.5/9.0/0.8/0.4/1.1/1.8 :30 |
| ↑ 77 | Greg Monroe, DET | PF, C | Maintaining some ridiculously strong play through preseason. Is suspended the first two for wetting his pants (did he get a public urination charge?), but all we care about is fantasy stats and a golden shower. I mean golden trophy. |
| | Slim's Projection: | | .490/.680/0/16.5/9.6/2.4/1.2/0.7/1.8 :34 |
| 78 | Kyle Korver, ATL | SG, SF | Not reaching for the ThrAGNOF, but another year of big minutes, big treys, and no TOs are in store. Plus he's got sharp, oh so sharp talons. |
| | Slim's Projection: | | .470/.920/2.6/12.0/4.0/3.0/0.9/0.3/1.5 :34 |
| 79 | Kevin Martin, MIN | SG, SF | No more Love makes K-Mart the main offensive threat and should hit a bajillion treys.  And don't forget that purdy FT%. |
| | Slim's Projection: | | .430/.890/1.7/19.0/3.0/1.8/1.0/0.1/1.7 :32 |
| 80 | Elfrid Payton, ORL | PG | Nothing's changed with him being a horrible FT shooter for a PG and he's going to turn the ball over way too much, but as I've found in drafts, PG dries up ridiculously fast. He's the last option for assists upside. |
| | Slim's Projection: | | .465/.650/0.5/9.0/5.7/7.1/1.7/0.5/3.4 :32 |
| 81 | Jeremy Lin, LAL | PG, SG | Low-upside, but Kobe to take the pressure off and a change of scenery could make him sneaky value. Don't discount those steals! |
| | Slim's Projection: | | .440/.790/1.2/14.0/2.8/6.2/1.3/0.4/2.7 :30 |
| ↓ 82 | George Hill, IND | PG, SG | Knee injury to cost him at least 3 weeks to start the year.  Letting someone else deal with that, I would move him way down into the 130-140 range.  Again low-upside, but could get back to 12-13 numbers with Paul George being out.  Had some nice lines in preseason. |
| | Slim's Projection: | | .440/.800/1.3/12.0/3.7/4.4/1.0/0.3/1.5 :32 |
| ↓ 83 | Reggie Jackson, OKC | PG, SG | Sprained his ankle in practice and looks pretty serious.  Moving him down into the 100s.  Not a drastic move up with the Durant injury, but deserves to be right into the mix of this mini-PG eligible run. |
| | Slim's Projection: | | .450/.880/1.3/15.0/4.5/4.7/1.3/0.2/2.1 :32 |
| 84 | Tyreke Evans, NOP | SG, SF | While his post-ASB play was astounding, a lot had to do with Jrue Holiday being hurt. Lingering knee issues led to a hamstring strain that kept him out of some preseason action. Back now, but still a little scurred. |
| | Slim's Projection: | | .450/.770/0.5/17.0/4.8/4.4/1.3/0.4/2.6 :30 |
| 85 | Larry Sanders, MIL | PF, C | So hard to rank, so hard to like as a person, but upside is still there and his contract means he's going to at least get a shot. Henson might start, however Sanders was still a monster in 12-13 at 27 MPG. I'm not reaching; that said, not explicitly passing either. |
| | Slim's Projection: | | .490/.560/0/9.0/8.1/1.1/0.9/2.3/1.2 :28 |
| ↑ 86 | Tobias Harris, ORL | SF, PF | Having a phenomenal preseason – if not a little under the radar. Frye is hurt with the MCL, Magic are saying they have plans for him long-term, I think I was just a little clouded with just how bad last year started with his original rank. |
| | Slim's Projection: | | .475/.800/0.8/17.0/7.2/1.4/1.0/0.6/1.4 :30 |
| 87 | Josh Smith, DET | SF, PF | This rank is hoping Stan Van Gundy gets through to him and Smith improves the terrible %s and TOs. If he becomes a sixth man, I think he can maintain big Stl/Blk numbers even in reduced minutes. |
| | Slim's Projection: | | .430/.560/0.7/15.0/6.6/3.1/1.2/1.4/2.4 :32 |
| ↓ 88 | Brook Lopez, BKN | C | Was 12th overall in per-game value in a short 13-14 sample. Key part is "short". Ailing with a foot sprain right now, and these foot issues keep cutting into any optimism you could have. |
| | Slim's Projection: | | .510/.790/0/18.0/6.0/1.0/0.5/1.6/1.7 :30 |
| 89 | Arron Afflalo, DEN | SG, SF | Never been a fan, but the Nuggets needed a more consistent wing last year and he'll be playing with the best PG he's ever been paired with. |
| | Slim's Projection: | | .455/.820/1.7/16.5/3.4/3.3/0.6/0.2/1.9 :34 |
| ↑ 90 | Jordan Hill, LAL | PF, C | 13/8.9/0.8/0.5/1.1 in 32 starts last year, and still in under 25 minutes a game. Needs the role, but I find myself wanting him top 100 for the blocks and great boards. I think the role is going to be there. |
| | Slim's Projection: | | .530/.720/0/14.0/8.3/0.9/0.7/1.4/1.6 :28 |
| 91 | Taj Gibson, CHI | PF, C | Durable, and even as a 6th man should get to 30 minutes especially behind brittle bigs. Underrated blocker. |
| | Slim's Projection: | | .490/.730/0/14.0/7.2/1.2/0.5/1.5/1.8 :30 |
| 92 | Patrick Beverley, HOU | PG, SG | More minutes with Lin gone, his metric-friendly 3s/low TOs should carry over with good steals. Nothing too exciting, but value will add up. |
| | Slim's Projection: | | .430/.810/1.8/12.5/3.8/3.1/1.5/0.5/1.4 :34 |
| 93 | Draymond Green, GSW | SF | #OccupyDraymondGreen! A monster last year in a low-minutes role, has a shot to start the 3 with Iggy off the bench. Multi-cat upside all over the place!  Like TJones and Kieff, our 50+ spots higher rank has gotten caught up with. |
| | Slim's Projection: | | .430/.740/0.9/10.0/6.2/2.7/1.7/0.9/1.4 :28 |
| ↓ 94 | David West, IND | PF | Underrated last year with a 46th overall finish, but suffered a bad ankle sprain a few days ago putting some regular season time in jeopardy. He's a big dude too. A little scary. |
| | Slim's Projection: | | .480/.790/0/15.5/7.2/2.8/0.8/0.8/1.9 :30 |
| 95 | John Henson, MIL | PF, C | Even if Sanders starts, we can be productive. Poor man's FT-punt big! Give him the minutes or give me death! |
| | Slim's Projection: | | .530/.530/0/12.0/7.9/1.7/ 0.7/1.7/1.7 :28 |
| 96 | Lance Stephenson, CHA | SG, SF | TOs should go down, but so should the boards. Like PBev, nothing exciting.  But the sheer volume should accrue value. |
| | Slim's Projection: | | .475/.710/1.2/14.5/7.2/4.2/0.8/0.1/2.6 :36 |
| 97 | Jameer Nelson, DAL | PG | Been saying all offseason he will end up the starter, and with Raymond Felton suffering a high ankle sprain that can linger (think Tobias Harris and Ersan Ilyasova last year), huge minutes should be there. |
| | Slim's Projection: | | .410/.830/2.1/11.0/3.2/5.8/0.7/0.1/2.1 :30 |
| 98 | Bradley Beal, WAS | SG | Broken wrist will cost him at least the first few weeks of the season. |
| | Slim's Projection: | | .420/.800/1.9/18.0/3.8/3.5/1.0/0.2/1.8 :36 |
| ↑ 99 | Spencer Hawes, LAC | PF, C | Looking really, really good lately in preseason. A revelation last year, should still get must-own minutes as Clips' backup PF/C. |
| | Slim's Projection: | | .465/.770/1.4/11.5/7.4/2.3/0.4/1.0/1.7 :28 |
| 100 | Zach Randolph, MEM | PF, C | Consistency! And Pts/Reb! And that's it… |
| | Slim's Projection: | | .465/.750/0/16.0/9.4/2.3/0.7/0.3/2.1 :32 |
| 101 | Andrew Bogut, GSW | C | Always ends up finishing higher that you'd expect in value, but always ends up as hurt as you'd expect… |
| | Slim's Projection: | | .570/.450/0/7.5/9.5/1.6/0.6/1.6/1.4 :26 |
| 102 | Tyson Chandler, DAL | C | Return to Dallas will solidify a nice late Reb/Blk contribution. |
| | Slim's Projection: | | .600/.660/0/8.0/9.4/1.0/0.6/1.1/1.2 :30 |
| 103 | J.J. Redick, LAC | SG | In an injury-riddled campaign, was actually 67th in per-game last year. A great fit in the Clips O for sneaky value. Plus, this is an appropriate time to start ThrAGNOF! |
| | Slim's Projection: | | .440/.900/2.2/15.0/2.3/2.4/0.7/0.1/1.2 :30 |
| 104 | Joe Johnson, BKN | SG, SF | Had some big spikes when D-Will got hurt, but D-Will will have some injury stretches again… |
| | Slim's Projection: | | .440/.820/1.8/14.5/3.3/2.9/0.6/0.1/1.6 :32 |
| ↑ 105 | Jared Sullinger, BOS | PF, C | 13.9/9/1.8/0.5/0.8 with 0.8 treys in 44 starts last year, in 29:33 a game. Markieff Morris-lite. |
| | Slim's Projection: | | .440/.780/1.0/15.0/8.4/1.8/0.6/0.7/1.9 :30 |
| ↑ 106 | Mason Plumlee, BKN | PF, C | Lopez already having foot issues, Prof. Plum is having some ridiculous preseason lines. Gonna play some way or another… |
| | Slim's Projection: | | .550/.650/0/13.5/8.3/1.3/1.0/1.2/2.1 :28 |
| 107 | Gorgui Dieng, MIN | C | Pekovic is going to be limited to 26-27 minutes a game, which means gimme the Dieng train! If he's routinely over 20 MPG, on top of the really realistic shot at numerous starts behind brittle Pek, he needs to be drafted aggressively. Last 18 games last year (15 starts) 12/11.3/1.5/1.1/1.5 shooting 53% FG 71% FT only 1.8 TO. Gimme the Dieng train! |
| | Slim's Projection: | | .510/.680/0/8.5/8.6/ 1.1/0.7/1.1/1.1 :24 |
| 108 | Brandon Jennings, DET | PG | Horrific last year, and Stan Van emphasizing rotations and defense isn't going to help. But still upside; he's a talented player. |
| | Slim's Projection: | | .390/.780/1.8/15.0/2.9/7.4/1.3/0.1/2.6 :32 |
| 109 | Rodney Stuckey, IND | PG, SG | George Hill isn't a passer and Stuckey might be the main offensive catalyst. While on an offensively-challenged team, still think he can surprise. |
| | Slim's Projection: | | .425/.830/0.5/15.5/3.2/3.8/0.9/0.2/2.1 :32 |
| ↑ 110 | Kentavious Caldwell-Pope, DET | SG | With Meeks out, should be a pretty big-minute starter. Some might overreach – I love him obviously – but 3s and steals and very low TOs are about all you get. Which is great as a last pick or two sleeper. |
| | Slim's Projection: | | .420/.770/1.5/13.5/3.1/1.4/1.5/0.3/1.2 :30 |
| 111 | DeMarre Carroll, ATL | SF, PF | Was a much better player after Horford injury so I won't reach for value he gave in 13-14. |
| | Slim's Projection: | | .465/.770/1.3/11.0/5.6/1.8/1.4/0.3/1.1 :32 |
| 112 | Paul Pierce, WAS | SF, PF | Age obviously up there, and the Wiz are loaded at SF. A healthy, big-minute season would make this way wrong, but I'm hedging against it. |
| | Slim's Projection: | | .440/.820/1.4/13.0/4.4/2.2/1.0/0.3/2.0 :28 |
| 113 | Roy Hibbert, IND | C | I'm not touching Hibbert unless he falls way down and I need blocks. |
| | Slim's Projection: | | .450/.760/0/12.0/7.1/1.3/0.4/2.1/1.9 :28 |
| 114 | Henry Sims, PHI | C | 13.1/7.7/2/0.9/0.4 with only 1.4 TO in final 19 games last year, and should start for most of the year until Embiid is 100% ready. Nothing has sounded too optimistic for Embiid and Sims is ready to provide solid big man stats, but he's not a blocker. You have to figure that in with your roster comp. |
| | Slim's Projection: | | .500/.750/0/12.0/7.2/1.8/0.9/0.5/1.4 :28 |
| 115 | Channing Frye, ORL | PF, C | MCL strain doesn't sound too serious, but it doesn't really bode well for his vibe. I'm all about a hippie approach to rankings this year. His aura is not cleansed. |
| | Slim's Projection: | | .430/.810/2.0/11.0/5.6/1.2/0.7/0.8/1.0 :30 |
| 116 | Amir Johnson, TOR | PF, C | Lingering ankle issue and Raptors PF depth scare me. |
| | Slim's Projection: | | .560/.680/0.3/12.0/7.6/1.6/0.9/1.4/1.7 :30 |
| 117 | Andre Iguodala, GSW | SG, SF | I think he's going to lead the second unit, which might not be the worst thing.  Assists early until Livingston is full strength could come in bunches. |
| | Slim's Projection: | | .460/.660/0.9/10.0/4.4/3.9/1.3/0.3/1.5 :30 |
| 118 | Nikola Pekovic, MIN | C | Minutes reduction is an absolute killer. Gave you his previous output through volume, and really only scores and rebounds. Yikes. |
| | Slim's Projection: | | .530/.740/0/14.0/7.7/0.8/0.5/0.5/1.4 :26 |
| 119 | Danny Green, SAS | SG, SF | Took off after the ASB, shooting 6% better and upping treys from 1.5 to 2.6. Pop will make him frustrating, but will end up a value. |
| | Slim's Projection: | | .440/.800/2.1/10.0/3.3/1.6/0.9/0.8/1.2 :26 |
| 120 | Danilo Gallinari, DEN | SF | Will be a forgotten name in many draft rooms, still offers a pretty good fantasy line if he's healthy. |
| | Slim's Projection: | | .410/.800/1.6/13.5/4.7/2.2/0.8/0.4/1.4 :28 |
| 121 | Jamal Crawford, LAC | PG, SG | Spiked in dimes while CP3 was hurt, minutes and points to regress and late nagging injuries last year scare me. |
| | Slim's Projection: | | .410/.870/2.0/16.0/1.9/2.7/0.8/0.1/1.8 :28 |
| 122 | Timofey Mozgov, DEN | C | I thought about moving him down, but McGee still won't be play big minutes even if 100% healthy and who knows how effective Hickson will be…. |
| | Slim's Projection: | | .530/.750/0/11.0/8.2/1.0/0.5/1.5/1.8 :26 |
| 123 | Jeff Green, BOS | SG, SF | One of the "busts of the year" for 13-14, really nothing indicates he'll be any better in 14-15. |
| | Slim's Projection: | | .425/.800/1.4/15.0/4.5/1.5/0.6/0.6/1.9 :32 |
| 124 | Anderson Varejao, CLE | PF, C | Big rebounds and not too much else in a sub-30 MPG role, does sneak in a steal a game for you from a big. |
| | Slim's Projection: | | .500/.670/0/8.0/9.2/2.0/1.0/0.6/1.1 :26 |
| 125 | Nene Hilario, WAS | PF, C | Worth a reach if punting FT or TO, would be higher if he wasn't so old and injury prone. |
| | Slim's Projection: | | .500/.660/0/13.0/5.8/2.6/1.1/0.8/1.9 :28 |
| 126 | Enes Kanter, UTA | C | I maintain he's terrible on defense and was much better against second units last year, but the move to PF with Favors to C fits his game so much better, and sheer volume of minutes will give him value. |
| | Slim's Projection: | | .490/.740/0/13.0/7.6/1.0/0.4/0.6/1.9 :28 |
| 127 | Trey Burke, UTA | PG | Anemic steals, horrible FG%, but is the last big minute PG on the board if you need some upside. |
| | Slim's Projection: | | .400/.870/1.7/13.5/3.1/5.9/0.8/0.1/2.0 :32 |
| 128 | Josh McRoberts, MIA | PF, C | Recovery from toe surgery sounds like it will keep him out of the opener, shouldn't miss too much time, but I haven't wanted to draft him until this late, at best. |
| | Slim's Projection: | | .440/.730/1.3/10.0/5.6/3.9/0.8/0.6/1.1 :30 |
| 129 | Manu Ginobili, SAS | SG, SF | Finished 98th in under 23 minutes a game last year, should come close to repeat but game-to-game will be maddening to own. |
| | Slim's Projection: | | .450/.840/1.4/12.5/3.1/4.1/0.9/0.2/2.0 :24 |
| 130 | J.R. Smith, NYK | SG, SF | Career-high assists last year with horrible Felton at PG, those will go down, treys to regress, never been a JR fan. |
| | Slim's Projection: | | .420/.720/2.5/15.5/3.8/2.6/1.0/0.2/1.5 :32 |
| ↑ 131 | Otto Porter, WAS | SF | Washington SG dropping like flies, Rice out with an ankle, Beal for the first few weeks, and Otto P will get Pierce's backup minutes. A rapid riser through preseason. |
| | Slim's Projection: | | .410/.750/0.9/10.0/3.6/0.5/0.5/0.3/1.0 :24 |
| ↓ 132 | Corey Brewer, MIN | SG, SF | Yeah, I just had him too high… Awesome for steals, but Wiggins will cut into PT and you can wait to get him for those steals with your last pick most of the time in 12ers. |
| | Slim's Projection: | | .450/.710/0.6/11.5/2.6/1.6/1.7/0.4/1.3 :30 |
| 133 | Ramon Sessions, SAC | PG, SG | The Kings are already flashing three-guard sets, and Collison and Sessions are going to play a lot of minutes together. Very solid value with your last pick or two for a few treys, assists, and nice FT shooting. |
| | Slim's Projection: | | .440/.810/0.5/12.0/2.8/4.2/0.6/0.1/1.8 :26 |
| 134 | Omer Asik, NOP | PF, C | Beyond boards and a block a game, doesn't do too much and won't get huge minutes. FT drain a bugaboo too. |
| | Slim's Projection: | | .540/.600/0/9.0/10.2/0.5/0.5/1.2/1.8 :28 |
| 135 | Gerald Green, PHO | SG, SF | I just don't see the minutes, and pre-ranks of him top 100 are outrageous. Should hit some treys for you, but not a guy you'll have on your roster all year. |
| | Slim's Projection: | | .440/.830/1.8/12.0/2.4/0.8/0.6/0.2/1.4 :22 |
| 136 | Mario Chalmers, MIA | PG | He's the only guy of the 3 Heat PG I have ranked – avoiding all 3 most likely. |
| | Slim's Projection: | | .440/.770/1.5/11.0/3.2/3.9/1.5/0.2/1.8 :28 |
| 137 | Andrea Bargnani, NYK | PF, C | 13.7/5.3/1.1/0.3/1.3 with 0.7 treys and only 1.3 TOs in 23 starts last year, and a good fit for the Triangle offense. There's upside there, even if it's hard to believe… |
| | Slim's Projection: | | .430/.820/0.8/13.0/4.6/0.9/0.4/0.8/1.4 :28 |
| 138 | Matt Barnes, LAC | SF | Like McBob, a low upside stat-stuffer late. Big 2nd half last year was aided by having no Redick on the court, who I think has a big year in 14-15. |
| | Slim's Projection: | | .450/.740/1.2/9.0/4.6/1.8/0.8/0.4/1.1 :26 |
| 139 | Miles Plumlee, PHO | PF, C | Completely fell off when the calendar turned to 2014, but for a late source of blocks, Frye let go will open up more minutes. |
| | Slim's Projection: | | .510/.580/0/9.0/8.0/ 0.6/0.6/1.2/1.4 :26 |
| 140 | Terrence Ross, TOR | SG, SF | Young with upside like the ridiculous 51-pointer, but still raw and lacks in most cats right now. Worth the lottery pick at this point. |
| | Slim's Projection: | | .430/.810/2.3/13.0/3.4/1.2/1.0/0.4/1.4 :30 |
| 141 | Mirza Teletovic, BKN | SF, PF | Kirilenko is already hurt with a back issue, Kevin Garnett is a walking back issue, Teletovic is primed for a breakout with a boatload of treys. ThrAGNOF! |
| | Slim's Projection: | | .430/.710/2.3/12.0/4.3/1.1/0.5/0.4/1.0 :26 |
| ↑ 142 | Marcus Morris, PHO | PF | Some minutes are opened up with Frye gone, starting the first 3 with Tucker suspended, will be a surprising bottom-end contributor with treys from a PF. |
| | Slim's Projection: | | .445/.750/1.5/11.0/4.3/1.3/1.0/0.3/1.3 :26 |
| 143 | Eric Gordon, NOP | SG | Yet another offseason knee surgery, played in 115/246 games the past three years. Not touching him. |
| | Slim's Projection: | | .430/.800/1.4/15.0/2.2/3.1/1.0/0.2/1.9 :30 |
| 144 | Brandan Wright, DAL | PF, C | Not too much depth behind Dirk and Tyson, and both are way up there in age giving Wright a shot at more than expected minutes. |
| | Slim's Projection: | | .600/.700/0/10.5/4.9/0.7/0.7/1.1/0.8 :22 |
| 145 | K.J. McDaniels, PHI | SF | The upside for a starting role is still there, and not many wings give you blocks. Worth the last pick flier.  Two 4 block games this preseason. |
| | Slim's Projection: | | .430/.770/0.8/12.5/5.6/1.4/1.0/1.2/1.7 :30 |
| ↑ 146 | JaVale McGee, DEN | C | Great to see him close to playing. A nice blocks gamble. |
| | Slim's Projection: | | .530/.590/0/10.0/6.8/0.5/0.5/1.7/1.5 :24 |
| 147 | Rudy Gobert, UTA | C | Playing like a monster in preseason. And there's really no depth behind Kanter and Favors. Showing he doesn't need a ton of minutes to be useful. FT concerns are definitely still there though… |
| | Slim's Projection: | | .560/.580/0/5.0/7.2/0.3/0.3/1.5/1.3 :20 |
| 148 | Alec Burks, UTA | PG, SG | Not big on treys, pretty bad TO, and might lose PT to groom Exum late in the year… |
| | Slim's Projection: | | .460/.760/0.8/16.5/3.8/3.0/1.1/0.3/2.1 :32 |
| ↑ 149 | Steven Adams, OKC | C | Showing some huge promise in preseason. Love him as a final pick – minutes and usage still a concern. |
| | Slim's Projection: | | .540/.620/0/7.0/7.1/ 0.8/0.7/1.0/1.3 :24 |
| 150 | Avery Bradley, BOS | PG, SG | Brings you some scoring and out-of-position boards, but not too much upside. |
| | Slim's Projection: | | .440/.790/1.6/15.5/3.7/1.6/1.1/0.1/1.8 :32 |
| 151 | Ersan Ilyasova, MIL | SF, PF | Looked downright awful last year, but was top 50 in 12-13 and came into last year with a bum ankle. Won't be me seeing if he can bounce back though… |
| | Slim's Projection: | | .430/.820/0.5/11.5/6.1/1.1/0.7/0.2/1.0 :24 |
| ↑ 152 | Kelly Olynyk, BOS | C | I plain and simple had him too low, but still probably not getting him anywhere. A decent NBA player, but not a good starter and will be stuck in a minutes rut at times in Stevens' system, methinks. |
| | Slim's Projection: | | .480/.810/0.8/12.0/7.1/2.7/0.5/0.5/1.9 :28 |
| 153 | D.J. Augustin, DET | PG | There's been nothing but encouragement for D.J., and nothing optimistic about Jennings. A full split could happen quickly, if not a full changing of the guard. No pun intended! |
| | Slim's Projection: | | .415/.880/1.3/10.5/1.7/3.9/0.7/0.1/1.6 :24 |
| 154 | C.J. Miles, IND | SG, SF | Deep source of treys and steals, especially if he wins the starting 3 role over Solomon Hill. |
| | Slim's Projection: | | .420/.810/1.5/12.5/2.7/1.9/1.0/0.3/1.2 :28 |
| 155 | Wilson Chandler, DEN | SG, SF | Wasted a big opportunity last year, Gallinari to take a ton of minutes away. |
| | Slim's Projection: | | .430/.760/1.6/12.5/4.6/1.7/0.7/0.6/1.2 :28 |
| 156 | Dion Waiters, CLE | SG | Super-duper ThrAGNOF with lower offensive volume with LeBron in town. Should find himself a lot of wide open treys though… |
| | Slim's Projection: | | .430/.720/1.5/13.5/2.6/2.8/0.9/0.2/1.9 :28 |
| 157 | Jarrett Jack, BKN | PG, SG | Will fill in admirably in the Shaun Livingston role, doing nothing exceptional but being useful. |
| | Slim's Projection: | | .430/.840/0.9/11.5/3.1/4.3/0.7/0.2/1.8 :30 |
| ↓ 158 | P.J. Tucker, PHO | SG, SF | I just don't see myself getting him, losing the first 3 games to suspension – Marcus Morris who I think is pretty good and could really eat into Tucker's minutes when he's back. |
| | Slim's Projection: | | .440/.770/0.8/9.0/6.4/1.6/1.2/0.3/1.2 :28 |
| 159 | Vince Carter, MEM | SG, SF | Three year deal shows commitment, easily could start and play 30 minutes at the 3. |
| | Slim's Projection: | | .410/.820/1.7/11.0/3.3/2.4/0.7/0.4/1.3 :24 |
| 160 | Tim Hardaway Jr., NYK | SG | One of the many reasons you ThrAGNOF! |
| | Slim's Projection: | | .420/.820/2.0/13.0/1.7/0.9/0.7/0.1/0.7 :28 |
| 161 | Alex Len, PHO | C | With no one else behind Miles Plumlee, who really fell off last year, the former #5 pick could be a really interesting off-the-radar surprise. I still just have a gut feeling on this one. |
| | Slim's Projection: | | .510/.660/0/5.5/5.1/ 0.6/0.2/0.8/1.2 :18 |
| 162 | Wes Johnson, LAL | SG, SF | Still a little bit of a minutes crunch, and he's not going to touch the ball much on O, but his value is in Stls/Blks. |
| | Slim's Projection: | | .420/.780/1.1/8.5/4.1/1.4/0.9/0.8/1.0 :26 |
| 163 | Chris Andersen, MIA | PF, C | The late availability of blocks with a pretty low-risk investment is worth a rank here, especially for deeper-leaguers needing da swats. |
| | Slim's Projection: | | .560/.680/0/7.0/6.6/0.2/0.5/1.7/0.9 :22 |
| 164 | Tony Wroten, PHI | PG | Looking more and more like he's coming off the bench, as I was hoping he got a starting 2 role. He's a big guy who could handle that position, but an off-the-bench guy with horrible FT numbers… Eh… Does get a mini-boost if MCW misses a lot of time, but I'm still optimistic MCW can make it on the court pretty soon. |
| | Slim's Projection: | | .430/.660/0.7/13.5/3.4/3.2/1.1/0.2/2.8 :26 |
| 165 | Doug McDermott, CHI | SF | Told he'll need to jack up treys and could start at the 3. Not going to do much besides 3s/Pts though… |
| | Slim's Projection: | | .430/.860/1.6/ 9.5/3.2/1.3/0.2/0.1/1.4 :20 |
| 166 | James Ennis, MIA | SF | Playing fantastic this preaseson, playing aggressive getting FT opportunities, hitting treys, his explosiveness will mean a ton to the Heat 2nd unit. And if injuries arise (who are we kidding? With Wade, it's WHEN injuries arise!), look out. |
| | Slim's Projection: | | .450/.770/1.0/7.0/3.2/0.9/0.7/0.5/1.1 :20 |
| 167 | Marvin Williams, CHA | SF, PF | Off his best per-36 season, by far his best perimeter output, and should get big minutes. |
| | Slim's Projection: | | .440/.780/1.2/8.5/4.7/1.1/0.7/0.4/0.8 :28 |
| 168 | C.J. McCollum, POR | PG, SG | Really if he was anywhere else he could be a major sleeper, still should see productive minutes as main backup G. |
| | Slim's Projection: | | .440/.810/1.6/13.5/3.6/2.7/1.2/0.2/1.9 :26 |
| ↓ 169 | Nik Stauskas, SAC | SG | While I still see him taking a lot of McLemore's minutes and being a surprise source of assists with low TOs (along with the given treys and good %s), Sessions is going to play a ton of minutes with Colly in that backcourt. |
| | Slim's Projection: | | .430/.830/1.6/11.0/2.2/2.3/0.4/0.1/1.0 :26 |
| 170 | Boris Diaw, SAS | PF, C | Late source of out-of-position assists, giving you 2.8 a game last year from a center. |
| | Slim's Projection: | | .510/.720/0.5/8.5/4.1/2.8/0.6/0.4/1.5 :24 |
| ↓ 171 | Marcus Smart, BOS | PG | Rondo is ahead of schedule and Smart has been pretty awful in preseason. Some slight upside he can start in the second half if Rondo is moved, or play some dual-G minutes with him, albeit unlikely. |
| | Slim's Projection: | | .410/.760/1.1/11.0/4.1/3.2/1.2/0.3/1.8 :26 |
| 172 | James Johnson, TOR | SF, PF | Listed as a SF reserve could make him really interesting since Terrence Ross is a question mark at best as a starter, per-36s last year were redonk. |
| | Slim's Projection: | | .450/.730/0.3/7.5/4.2/1.8/0.9/1.0/1.3 :20 |
| ↑ 173 | Austin Rivers, NOP | PG, SG | I mentioned him late last year as a guy to target this year, but the Pelicans came out and said Russ Smith had won a backup PG role. LIARS! Rivers playing a lot of preseason minutes as the combo backup G. |
| | Slim's Projection: | | .390/.710/0.5/7.5/2.0/2.4/0.7/0.2/1.4 :22 |
| 174 | Rodney Hood, UTA | SF | Sneaky ThrAGNOF upside, the Jazz have a serious lack of other perimeter shooters. |
| | Slim's Projection: | | .410/.810/1.2/7.5/3.0/1.2/0.5/0.1/0.9 :20 |
| 175 | Khris Middleton, MIL | SF, PF | Finished 75th last year in total value, was durable for 82 games, is versatile enough to play backup to the 2, 3 and 4. |
| | Slim's Projection: | | .450/.830/0.7/8.0/2.9/1.3/0.9/0.2/0.9 :24 |
| 176 | Samuel Dalembert, NYK | C | I think Jason Smith is going to steal more minutes than you'd expect, still some late blocks upside. |
| | Slim's Projection: | | .560/.750/0/9.0/7.9/0.7/0.6/1.3/1.3 :24 |
| 177 | Carlos Boozer, LAL | PF, C | Even though he only scores and boards, starting minutes should be there. |
| | Slim's Projection: | | .480/.730/0/14.0/8.5/1.7/0.7/0.3/2.1 :28 |
| ↑ 178 | Kyle O'Quinn, ORL | PF, C | Our favorite transplanted Irishman, while I love watching him beard it out in real life, the minutes are still a concern. But he's playing fantastic this preseason following up a 9/7/1.6/0.8/1.8 second half last year. |
| | Slim's Projection: | | .500/.720/0.3/10.0/7.2/1.5/0.6/1.4/1.6 :24 |
| 179 | Marco Belinelli, SAS | SG, SF | A roster filler with no upside, I think I had him too high considering he does nothing very well. Besides not turn the ball over. And, well, get the Spurs announcers all amped up with Italian cliches… |
| | Slim's Projection: | | .440/.830/1.4/10.5/2.7/2.2/0.6/0.1/1.1 :24 |
| 180 | Kris Humphries, WAS | PF, C | Backup PF/C minutes galore, with both guys ahead of him old and injury-prone. Solid when given run last year. |
| | Slim's Projection: | | .500/.800/0/10.0/6.6/1.0/0.5/1.0/1.0 :24 |
| 181 | Randy Foye, DEN | PG, SG | Had a huge year last year, but a greatly reduced role behind Lawson and Afflalo in 14-15. |
| | Slim's Projection: | | .410/.850/1.3/10.0/2.1/2.5/0.6/0.2/1.2 :22 |
| ↓ 182 | Kendall Marshall, MIL | PG | Eh, I think I looked at him with too much D'Antoni's-crappy-team/opportunity-colored glasses. This still has him higher than most since assists come at such a premium this year. |
| | Slim's Projection: | | .410/.680/0.9/7.5/2.1/6.4/0.7/0.1/2.0 :24 |
| 183 | Evan Turner, BOS | SG, SF | In a minutes crunch on a crowded rotations-based team, but could do something useful. Not buying any preseason action. |
| | Slim's Projection: | | .420/.760/0.5/10.0/3.8/3.2/0.6/0.2/1.8 :26 |
| 184 | Bojan Bogdanovic, BKN | SG | Looks like he's won himself a starting job, and he's good for two things. Points and threes. ThrAGNOF! |
| | Slim's Projection: | | .440/.810/1.4/11.0/1.8/1.9/0.5/0.3/1.6 :28 |
| ↑ 185 | Jeremy Lamb, OKC | SG, SF | His stats will be top heavy during this early run without KD, but as a late pick I really like him even in 12ers. Might catch lamb in a bottle. I mean lightning. |
| | Slim's Projection: | | .420/.780/1.3/12.0/3.4/2.1/0.9/0.5/1.0 :26 |
| 186 | Cory Joseph, SAS | PG | A sleeper pick due to lack of roster depth, Patty Mills is coming off rotator cuff surgery and Tony Parker is always hurt. Could leave Joseph with a lot more minutes than people expect. |
| | Slim's Projection: | | .460/.820/0.4/8.5/2.7/2.9/1.0/0.3/1.1 :20 |
| 187 | Dante Exum, UTA | PG | Knew he would fall mightily after publishing the ranks the first time through, just too raw for the NBA to trust for anything right now. Second half chance for minutes keeps him top 200. |
| | Slim's Projection: | | .400/.720/0.6/8.5/2.4/2.9/0.8/0.1/1.7 :24 |
| 188 | Luis Scola, IND | PF, C | Hibbert could continue to be awful, and Scola is backing up West who has a bum ankle.  There's just no depth on that front line. |
| | Slim's Projection: | | .470/.750/0/8.0/5.2/1.2/0.3/0.2/1.4 :20 |
| 189 | Ryan Kelly, LAL | PF | Even though there's a ton of depth at PF on the Lakers, he's the only one that can stretch the floor. |
| | Slim's Projection: | | .430/.820/0.7/7.5/3.4/1.5/0.5/0.6/0.8 :18 |
| 190 | Tony Allen, MEM | SG, SF | A late source of steals and that's about it, a no-upside deep league play. |
| | Slim's Projection: | | .480/.720/0.2/9.5/3.9/1.6/1.4/0.4/1.3 :26 |
| 191 | Jason Smith, NYK | PF, C | Late-round flyer for some boards and a block, should see some decent minutes behind Dalembert. |
| | Slim's Projection: | | .460/.770/0/8.0/4.8/0.6/0.3/0.9/0.9 :20 |
| 192 | Iman Shumpert, NYK | SG, SF | Offers you a steal and a trey, and that's about it. Tough competition for minutes against emerging Timmay J. |
| | Slim's Projection: | | .400/.760/1.1/9.0/3.8/2.3/1.4/0.2/1.1 :28 |
| 193 | Mike Dunleavy, CHI | SG, SF | McDermott (maybe) stealing the starting role hurts, as does how good I think Snell is going to be down the road. A role player with no upside. |
| | Slim's Projection: | | .440/.820/1.4/10.5/4.1/2.0/0.7/0.4/1.2 :28 |
| 194 | Tiago Splitter, SAS | C | No upside, but hits all cats for a roster-filler in deep leagues. |
| | Slim's Projection: | | .540/.710/0/9.0/6.2/1.5/0.6/0.6/1.2 :22 |
| 195 | Hollis Thompson, PHI | SF, PF | Treys and steals upside if he indeed starts, right now is lightly penciled in. |
| | Slim's Projection: | | .450/.740/1.3/8.0/3.6/1.3/0.9/0.2/1.1 :28 |
| 196 | Mike Scott, ATL | PF | Can back up the 3 and 4, might take some injuries to really hit on upside, but deep ball threat should keep him usable in deep leagues all year. |
| | Slim's Projection: | | .470/.780/1.0/11.0/3.8/1.1/0.5/0.1/1.2 :22 |
| 197 | Jeff Adrien, HOU | SF, PF | A rather bizarre waiving by the Rockets.  Contract and role seemed pretty assuring to produce some value.  Post-ASB was 10.5/7.6/1.1/0.6/0.8 in only 24:25 MPG last year – with little 3/4 depth in Houston, could play those minutes again in 14-15. |
| | Slim's Projection: | | .490/.660/0/9.5/7.1/ 0.8/0.6/0.7/1.1 :22 |
| 198 | Shaun Livingston, GSW | PG, SG | The toe surgery continues to linger, and I'm getting increasingly worried for the vet. |
| | Slim's Projection: | | .470/.820/0/7.5/2.6/3.1/0.8/0.3/1.2 :20 |
| ↑ 199 | Michael Kidd-Gilchrist, CHA |  SF | He's obviously a horrible scorer, but the counting stats in the minutes he should play make him barely sneak in at the least minute. |
| | Slim's Projection: | | .460/.700/0/8.0/5.9/1.6/1.0/0.8/1.1 :26 |
| 200 | Donatas Motiejunas, HOU | SF, PF | Even though he's not listed as a C on Yahoo, is the only C behind Dwight and could be a sneaky value for out-of-position treys. |
| | Slim's Projection: | | .440/.620/0.5/8.0/4.9/0.8/0.5/0.4/1.2 :20 |

Dropped Out: Jodie Meeks, Nick Young, Russ Smith, Tony Snell