Here's the matchup grid updated prior to the 1030 ET time games last night.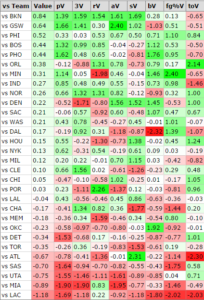 I don't want to go in depth on this today as I'd like to spend some time talking about a specific player below.  The next in-depth discussion will be in a couple of weeks when we have a nice full month of data.  Just wanted to point out that GSW remains near the top of teams to target, albeit they seem to have tightened it up a bit on the rebounding category compared to last week.
Some names to target for the rest of the week:
Friday:
POR @ NOR:  If Anthony Davis is still a DNP on Friday and somehow Terrence Jones is still roaming the FA pool in your league, good risk/reward if you're in need of production especially rebounds.  Another good one for rebound streaming if AD won't play is Omer Asik.
BKN @ OKC: Pretty much target any OKC specialists that can contribute in everything but blocks.  Andre Roberson for steals, rebs maybe a sprinkle of 3s.  Jerami Grant for rebs and stls.  If you think this can be a blowout and you're looking for 3s, Kyle Singler might be a good target–Just as @JB says, them Duke players, all they do is stand around waiting for a pass and shoot 3s.
GSW @ BOS:  This is a very interesting match up and if you base it purely on the grid, we can see a ton of 3s here. Well at least 3 pt attempts.  If Al Horford is still not playing, a sneaky player for out of position 3s could be Kelly Olynyk.  In addition, if you want to strike lighting in a bottle for a second time this season, Amir Johnson could have an unexpectedly big night.
SAS @ LAL: There's really not a cat you want to target the Spurs with.  Near the lowest in terms of pace.  However, if you're thinking blowout here, you could target Jonathan Simmons for pts, Patty Mills (if Tony Parker plays) for 3s.  On the other side, you can maybe target the rookie Brandon Ingram for 3s, stls, blks.
30 pt challenge ideas:
Paul George vs PHO
Eric Bledsoe, Devin Booker, or TJ Warren vs IND
Kawhi Leonard vs LAL
Saturday:
GSW @ MIL: 2nd game of back to back for GSW on the road.  A high pace team, GSW could come into MIL flat footed.  Mirza Teletovic is a nice target for 3s but if this ends up being a blowout late in the game, someone like Patrick McCaw for swipes and even blocks could be a nice steal (pun intended!).  Of course, Matthew Dellavedova could have a nice all around game especially facing Stephen Curry.  Have we forgotten this?
Sunday:
POR @ BKN: 2 teams in the top 10 in pace.  Rondae Hollis-Jefferson could have a nice all around game for this especially if Jeremy Lin is still not ready to play.
UTA @ DEN: Trey Lyles isn't really known for his shot blocking but DEN is a team that gives up a decent amount of blks to its opponents so if you have someone to cut that you won't miss and are in a tight race, he could be a target.
Aside from the usual matchup grid, I wanted to discuss a trending topic here @ Razzball as well as in fantasy basketball spheres–Victor Oladipo (shameless plug, click on his name and it will take you the brand spankin' Razzball player pages).   Let's call it the the Deep Dive into Dipo's season so far in OKC.  Hence the title of the post "3D Part 1".  Part 1 because this post will only focus on the defensive aspect of Dipo's game in OKC.   To be more specific, Dipo's rebounds (most of his rebounds are DR), steals and blocks.  Like Westbrook says, it's the defense.
When asked about the offensive load he's carrying, Russell Westbrook said "I'm fine." "Our problem is defense." pic.twitter.com/yM0cXaaqjM

— Erik Horne (@ErikkHorne) November 15, 2016
I'll discuss the offensive aspect next week as I want to get a few more games in to increase the sample size.
Here is Dipo's early 2016 per game stats as well as Slim's projections.

As someone who has Dipo in at least 1 league, this is not what I signed up for when it comes to rebounds, steals and to a lesser extent blocks.
REBs – 1.7 RPG below the projections; 1.4 below last season's avg.
STLs – 1.2 SPG below projections; 1.0 below last season's avg.
BLKs – 0.5 BPG below projections; 0.5 below last season's avg.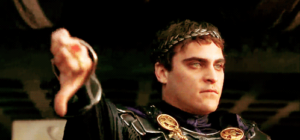 For this, he deserves a thumbs down and so do I for drafting him looking for something close to those projections.  At this point, I'd be happy to see the respective numbers from last season.
I didn't watch all of OKC's games but I have watched a few which included the 2 games he played well enough when it comes to these 3 categories and the several where he just flatly looked lost and disinterested.  I'm not saying he's disinterested as there's no real way to back that claim up unless he responds to a question asking it or you're someone who really know his personality.
Rebounding:
I have no stats outside of what I will post below to back up a theory that will mostly be based on observation of some games.
Rebounding distance range breakdown.  2016 season on left, 2015 season on right.
You can see that the difference from last year's numbers are that his rebounds on loose balls from within 10 feet have all decreased.  Now this can all be to numerous reasons but I'm going to venture a guess and say that this is primarily due to teammates that surround him.  With the Magic, the teammates that he spent a lot of time on the court with aren't as active chasing down rebounds as much as his teammates are in OKC.  Russell Westbrook/Elfrid Payton; Andre Roberson/Evan Fournier; Nikola Vucevic/Steven Adams.  Vucevic is a very good rebounder but he doesn't chase down rebounds that are out of his general space the way Adams does.  I wish I could go 1 more level down and see the breakdown of the rebounding stats depending on the lineup Dipo was playing with.  I think there could be some opportunity when Oladipo plays without Westbrook nor Adams.  However, Enes Kanter is another rebound magnet as well as the active Jerami Grant.  Semaj Christon is certainly nowhere near the rebounder that Westbrook is so maybe there is something there on the rebounding aspect.
Steals:
As a fantasy team owner with Dipo in the roster, who wouldn't want to see these consistently?
There's not much stats out there that I can dig deeper into.  The only thing I dug up that MAY be relevant is this:
Dipo averages 2.5 deflections per game according to NBA.com.  The other players that average the same number of deflections are listed below along with their corresponding steals per game so far this season.
Matt Barnes: 0.6 spg
Robert Covington: 2.0 spg
D'Angelo Russell: 1.2 spg
Marcus Smart: 1.4 spg
Kris Dunn: 1.5 spg
Rondae Hollis-Jefferson: 1.0 spg
If we remove the top and bottom outlier, we'd get about 1.3 spg which is still 0.5 spg below the projection and below last year's spg.  Even Westbrook is averaging 0.9 spg lower compared to last year.  Maybe it is a team defense mentality that's lacking as what Mr. Westbrook talked about in the video above.
Blocks:
This is another stat where there isn't much data to dig deeper into.  This is only a hunch and is dependent on the premise that most of all his blocks last year were against opposing point guards.  My hunch here is that since he played the PG position last year, he had opportunities where his body structure and height was an asset guarding smaller players and was able to use his athleticism to get those blocks.  I'll be the first to admit, this is a weak argument.  The other route and more likely one is that last year's 0.8 bpg was an anomaly as he was averaging 0.4 bpg in his rookie and sophomore year.
UPDATE: As I was completing this post, the game between OKC and HOU just ended and Dipo posted a very nice line of 29/10/5/2/0/3 with 5 3 pointers on 66.7% shooting on 18 attempts playing 40 minutes.  So the rpg and spg averages will increase.  Houston, I thought was a good matchup due to the type of game they play.  I'm not going to suddenly think the sluggish stats are over.   The 2 other games where he's played a good all around and efficient game was against PHO and GSW earlier in the season.  Yes, 2 of the top teams in terms of pace.  OKC's next 2 opponents are BKN and IND.  BKN also ranks among the highest in the league in terms of pace and IND is in the upper half.
Next week, I'll dig into the offensive aspect of Dipo's game so far this season just in time for everyone's Thanksgiving meal.  Hope everyone have a great weekend!  As always, comment away!