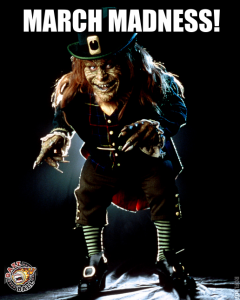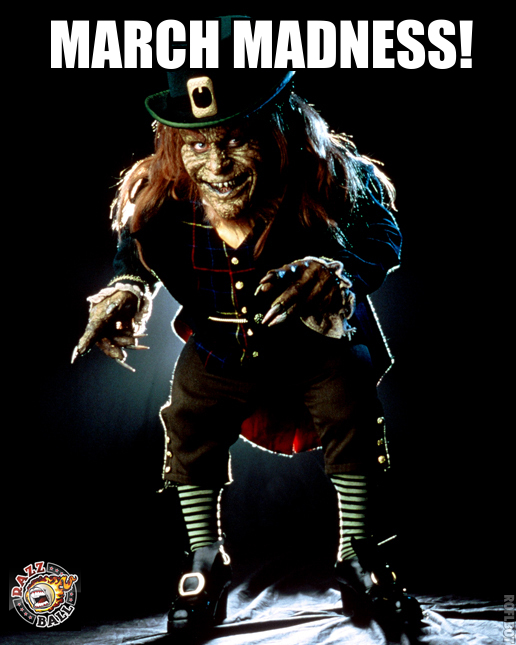 Happy St. Patty's Razzball Nation!  Who doesn't picture Warwick Davis with claws when they drink 15 Guinesses?
For the third straight year, we'll be having an awesome Razzball Hoops March Madness bracket pool, joinable through the magic of that link-ity link right there.  And for the prize, I decided to go with something more desirable than money.  Or power.  Or fame.  Ok, well probably not as good as anyadat, but the winner will get a prestigious spot in the Razzball Elite League!  We've got a few spots opening up for next season, so the winner of the Bracket will get their first choice of the team to take over.  So hop in today, may the cinderellas be with you, and good luck Razzball Nation!  Oh yeah, NBA… Here's what went down last night in fantasy basketball action:
Serge Ibaka – Ugggghhhhhh.  I dunno if you caught that, but UUUGGGGHHHHH!  Now with extra Nickelodeon slime!  The soreness in his knee will require "a procedure" and he'll be out "an undetermined amount of time."  That's right, modern medicine is as clueless as I am with fantasy basketball.  Michael Carter-Williams "might" be "better" at "basketball" than last year!  I can just throw my arms up and curse dumb doctors at this point…  Maybe all he needs is a draining and he's back sooner than we think, you never know…  If you're in a tough matchup with no bye in your first week of the H2H playoffs, yeah he's probably gone.  If you've got a bye or look to be a heavy favorite this week, I would try to hold and wait for a clear timetable.  Enes Kanter becomes an obvious must-own, and while Steven Adams has his stock going up, I still think minutes and effectiveness will be inconsistent.  30 minutes last night for 15/8/0/0/0 with 3 TO and fouled out.  Fouls and the NBA trend to play small lineups here and there keep Adams from being must-own in 12ers to me.
Mitch McGary – Certainly on the deep league radar with a dubdub last night, going 12/13 with a swat in 17 bench minutes.  Like Adams, he'll battle some inconsistency, albeit on a much more volatile scale.
Chandler Parsons – Dropping a playoff-opening 30 burger!  31/4/0/2/0 with 3 treys.  Ol' Channy has been inconsistent this year, but improved the Pts in 4 straight and looks to be finally over the kankle.
Rajon Rondo – Whoa, dimebag is back in the house!  11/4/13, and it's been over two months since his last one.  Two months!  All that sobriety, wasted!  January 5th since he last toked the ganja!  And only his third since hoppin' on the Mavs.  Maybe he's turned a new leaf!  A kind leaf…
Kyle Lowry – Ya know, we can hate on all the annoying-as-balls DNP-rests, but sometimes dey prove wonders!  Look at Lowry going nuts with a tripdub last night for 20/11/10/3/0 with 5 treys.  Unstoppable!  Damn I wish my buy low attempts a month ago were taken…
Lou Williams – Stickin' with Sweet Lou!  I feel like that's a barbecue sauce tagline…   24 Pts with only the one 3, but gives ya that Kansas City style 7-7 FT with that gorgeous North Carolina vinegar-based only 1 TO.
Roy Hibbert – Nice to see him on the right foot for 17/7 and two swats last night, but it'll be back to the wrong foot sooner than later.  Better than no feet!
Rodney Stuckey – Wasn't huge in anything but the Pts, but 20/1/4/1/0 off the bench is still good enough to validate the add in even 10ers if you needed the scoring.  No treys shouldn't be a big surprise though.
Robin Lopez – He's so bad!  The worst player in the NBA!  Time to pick up JaVale McGee over him, just on the blind hope…  8/4/0/0/0 with no TO.  Eh, you probably still have to hold, but a rough start to the playoffs.
Nene – Returned from a couple off to be there for the birth of his kids, and solid 12/7/2/0/1 last night.  Did have the usually bad 2 TO and 2-4 FT, but he was cut in a lot of leagues (was available in half of Yahoo leagues last night) and can help as a big.
Tyler Zeller – Somebody play some defense!  Oh yeah, it's the Sixers, but still you'd expect Nerlens Noel to lock that down a little better!  11-14 FG and 4-4 FT for 26/5/2 in only 28 minutes.  I still don't trust any of the Boston big men though, as Kelly Olynyk struggled again for 0-6 FG in 16 minutes.
Avery Bradley – Playin' like a boss against the awful Sixers!  20/10/6 with 4 treys, and Isaiah Thomas is at least 3 games away from playing according to The Devil.  I mean, Brad Stevens.
Isaiah Canaan – Hmmm.  Didn't give us a definitive Gladiator style thumbs up or thumbs down on his value.  11/6/2 with 2 treys, and not good enough to hold onto no-questions-asked in my book.  Ish Smith for 16/2/4/1/1 was the better PG last night, but can't trust either one of these guys to be better game-to-game.
Robert Covington – I hate the Sixers.  I hate Brett Brown.  I hate campers on Call of Duty.  Oh wait, focus JB!  23 minutes off the bench for 4/6/3/2/0, did only shoot 1-8, but no TO and still should be starting.  Dumb and Dumber Tree – Harold and Lloyd GM an NBA Team.
Kevin Love – Sat last night as LeBron James got embarrassed by his former Heat.  Didn't bring his talents to South Beach last night!
Dwyane Wade – What a revenge game after the breakup!  It's like a revenge tape, and Wade plowed through half the talent of Miami.  The talent should Union-ize!  32/2/2/5/0 hitting 13-18 from the field.
Jarrett Jack – "Wahhhhh, I'm better than Deron Williams!"  16/5/5 last night while D-Will was only 8/1/7.  Eh, some funky minutes against a Wolves B/C team with all their guys rested makes me not interested in any of this mess…
Zach LaVine – Another start for the DNP-kankled Ricky Rubio for 20/2/3/1/0 and 4 treys.  Unfortunately marred by 6 TO, but going to be streamer-usable in the Rubio DNPs.
Justin Hamilton – Shocker!  Outplayed Adreian Payne off the bench for 15/6/2/1/2 on 6-14 FG and 3-3 FT.  Man, tough to not grab Hamilton in virtually all leagues, even with Nikola Pekovic and Kevin Garnett out last night.  Well, you'd expect them to get DNPs rather than play most of the time, so there's that.
Marc Gasol – Rainbow alert!  14/8/3/2/3 and starting the playoffs muy caliente!
Jameer Nelson – The Nugs also benched everyone (Ty Lawson, Danilo Gallinari, Kenneth Faried) with Nelly getting hot in hurr for 24/5/2/1/0 and a couple of treys.  If the Nugs keep these DNPs up mostly with Lawson, there's a lot of streamer value to be had.
Randy Foye – Solid 16/3/3/3/0, and played 33 minutes to Will Barton's 23.  If both are active I would lean playing Foye, but man, I don't like relying on any of this for more than one-game streams.
Lance Stephenson – Sheesh, what a weird night for the Hornets!  They were absolutely dreadful, and somehow Stephenson was their only beacon of offense for 17/1/0/0/0 and 2 TO.  #GobertD!
Al Jefferson – Good to see him back in the lineup, but only 10/7/0/2/0 in 24 minutes as the Hornets managed just 66 points.  #GobertD!
Rudy Gobert – #GobertD!  Ok, enough of that, any further hashtag usage will be reserved from Draymond Green.  9/22/2/0/1, the 3 TO and 5-8 FT are kinda annoying with the former a little out of character, but tough to complain!
Rodney Hood – Hmmmm.  I don't know what to do with this – amazing 24/3/3/1/0 line hitting 9-11 FG (5-5 3PTM 1-1 FT) which is certainly beyond the ThrAGNOF-only range, but I still think he's in the ThrAGNOF mix.  Does have multi-treys in 4 straight and 17+ points in 3 of 4, but not a must-own yet.  Although, if he had stayed healthy, my blurb on his #174 preseason rank of "Sneaky ThrAGNOF upside, the Jazz have a serious lack of other perimeter shooters" would've looked mighty smart this year!
Dennis Schroder – Geez, no Kyle Korver, no Al Horford, and the Hawks still roll through everyone!  And even with Jeff Teague back, Schroder for 10/3/6 off the bench brought enough dimes to be semi-useful.  You hate the 3-12 shooting, but got 23 minutes and with Korver out at least 3 more games with a broken face, I'd imagine 25ish minutes a night with some combo G action for the Schrodes.
DeMarcus Cousins – Rainbow line!  20/13/5/2/3, but the Kings can't beat half the Hawks.  Yikes.
Jordan Clarkson – Man, really held his own against the Warriors for 17/6/3/2/0, but this news about Jeremy Lin starting the final 10 games of the year certainly clouds the final couple weeks.  Even with the cloud, I think Clarkson will have enough run to make it rain.
Streamers/Cheap Daily League Picks:
Cole Aldrich (10% owned) – And the lord said unto thee, "Start thy fringy big men against the Spurs!"  The "other" big man Aldrich has been getting solid big man stats lately, and should tear it up.
Jerryd Bayless (3% owned) – He's been out a few games, but with O.J. Mayo ailing, MCW seeming likely to play but still questionable and Tyler Ennis so raw, I think the Bucks will get all they can outta their vet JB.
I hope your playoff matchups started strong, and we'll see ya tomorrow Razzball Nation!