One week after writing a piece about the fantasy fallout of Joshua Primo's dismissal from the Spurs, I am back on the bad behavior beat. This week's contestants, as you may have guessed, are the Brooklyn Nets. In an attempt to get ahead, I've consulted my Tarot cards to get a jump on next week's piece and see the Charlotte Hornets coming down the pipe. NBA action, it's not full of hypocrisy, double standards, and compromising morality in pursuit of competitive and monetary success – it's actually fantastic! 
By now you certainly know the story. After a week of defensive press conferences that did not include the words "I'm sorry", "I apologize", or "I do not hold anti-Semitic beliefs", the Brooklyn Nets were finally compelled to suspend their capricious and defiant superstar Kyrie Irving for his social media posts that referenced media containing anti-Semitic ideas. The suspension will last at least five games, and the path back for Irving will involve different benchmarks in need of clearing before he can return to the team. Should he satisfy all the requirements to return over the course of his five games away, the earliest Irving could be back on the floor is November 13 in Los Angeles against the Lakers. 
And should he not? Well, that's where things get interesting. 
In the Short Term
Expect Kevin Durant to keep cooking. No surprise there, right? At the time of writing, KD is the fifth-best player in 9-cat fantasy and his production is positively Durantian: 31.5 points, 6.2 boards, 4.8 assists, 0.8 steals, 2 blocks, and 1.7 triples in an eye-popping 37.3 minutes per game. He's providing value in every cat but steals and his season-long usage rate of 31.4% should increase a few ticks without Irving. Durant's 3PM% is the lowest it's been since his rookie year as a 19-year-old in Seattle, but he's currently hitting 58% of his two-pointers and is an absolute killer in midrange once again. A metronome of excellence, as long as Irving is out (and Ben Simmons to a much lesser extent), KD is as likely as anyone to be the best player in fantasy hoops.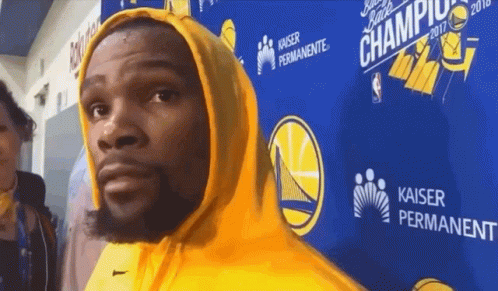 With Simmons on the sidelines with knee issues – his back also doesn't look right from where I'm sitting, but I'm no doctor – interim head coach Jacque Vaughn* has had to reach deeper into the Nets bench to provide Durant with enough complimentary pieces to keep the team afloat. Considering Durant showed out in his hometown against the Wizards and visiting Nets wrestled away a win from the Hornets on the second night of a back-to-back, things have been mostly positive for Vaughn, though it's unclear if winning games will have any bearing on him keeping the gig.  
Supplanting Simmons in the starting rotation has been Edmond Sumner, a soon-to-be 27-year-old guard who has seen his minutes tick up over 20 over the last three games. Unfortunately, the production hasn't really followed. Inaccurate shooting on low volume (37% on 6.3 attempts) has resulted in averages of 7 points, 3 boards, 2 dimes, 1 steal, and 0.7 blocks with 1.0 made threes. While it would be nice to believe in those defensive stats and the prospect of a 1/1/1 player filling in for the erratic production of Ben Simmons, the track record doesn't really support those stocks. The eye test and a career 32.6% mark from three also do not bode well. I traded for Sumner in a 30-team league where the value of minutes is paramount, but he's not a priority in standard leagues. Something dramatic will need to happen with Simmons or the rest of the roster for Sumner time to come this winter, but something dramatic is already happening, isn't it? Players in twelve-team leagues can throw Edmond on the watch list for now. 
Vaughn has also called on second-year spark-plug Cam Thomas, especially in the last two contests. Coming off the pine, Thomas has provided a significant scoring punch. He dropped 17 on Washington, 21 on Charlotte, and has a knack for putting the ball in the hole. Prior to the recent outbursts, Thomas had been virtually invisible to Steve Nash, only appearing in 15 minutes of game time all season. Cam's bonafides as a scorer are legit though. If the 570 points he scored last year as a 20-year-old rookie don't jog your memory, perhaps the kid talkin' that shit about giving Durant the business one-on-one will ring a bell.
Thomas plays with a verve that is sorely lacking in Brooklyn, especially with Irving absent. Outside of Durant and occasionally Sumner, it's Cam Thomas running pick and roll and stirring the drink offensively. Considering the rest of the roster, I'd expect Thomas' minutes to stay elevated to help KD shoulder the offensive load. The knock on Cam is that he's a minus defensively, but considering that Brooklyn's defense is already in the toilet – their adjusted defensive rating is 114.8, 9th-worst in the Association – his negatives might be easier to stomach. Brooklyn, despite the turmoil and sub-.500 record, is scoring at a top-10 rate and it's much easier to see them gunning for wins offensively than breaking out the clamps on the other side of the ball. The personnel just isn't there for the defense to get better in a hurry, especially as Seth Curry and Joe Harris work their way back into better health and greater minutes. Until a Simmons resurgence takes place, Thomas is an easy add for next week. I wouldn't expect a whole lot outside of points, threes, and maybe a bit of diming for now though – even the best young guards are prone to trouble, after all.
Fellow Japanese native (seriously, Cam Thomas was born in Yokosuka) Yuta Watanabe has also had himself a nice stretch of basketball lately. Over his last four games, Watanabe's minutes have increased to just under 25 per game, and some unsustainably hot shooting 62.5% from the field and five total swats has nudged him up into the top 75 for the last week. Don't fall for the banana in the tailpipe, though. Even with increased PT, these numbers scream regression. It's coming soon enough. 
And in the Long Term?
I mean, how can anyone really know at this point? While what was written in the short-term section could be supported by data, what follows here is highly speculative. That said, what if…
Irving is done with the Nets. Last year's decision to remain unvaccinated cost him, by his own accounting, a four-year, $100M contract. He's now playing out the final year of his existing deal and the well in Brooklyn seems so thoroughly poisoned that I would be shocked if the Nets offered him another contract. The end of the road is either already upon Kyrie or lies just around the next bend. It's hard to feel good about his future with the team in either the medium or long term.
Regardless of how you feel about Irving and whether or not he actually holds anti-Semitic beliefs in his heart, a big part of what is being asked of him in order to return is demonstrating that he's willing to get in line. Considering what we know about Kyrie, including his seemingly genuine interest and curiosity about things other than basketball, it doesn't seem outside the realm of possibility that Irving remains intransigent. Maybe the fact that another one of his bosses, Nike, is suspending their relationship with him and halting the rollout of his incredibly popular shoes means that Irving will be more inclined to make nice and get back to his team. This is his career, after all. Or maybe this is where the long-awaited rubber meets the proverbial road. Perhaps the mercurial Irving has either finally strayed too far to be welcomed back or is simply unwilling to stomach playing the PR game in order to return to basketball. A free thinker (apply scare quotes there if you see fit) who is very willing to tell you that he is walking his own path, he might rather dip out than bend the knee. I honestly have no idea. 
What I do know is that without Kyrie Irving and with this particular version of Ben Simmons, the Nets aren't winning the Eastern Conference this year. They might not even get a round. On a recent podcast with Son, I said the Nets could be a play-in team and nothing that has happened since then has moved me off that position. Durant's greatness and a spirited effort from the rest of the organization powered two needed victories, but Kevin is 34 and playing the most minutes since 2013-14. In fairness to KD, he did manage to play 37.2 minutes last year in 55 games, but I don't find much comfort there. Miles don't come off tires, and after coming to Brooklyn to win a ring "on his own," I don't know what the appetite will be to tilt at windmills during the last chapters of an awesome career while his running mate is coughing up mealymouthed non-apologies. Let us not forget that Durant had already asked for a trade out of town this summer.
Let us also remember that the Nets have sent a boatload of draft assets to the Houston Rockets, but that this year the deal is that the Rockets are only entitled to a pick swap with Brooklyn. Considering Houston's competence in tanking for Wembanyama, it's possible for the Nets to bottom out this year and retain a pick in the lottery. This opens the door to: 
1) Irving being done with the Nets/the Nets being done with Irving/a mutual "parting of ways" 
and 
2) GM Sean Marks granting Durant the wish he made this summer and shuttling the superstar elsewhere. 
What would be left in the wake of these moves would be whatever is left of Ben Simmons, a lottery pick in a loaded draft, and whatever compensation is acquired from trading one of the all-time greats. Despite my Tarot decks and incense, I am no soothsayer. What I've laid out might not come to pass, but I do think there's architecture in place for these kinds of movements. Like the rest of the NBA, we'll just have to wait and see. 
In the meantime, as long as the peak version of Brooklyn is unattainable, Durant will be a monster, and as long as Simmons is reduced and Irving is absent, Watanabe, Sumner, and Thomas will all have opportunities to produce. Simmons' return will impact Sunmer, just as Irving's will Thomas. In standard leagues, I'm not sure there's much to do immediately other than add Cam if his scoring punch is useful to you. But in deeper leagues or dynasty formats, now might be an interesting time to add some Nets explosion insurance. Sumner and Watanabe both qualify as that, but so does David Duke Jr., who's seeing erratic PT at the moment, and Kessler Edwards, who is presently in the G League. 
If Sean Marks and the rest of Brooklyn's bass decide to pull the plug, these rotations could look very different by the end of the season, as the reality that this might be the last time for many years that the Nets could potentially have a valuable draft pick should not be overlooked. They're badly overleveraged after a couple of rounds of chasing stars, but the first step in getting out of a hole is to stop digging. 
Durant is talent enough for Brooklyn to get past the Wizards and Hornets of the world, but the road will get rougher. The East is arguably deeper now than it has been at almost any other point in my life. When Ben Simmons and Kyrie Irving are vital cogs to success, it's probably worth considering how well the machine works. Winning in the short term could keep this thing humming, but should Irving's time away stretch beyond the initial five games and Ben Simmons continues to need time to return to form, the paths forward get thornier and narrower. The margin for error is rapidly disappearing. Don't be shocked if Brooklyn bails. 
*The Nets have been linked to, uh, controversial former Celtics head coach Ime Udoka to replace Steve Nash, though Vaughn has found success under the interim tag. Following the firing of Kenny Atkinson in 2020, Vaughn went 7-3. He's won two out of three so far after filling in for Nash.