I almost never know what I'm going to be writing about week to week. Not exactly a planner, my process – if it can even be called that – consists of watching a lot of basketball and tapping notes into my phone. When the weekend comes, I look back through the scribblings and begin to flesh things out. 
The San Antonio Spurs, with their top-10 offense, a surprising 4-2 (now 5-2) record, and six top-150 fantasy players were well-represented in my collection of stray thoughts. The fact that I'm rostering Keldon Johnson, Devin Vassell, Tre Jones, Zach Collins, and Jeremy Sochan across a variety of leagues this season also didn't hurt. As of last Thursday, I was prepared to do a write-up about the goings on in Alamo City. Then the bomb dropped on Friday night. 
Nineteen-year-old Joshua Primo, the 12th overall pick of the 2021 draft who was being pushed forward as a potential face of the franchise, was waived by the team. Details were hard to come by at the time, but the San Antonio PR team released a statement that referenced the idea that it was in the long-term best interests of both Primo and the Spurs if he wasn't a member of the team anymore. Primo then followed up with a statement referencing past trauma, a desire to help others in the future, and a request for privacy. 
By Monday morning, a clearer picture had come into frame. Primo allegedly exposed himself to women and a female former Spurs employee had hired the same attorney who brought legal actions against DeShaun Watson. We can see where this is going. 
So, yes, the Spurs are indeed playing at the third-fastest pace, taking (and making) more threes than last year, forcing a good amount of steals, and assisting on more than 70% of their made field goals (the highest rate in basketball), but given the reality that they just showed the door to a presumably important piece of their future, we'll start by addressing that fallout first. 
Who stands to gain in the wake of Primo's departure? 
The most obvious and direct beneficiary is Tre Jones. Primo was always a bit more of a natural combo guard to Tre's traditional PG build, but that didn't stop the Spurs from spoon-feeding Primo opportunities to run the show. Without him on the roster, the competition for Jones' spot has been greatly reduced. 
Even when Primo was still in town, Tre had held his own in his first season as a starting point. The numbers are solid – 13.5/4.3/4.4 with 1.5 steals per – if not spectacular. An asset in dimes, steals, and free throw percentage, his efficiency has suffered a bit with increased usage. The FG% currently sits at an unsightly 39% and the contributions from three are paltry. Absorbing an extra couple of minutes from Primo won't address the hit rate concerns for Jones, but the counting stats should continue to bubble up with the extra burn. Two steps forward and one step back isn't ideal, but it's a net positive nevertheless.
Already producing at a top-100-ish rate, perhaps the most tangible gain for Tre is the assurance that the bottom will not be falling out at some point this season. The writing was on the wall for Primo to overtake him at some point – either this year or next – but by waiving Primo, the Spurs broke out rollers and hit that graffiti with a fresh coat of primer. Starting point guard is not Jones' job to lose anymore, it's just his job. Where Tre is valued now should be considered the floor, and at just 22 years old himself, there's no reason to think he can't improve and continue to grow into the role.  
Though it's been a long time since his breakout campaign in Miami, Josh Richardson has been putting together a bit of a comeback season in San Antonio. Expecting a return of the salad days of scoring 16 points a night in 34 minutes is foolish, but Spurs JRich was off to a strong start in his own right, averaging 11.7 points, 3.5 dimes, and a steal on admittedly unsustainable shooting (48% FG). Like Jones, the efficiency could tick down with extra run, but an already thin guard position pushed Richardson up as a fringy 12-team play. He's not a must-add now that Primo is gone, but it's close for me. There's a minor injury concern at the moment, but I'd have him on the watch list at the very least. 
Deeper down the guard depth chart, Primo's dismissal also accelerates the timelines for first-round rookies Malaki Branham and Blake Wesley, but I'd expect more-known options like Romeo Langford eat before the kids do. Wesley is the more interesting option of the pair and is where I'd start if I were looking to make an add in a sufficiently deep league. 
Other Boats on the Rising Tide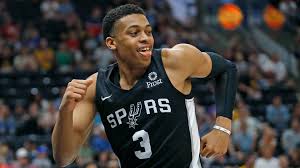 Keldon Johnson has largely delivered since stepping into the usage vacuum left in the wake of Dejounte Murray's departure, so it stands to reason that he could siphon off additional bonus usage now that the Spurs have moved on from Primo. The two only shared the floor for 50 minutes this season, so we're not looking at a ton of overlap, but Johnson has been a usage magnet since Dejounte was dealt to Atlanta. Additional shots seem to keep finding their way to Keldon, which is mostly a good thing. 
Johnson's averaging a career-high 18 attempts a game and his usage rate of 28% puts him ahead of offensive hubs like James Harden, Bradley Beal, and Tyrese Haliburton. The added shots have fueled a bump in scoring (up from 17 to just under 24 now) and additional improvements can be seen up and down Johnson's stat line. His 3.5 assists, 1.3 steals, and 3.7 triples are all career bests, along with a slightly ballooning turnover figure (up to 2.5 now). If there's one drawback of Keldon getting a few more possessions as a result of Primo's departure, it will probably be in his efficiency. The shooting numbers are already slightly below where you'd want them, but they're still viable at .444/.423/.774. Despite launching more than ever from deep, the career-best 5.2 free throws per game help add in a bit of floor. The whole package adds up to a top-40 player, even though his rebounding numbers currently sit below his career average. Considering the rock-solid role, it seems possible that the rebounds could, well, rebound. 
Despite an overall bloom, it's not all roses for Johnson. Because both the volume and diet of Keldon's shooting have shifted – he's shooting 8.7 threes a game, almost three and a half more than last year's previous career high –  I'm not confident that the FG% is going to rebound to his career level of 47.6% All those triples come at a price. I'd keep an eye on the steals too, as he's never averaged more than 1.0, so this year's 1.3 strikes me as a touch unsustainable. 
Johnson's breakout partner Devin Vassell could also be in line for a bump going forward, but that would require him to get back on the floor first. At the moment, all we know about his right knee is that it's sore enough to keep him out of three-straight games. When he's been available though, Vassell has sparkled in the ways we hoped he would this preseason. Points (19.8), rebounds (5.0), assists (4.5), steals (1.3), threes (3.3), and minutes (32.5) are uniformly up. Like many of the other previously Spurs mentioned, the cost of all these goodies has been paid for in efficiency, as Vassell's shooting just above 40% from the field. There might be a touch more playmaking opportunities for Devin going forward, which would tack on additional turnovers and dimes. We'll have to wait and see what life looks like for him going forward. As of Monday morning, he's still injured and unavailable. 
As for the rest of this group, I can't imagine that no mo' Primo will impact Jakob Poeltl, his backup Zach Collins, or rookie forward Jeremy Sochan much at all. Outside of a strange dip in swats, Poeltl is performing as advertised – FG%, boards, and a smattering of dimes with absolutely abysmal free-throw shooting. Zach Collins has been able to stay healthy and flash a few good games despite limited minutes (16.3). He's not rosterable in standard leagues for now, but should that inevitable Poeltl trade come through, there will be reasons to be excited. 
It seems strangely fitting that we end with Jeremy Sochan, another teenage lottery pick who has enough sizzle for us to take note of. An illness kept him sidelined for his first opportunity to capitalize on Primo's absence on Sunday night, but the game logs reveal a promising trend regardless. Minutes are increasing, as Pop and Co. seem to love his heady defensive abilities and high motor. Sochan cracked 30 minutes for the first time in his career in Friday night's win against the Bulls, posting 13 points, 6 rebounds, 1 steal, 1 block, and 2 threes. Pairing his defense-first mindset with the overall ambitions of the club (read: we don't mind losing games because we're playing young talent) leads me to believe that more minutes are on the horizon. The scoring will be spotty, but those stocks (and his) should continue to rise. Keep an eye on him.