With less than a third of the season remaining the battle for a playoff spot in the West is fiercer than ever. Utah's latest winning streak has complicated matters even more and currently six teams are separated by just three wins.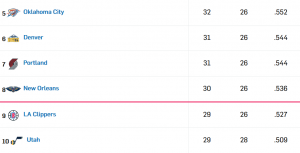 Presumably, the Pelicans are the odd man out with DeMarcus Cousins done for the year, but anything can happen in the remaining games so I wouldn't bet against any team. I'm very interested to see in the comments your own predictions about the final standings in the Western Conference. The commenter with the best prediction will win my eternal love, as it's Valentine's day today, and a Brian Scalabrine bobblehead. The last part is a lie, because if I ever get my hands on such a bobblehead I'm never giving it away….
Moving on to last week's calls, Michael Beasley unsurprisingly took a big chunk of Kristaps Porzingis' usage and during the last week averaged 19.7 points with 8.3 rebounds. Hope you were quick enough and scooped him off the waiver wire, as he can be a game changer for the fantasy playoffs. Josh Jackson also had a good scoring week and, if you can offset his bad percentages, is a great keep as the youth movement continues in Phoenix. Finally, Tyrone Wallace's minutes are on a free fall and you can safely move on if you haven't already, while Isaiah Thomas was one of the victims of Cleveland's deadline frenzy and will close the year as a Laker. I think his outlook improves with this move, as he will try and prove he deserves the max deal he craves, but is bad news for Josh Hart's ROS outlook. It will be interesting to see how Luke Walton tweaks his rotation when Lonzo Ball returns and if Thomas can embrace a sixth man role for the young Lakers.
Please, blog, may I have some more?