Part of fantasy basketball is forming a team using the predictable stats in a way that maximizes your roto points or head-to-head category wins. Another part is getting the less predictable stats right more often than your competition, whether that means you're benefiting from an increase in value or avoiding a decrease.
It's early, but I thought I'd take a look at what the biggest differences are in this season's stats versus last season's by using the ESPN Player Rater averages (per-game).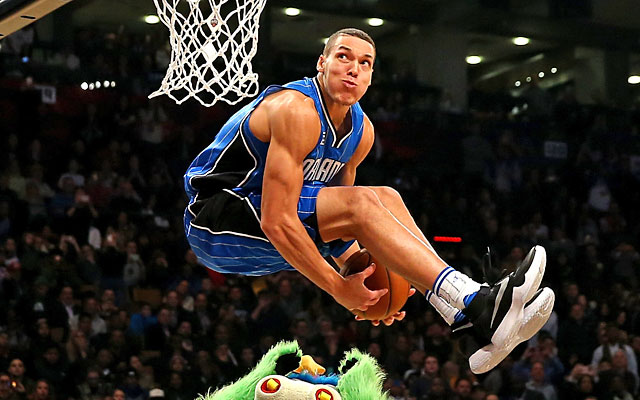 Aaron Gordon. This season's highest leaper.
First, a quick detour while I'm talking player rater. Here's something it teaches us that we should keep in mind. Many people think of rankings as linear. Like, the best player is the same amount better than the 5th player as the 5th player is better than the 9th player. Not so, and we see the difference especially among the top few players when we look at their overall rating. Like with most data sets, there are outliers. That's these fantasy stars. The top five players with their per-game ratings in each of the past two seasons:
2015-2016
2016-2017
After the top players, the next few are all separated by less than a point, and then the next few hundred are only separated by small fractions of a point. This makes the top 5 or 10 players so much more valuable than many people realize.
Now, I believe ESPN calibrates their ratings such that 0.00 is the NBA average in any category. It stands to reason that a total value of 0.00 would then be an average NBA player. In most leagues, only the top third or so of all NBA players are rostered. Over the last two seasons, that makes it look like the best free agent would have a rating of about 2.00. I say this to point out that 15-16 Curry plus a replacement player (say, Jared Sullinger) was roughly equal to Paul George plus Draymond Green, the 12th and 13th ranked players. The curve leveled out at the top a little more last season, but still, James Harden plus replacement-level Al-Farouq Aminu was generally as valuable as Mike Conley plus Rudy Gobert, the 21st and 22nd ranked guys. My point here is that it's almost always worth going for the top players in 2-for-1-type deals, since you wouldn't likely have to give up as much as what the cost should be. Don't be afraid to offer a 2nd and a 3rd round guy for a 1st round and a 5th round guy. You're probably coming out ahead, depending on your team needs.
Okay, back to the changes. Remember that this season's sample size is still too small to tell us much (great and terrible games are heavily influencing the averages), but that means we can take some gambles while the consensus on what's sustainable hasn't been reached yet. The following lists are based on per-game stats in 8-category leagues (no turnovers) through 11/7. I whittled this down to relevant guys that have played at least a handful of games and made notes where there may have been a temporary reason for an improvement from last season (possibly making them sneaky sell-highs). These temporary reasons don't necessarily mean the player will regress to their previous baseline, but they explain much of the change. The rest of the players are either doing what was expected because of an offseason change or they MIGHT just be off to hot start that won't end. Or, if they're on the second list, they're down without a ton of hope for recovery, unless they started the season in a huge shooting slump. Best to check their FG% to see if that explains it.
Notable increases in order of positive change in value:
Aaron Gordon
Andre Drummond – FT% improvement, but he's dropping after 0-7 on Wednesday
Domantas Sabonis – Turner was out
Kelly Oubre Jr. – Morris was out
Evan Fournier – Payton was out
Victor Oladipo
Taurean Prince
Tyreke Evans
Dejounte Murray – Parker will continue to miss time
DeMarcus Cousins – AD only missed a couple games
Steven Adams
Brandon Ingram
Clint Capela
Denzel Valentine – LaVine still out a while
Jonathon Simmons
LeBron James
Kristaps Porzingis
Jakob Poeltl – Jonas missed 4 games
Joe Ingles
Jeremy Lamb – Batum's been out
Jaylen Brown
Rondae Hollis-Jefferson
DeMarre Carroll
Reggie Jackson
Enes Kanter – can't imagine Noah hurts him much upon return
Otto Porter Jr. – Morris was out
Thon Maker
Eric Gordon – CP3's been out
Taj Gibson
Devin Booker
Dennis Schroder
Justin Holiday
Austin Rivers
Robin Lopez
Nikola Vucevic
Darren Collison
Notable decreases in order of negative change in value:
Russell Westbrook
Kyle Lowry
Jimmy Butler
Gorgui Dieng
George Hill
Jae Crowder
Mike Conley
John Wall
Rudy Gay
Dwight Howard – fellow FT% brickers improved, so his % compares even less favorably
Serge Ibaka
Dwyane Wade
Danilo Gallinari
Paul Millsap
Derrick Rose
Tristan Thompson
Andrew Wiggins
Jrue Holiday
James Harden
Wilson Chandler
Paul George
Marvin Williams
Nerlens Noel
Cody Zeller
Goran Dragic
Lou Williams
Brook Lopez
Trevor Ariza
Dario Saric
So, regarding that second list, I'd feel good about holding or targeting the players in a shooting slump, but the rest… well, can you still get anything close to their draft-day value for them? It's not looking great. Don't be afraid to cut bait on some of these guys that are struggling to stay in the top 100 (or 200). How much could it possibly hurt you in a worst case scenario if you cut Wade or Dieng loose?
And you, Westbrook, those freebies have got to start falling soon, right?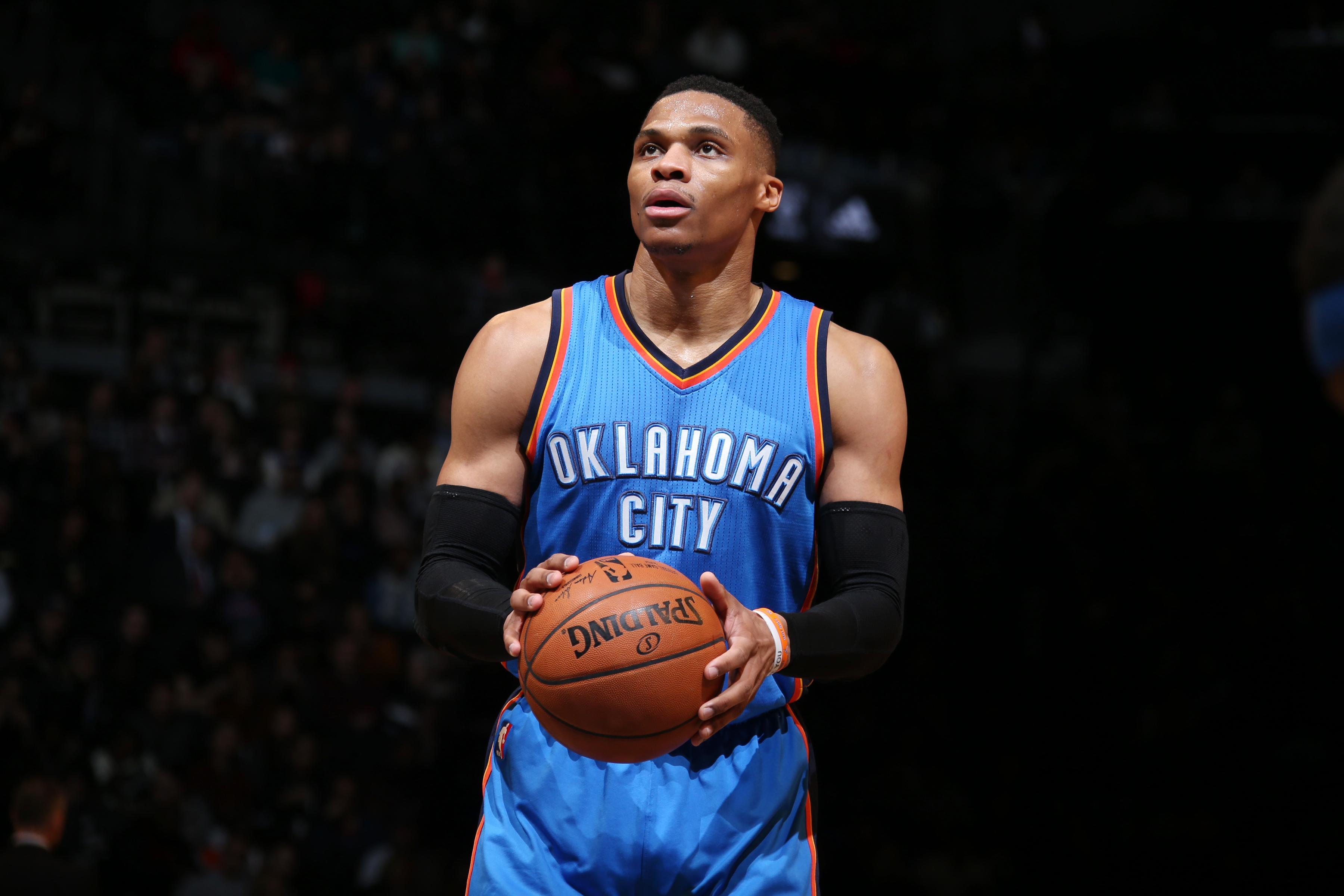 This week's classic fantasy line:
In honor of this week's theme of trying to figure out which changes are legit, here's the best example I can think of where a player took significant leaps in years two, three, and four (and beyond, really). This is Jimmy Butler, 30th pick in the 2011 NBA Draft. I'm guilty of generally being too slow to trust someone drafted outside the top 10 or so, but that's where you'll find some of the best free agent pickups in their 2nd or 3rd season. Some of this was spurred by Derrick Rose injuries, but this is the kind of player we want to identify as his role is increasing as he's greatly improving.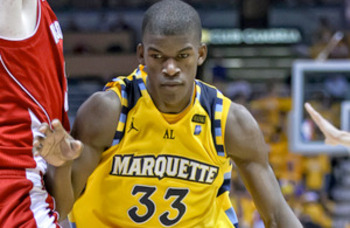 "I'm gonna work so hard that one day… one day… I'll be in some sort of holiday office building comedy."