Last night, we all got to witness a celebration of greatness. And this article is not meant to disrespect that by any means …
BUT DID YOU SEE WHAT JALEN AND JAYLIN DID OUT THERE?!?!?
With all eyes watching history being made by Lebron James, rookie conundrum-of-names Jalen Williams and Jaylin WIlliams helped the young Thunder team beat the Lakers, 133-130 – in L.A., in front of more celebrities than have ever attended an OKC Thunder home game [fact check maybe needed].
JALEN Williams, the do-it-all small forward out of Santa Clara (my alma mater!) [dude, you attended one year, doesn't count] posted a 27-7-2-6-1 stat line while shooting 10-of-19 from the field (3-6 3pt, 2-2 FT), in 40 minutes of play.
Meanwhile, JAYLIN Williams, the hustlin' big out of Arkansas with a soft touch, was on the outskirts of the mess'around field, scoring 14 points (4-6 FG, 2-2 3pt, 4-4 FT), grabbing 7 rebounds, dishing 7 (!) assists and nabbing 2 steals in 31 minutes (his previous high was under 25 minutes). 
JALEN currently trails only Walker Kessler, Utah Ranger, for rookies in fantasy ranking for 9-cat per game scoring – 119 and 82, respectfully. He's ranked No. 74 over the last two months, with averages of 12.9 points, 1 three, 4.6 rebounds, 1.3 steals and .7 blocks, shooting about 50% from the field and 70% from the line. Sure, that's not a smokin' hot looking stat line, but certainly respectable enough to take home and meet your mother – an all around solid individual with a great personality to boot. 
JAYLIN [wait, you haven't done a Rookie Report on this site for weeks, and you randomly show back up just to tout your obscure fantasy pick? … Shut it, voice in my head, I'm working here!] is ranked No. 86 in per game fantasy value over the last two weeks (six games), with averages of 9 points, 6 boards, 2.3 assists, half a steal and .3 blocks – in just 20 minutes per game – while shooting 57.6 overall, 75% from the line, and hitting 10-of-14 from the behind arch … "Excuse me, can you repeat, I think I read that wrong … " 10-of-14 from behind the arch.
OK, OK, I'll pump the breaks a little. JAYLIN doesn't provide much in the stocks department, he's undersized for a center and that last two-weeks ranking is more about low volume percentages and assists total from the Tuesday night game (his previous assist high was 3). And it's uncertain what his role will be when/if Pokusevski returns from injury. But, look at this dish ….
[Insert video of JAYLIN in the 4th quarter against the Lakers on a fast break and throwing a beautiful left-handed shovel pass to the right corner for a wide open three for, I assume, was Isaiah Joe. … couldn't find the clip by time of posting. In lieu of that, enjoy this fun JALEN n JAYLIN graphic from the world wide web]: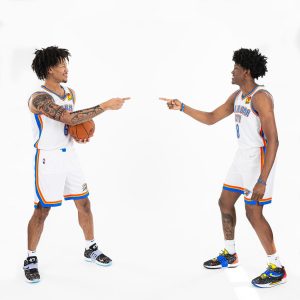 As for JALEN, everyone knows by now what a breakout he's been this season. And he just keeps getting better. He's a gamer: does a little of everything well and could probably jump in your Call of Duty Battle Royale action and get 6 kills without ever playing it before. The Thunder are fully in the playoff hunt and JALEN … and perhaps JAYLIN … will continue to see opportunities to showcase their skills and build upon their young resumes. 
Elsewhere in the rookie landscape of the NBA:
The middle third of the NBA season is really a dog days of rookie performance. Many quasi-breakouts from the first third of the season have either settled into slumps/obscurity, or straight lost their floor run as the vets return from early season nicks and bruises. So I'm going to keep this to players most likely to help your fantasy team come playoff time. 
Walker Kessler, Utah Ranger, are them. That sentence started out grammatically correct, before deleting Paolo Banchero because of his awful shooting percentages of late. Of course, you're still rostering Banchero in standard 12-team leagues, even though he's ranked 173, because he looks so good doing it. But you probably shouldn't be rostering him. Just like I shouldn't still have Bennedict Mathurin on my roster (ranked No. 240). But it's just so hard to let go sometimes. 
Jaden Ivey and Jabari Smith Jr. are not them. I remain skeptical of both these players long term, but they've definitely shown flashes throughout their rookie season to make a case as future fantasy studs of the NBA. The emergence of Alperen Sengun has really cut into Smith's usage. But I think it's a good thing for him long-term, and he is probably a good buy-low in dynasty leagues, despite my inane skepticism. As for Ivey, he's had some solid games over the last month, but I don't see him being of much value in the foreseeable future. 
Keegan Murray is an gem. I purposely made that sentence grammatically incorrect because "an gem" sounds a lot more special than "a gem." The Kings really pulled a 180 on all of us this season with their No. 4 draft pick. Everyone (at least me) expected Murray to play the role of a grit 'n' grinder – similar to what JALEN has done, but from the 4-spot. Instead, they stretched him out, committed to weathering his rookie deficiencies and put him on the fast track of being a top notch 3-point shooting big; giving him 30 minutes a game despite some pretty lackluster stretches. Murray hit 8 threes Monday night in a 30-point breakout against the Rockets. He tops all rookies by a large margin in threes made this season, and is No. 25 on that list across the NBA. The recent increase in rebounds has been a nice touch. And being an older rookie with consistent role security through the season, makes me believe he'll have a solid rest-of-season after the All-Star break. 
Bros. I was super stoked for the pending Sochanawave. It was set to be epic. A 30-8-5 game against that crazy Suns [why you got to be so bright, sun?] was so going to be the first break in an epic set. But then, injuries, dude. Such a bummer. Just a little back twinge. So don't get to huff 'n' puff about it. Before the injury, Jeremy Sochan did have a 10-game stretch of shooting 45% from the 3-point line. The rebounds and assists were lookin' pretty tubular, too. Might as well just hang out here on the break and see what happens. Would be totally bogus to miss out on the gnar set just because of impatience. Patience is a virtue. Just like Rhythm is a dancer. Ah, Snap!
[Snaps out of super bro mode]
Who was that guy? Does he not realize when it comes to rookies it's best to stick with the bigs? Guys like the aforementioned Kessler, Utah Ranger, and Jaren Duren, who over the last two months is averaging 10 points, 10.5 boards and nearly a steal and block each, with some solid big man percentages (about 70% FG, 74% FT). Duren is ranked No. 67 in per game averages over the last two months in 9-cat leagues. And he's the member of the Pistons roster you can most trust to help out the rest of the season.
Mark Williams and Tari Eason are thoooose guys. So much talent. So much fantasy potential. So much bullshi…[Whoah Woah Woah! Only LeBron gets to passively put out curse words to a national audience and get away with it. He's the King, after all.] Anyways, Mason Plumlee should be traded by end of week; and Mark W is instantly up there with Duren if it happens. Or it doesn't happen. Maybe Eason plays a lot. Maybe I actually clean my garage out sometime. The world is just full of mysteries.
As I stated Saturday, I like Andrew Nembhard now that he's back in position as the role player guard who can just worry about defense and making sound decisions on the court. Definitely a steals stream to keep in mind rest of season. 
Dyson Daniels, AJ Griffin, and now Ochai Agbaji are in all in that maybe could sorta breakout after the All-Star break. But nothing other than monitor status at this point. [Gee, thanks for the direct advice there, Phil. … I said bug off, voice!]
Shaedon Sharpe(r) Image has had an a-typical young rookie season: flashes of brilliance with a whole bunch of, "meh." If by chance the Blazers trade him at the deadline to, say, I dunno, a "blow-it-up" Raptors team, then it could be a rat race to the waiver wires to pick him up. (It won't happen; but it should.) 
Malakai Branhan had himself a nice week, averaging about 21-3-4 with nearly 3 threes and shooting about 55%. He is set up as a late season streamer no matter what as the Spurs tank their way to Wembanyama-ville, but even more so if Tre Jones' foot injury lingers.
So much can change and alter the landscape of NBA rookies as the trade deadline comes and goes. But, remember the wise words of Hudson Hornet: "Hot snot we are back in business … find a groove that works for you, and get that lap back." [Dude, you really need to stop allowing your kids to control every home viewing option.]
Until next time, whenever that time is, this is the random Rookie Report on Razzball, singing off.