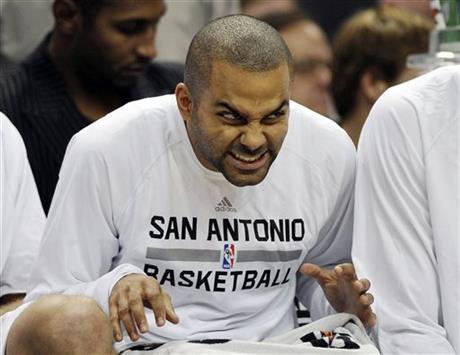 (Yep, I just find that pic funny, and yup, I was amused that Tony Parker made it into any of my content.  Don't hate.)
Howdy RazzNation!  I'm going to use the format from last week to keep a running list of current pickups for each category, new additions will have an asterisk (*) beside them, so  you can keep up to date on the latest hot adds.  I will also remove players who stop being productive, or move over that 50% ownership mark.  Ownership percentages will be updated as well!  Let me know what you think of this idea!  Basically, I ran into the problem of the same guys being good pickups every week.  I figure it'd be better for everyone to keep a running list, so that the pickups are all in one place, instead of having to look at previous editions of RazzWired.  I'd love comments, criticisms, or advice on what to add!  That being said, here we go!
Swishers – These are the guys that should be picked up if you need 3s.  They're all definite buys in the short term, but they could have upside for minutes down the road as well.  I'm gonna make this easy and list them from most upside to least.
The only player on that list owned in over 40% of leagues is Troy Daniels, the rest are closer to that 20% range.  I may just add this list in every column, so I don't have to repeat guys that are just streamers to win a category or two.
Dishers – These are the guys who are gonna help out your assists.  In my opinion, this is one of the harder categories to get off the wire.
*Deep League Special*
Boards and Blocks
Thieves – Self explanatory