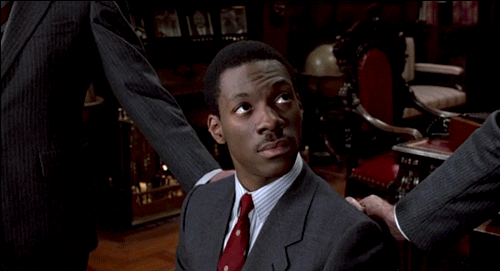 The headline should serve as a warning: one of the most exciting days of the entire NBA season is fast approaching, and the results of said day could make every bit of what I'm about to write a moot point. If that happens I'll be gloriously thrilled, because every year I cheer for the chatter to come to fruition on…NBA TRADE DEADLINE DAY!
The All-Star Game is tonight, and then three days of rest for the whole league (which is actually a full week for every non-All-Star). But the day everyone comes back to the court is the day the madness can occur. As a result, the names I'm mentioning are either hot hands or stand in line to get a boost from the hired hands that left their team. It's certainly a tricky week, and the limited games only add to the nuance.
So, go play with the Trade Machine, let me hear the proposal you want to happen for your team, and let's get ready for…
For the three people who wondered, the most enjoyable Trade Machine scenario I can find for my Hawks is (and no, it's not for Carmelo Anthony: the expiring contracts of Mike Scott and Tiago Splitter with a 2nd round pick to the Lakers for Nick Young and Jose Calderon. Gives Hawks a legit second-team scorer, gives Lakers cap flexibility and a pick.
 The 7 Ahead
5-game week: N/A
4-game weeks: N/A

3-game week: CHA, DEN, LAC, NO
2-game week: Everyone besides the guys above and the ones below.
1-game week: N/A
Top Weekly Waiver Options (<40% owned in Y!/games this week):
Frank Kaminsky (34%/3) – The Tank! Dude's been playing like a tank lately. In the juggernaut sense. 19.7/8.0/3.3/1.2/2.0 with 2.3 3PG on 46% shooting. That's what the Hornets (and MJ) need from Kaminsky to validate not taking all those picks from Boston so they could grab Justise Winslow. Will he keep this up? I doubt it. But, I guess there's a path to it. As the Hornets keep fading in the East, look for Frank to keep getting looks. He's a big part of their future.
Yogi Ferrell (40%/2) – I feel like this is kinda cheating since he's right on the line, but I still believe in Yogi as a fantasy option. I'm sure his ownership dropped a little because he's not putting up 32 spots anymore. That's silly, tho. This isn't Linsanity. 11.7/3.3/5.0 with 51.9 FG% from a PG is still better than a lot of other PG options. And he isn't anywhere close to his ceiling.
Malcolm Brogdon (39%/2) – Again, Brogdon needs to be owned in double this amount of leagues. He may not be solely getting the Jabari Parker minutes, due to the nuisance Matthew Dellavedova, but he's the one to own. On a bad week he still got you 10.7/2.0/4.0/1.0 with 85.6 FT% on 5 trips per game.
Jameer Nelson (25%/3) – Now's where it gets dicey. What will Denver do? And what to do with the savvy veteran Nelson? He's someone I'd love to see join my Hawks, but if he stays in Denver he has a great shot at putting up incredible numbers like the line from his last 7: 17/6/9 with 2.7 3PG. Haha, he's never done this in his life for more than this past week, but while, sure, his numbers regress a little, the situation in Denver should give him 35 mpg and a floor of 11/4/6. You roster that. Now, what to do with Emmanuel Mudiay?
Kelly Olynyk (39%/2) – If Boston makes a big move at the deadline this means nothing, because a more solid big man is their primary need (aside from a true second-team scorer). But…if he stays in this role (25-30 mpg), Olynyk's proving he's a reliable PF/C that gives stats in non-traditional big cats. 16.8/7.0/3.0 with 2.3 3PG and a FG% over 60 is incredible. The points and boards are the only big jump over the past week from his previous month of games, too.
Ben Simmons (40%/2) – Yep…cheating again at 40%, but if you're able to stash anyone in your league, he's my top option now with Khris Middleton back. It makes no sense for the Sixers to play him at all this year, but if he gets on the floor there's just too much fantasy sex appeal not to give it a shot.
Alex Len (32%/2) – And here's perhaps the biggest winner of the potential trade deadline deals (for fantasy purposes). If Tyson Chandler is dealt to a contender, which he should be (but probably won't be), Len's in line for a big minutes boost. Given what he's done over the past seven days with only 20 mpg, 12.7/8.0/1.3/0.0/1.3 with good percentages, that could be a huge boon for your playoff run.
And now a look at the daily rhythms of the NBA for this week!
Monday: 0 GAMES – Need.

Tuesday: 0 GAMES – More.
Wednesday: 0 GAMES – Glamour Shots from the Dubs.
Thursday: 6 GAMES – And we're back! Whew. Needed that oxygen. And that TNT tribute to Craig Sager from the All-Star Game where they pulled stars and celebs to hit 3's for his charity. EJ, as always, got my teary eyed handing the check for $500K over to Sager's late wife. When kindness prevails, it crumbles all other barriers. And to avoid getting too sappypoliticalpreachybutimactuallyapastor, Let's talk about how Melo won't be playing Thursday night against the Cavs because he'll…be included in a trade with the team playing that night! In LA. Against the Warriors. At the deadline. Sorry, Bron.
Friday: 10 GAMES – Three months ago I joked that Boston/Toronto is the series of the 'Who wants to lose in the Eastern Conference Finals?' that's coming in May. Well, we get a taste of it again Friday night, but I may be changing my tune on the power rankings for the East. Either of these two could tango with the Cavs all the way to seven, and possibly even beat them. And I'll be a giddy schoolboy when/if it happens. And even more so if they don't get a chance because the Hawks already knocked them off in the second round!!! But they gotta beat the Miami's of the world, first.
Saturday: 8 GAMES – A full slate with some back-to-backs, but all my chips are getting cashed in for the opportunity of seeing Joel Embiid vs. Kristaps Porzingis. Get Well Soon, Joel! And since that likely won't happen, I'll enjoy watching Dwyane Wade and Jimmy Butler show off against an injured and struggling (and probably new look) Cavs.
Sunday: 8 GAME – And to finish the week, and the long fantasy two-week stretch for most, we get an increase from the norm of Sunday matchups. The trade deadline could completely alter the landscape of these games, but if they stay the same, watching Utah battle Washington will be an incredible find. The Wizards may have one of the strongest starting fives in the East, but the Jazz are the dark horse to face the Warriors in the Western Conference Finals. And we need more Marcin Gortat struggling to find shots around the rim against Rudy Gobert. It's a European Danger Zone! And my money's on the Frenchman. Ugh….I feel dirty writing that. Alright, shower time!
Now, DROP THOSE COMMENTS! And don't be afraid to send along any questions on trades, pickups or life! Good luck in Week 17!