Next week, the 2010-11 NBA season will officially begin. Drafts are hot off the presses or hours away from taking place and the soft, wispy tufts of hair belonging to the league's 64th season smell downy fresh. But Razzball thought it would be important to look back at classic top 10 picks of yesteryear written by former Razzball writers.  All week we've thumbed through our old fantasy rosters and revisit our top 10 picks from each of the seasons that introduced us to a new decade. We already reflected on the top 10 picks from your 1959, 1969, 1979, and 1989 NBA fantasy drafts. Today, we look at the season that introduced us to the new millennium. Karl Malone was the reigning MVP at the age of 35, still the oldest anyone has ever won the award. Tim Duncan was all David Robinson needed to finally capture his first championship title. Only 50 games were played in the lockout-shortened '98 season. And it appeared as if the heir to Air Jordan could be found in a Toronto rookie named Vince And the year ahead would see future Hall of Famers Dominique Wilkins, Joe Dumars and Charles Barkley play their final seasons. And now, we review your 1999-00 fantasy basketball top 10:
__________________________
Waasssuuuup, fantasy ballers. Razzbizzle back again to hook you up with this year's basketball studs. If you followed our advice last year your team probably won. If you follow us this year, you'll no doubt be as dangerous in your league as Y2K viruses are to our world. So come, follow us as we review the 10 best the game has to offer.
.

10. Grant Hill, ORL – Hill, perhaps the most fully rounded player on this list will have his first shot at a full season in Motor City with Jerry Stackhouse, a power duo almost two seasons in the making. Assuming both these guys stay healthy (and there's no reason to think they wouldn't) they'll help each other become one of the premiere powerhouses in the East once again.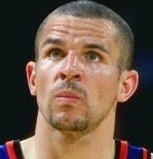 09. Jason Kidd, PHO – It wouldn't be insane to think Kidd might average a triple-double one of these years. He averages nearly 17 points and eight boards while leading the league in assists-per-game last season with 10.8, more than a full assist better than his previous high. He's the best true point man in  game full of great ones.

08. Stephon Marbury, NJ – Marbury didn't exactly enjoy sharing the Minnesota spotlight with Kevin Garnett. But now that he's with New Jersey and the shoot-first point guard can call the team his own, there won't be anything to stop this guy from going gonzo all over the league. A happy Marbury is a quiet and productive Marbury. If he continues growing, he'll be on his way to the Hall of Fame 15 years from now. He's that good.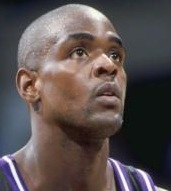 07. Chris Webber, SAC – Oh, the free throw percentage! Webber! Webber, practice your charity tosses, my man. He shoots .486 while standing three feet to the left with a defender in his face, but only .454 when everything stops. If he could just shoot .650, he'd be the best power forward in the game. Statistically, that free throw percentage wrecks your team.

06. Tim Duncan, SAS – We know the big goober in the middle can play. We also know he can win. What we don't know is how high his ceiling is. Is he just as good without the Admiral taking heat off of him? David Robinson isn't long for this league and, as good as Duncan is now, I can see him tapering off when Robinson's team becomes Duncan's. Because I'm teetering, he gets the middle of the list.

05. Kevin Garnett, MIN – Statistically, Garnett and Duncan are similarly ferocious stat-stuffers. Actually, Garnett's just ferocious in general. With Marbury out of town, it's totally his show and stat-wise he's going to eviscerate most power forwards in this league. Heck, he'll probably take a few SF with him.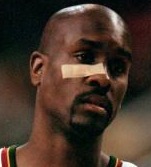 04. Gary Payton, SEA – Payton's 8.7 assists-per-game average was third behind only Marbury and Kidd. But what makes the Glove special is that he consists of the best of both those other two PGs. He scores nearly as many points and threes as Starbury (21.7, 1.7) and, like Kidd, rebounds, blocks and steals in higher numbers than someone as small as Payton is expected to (4.9, 0.2 and 2.3). When you choose Payton, it's as if you're choosing Marbury and Kidd.

03. Karl Malone, UTA
You know why Garnett and Duncan aren't ranked higher? Because the Mailman hasn't retired yet. I'm willing to concede that either one of those younger guys might be considered better than the quickly aging Charles Barkley. But Malone? Duncan and Garnett would have to have pretty remarkable careers. He's 35 years old and he's missed two games in the last seven seasons. Think about that. No clue how many seasons he's got left in him, but I hope it's enough to win a ring.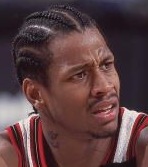 02. Allen Iverson, PHI
Iverson is a PG the way Superman is Clark Kent. Call it whatever you'd like, the Answer is a shooter. Three years in the league, this mighty mite has never averaged fewer than 22 points. Shoot, steal, repeat. His declining assists are a bit alarming. He'd be in the No. 1 spot if he dished the ball more than 4.6 times a game …

01. Shaquille O'Neal, LAL
… Well, and if the big fella wasn't also in the league. Honestly, who can stop this guy? Not 'Zo. Not Mutombo. Not Ewing. Not Robinson. He's a scary, scary force. A force that scored nearly 30 points, grabbed 11 boards and blocked 1.5 shots per game last season … and he's not really trying. God forbid Kobe Bryant continues to improve, not only will the Lakers be really good, but Shaq might feel the need to step up his game. I can't imagine what that would be like.