Next week, the 2010-11 NBA season will officially begin. Drafts are hot off the presses or hours away from taking place and the soft, wispy tufts of hair belonging to the league's 64th season smell downy fresh. But Razzball thought it would be important to look back at classic top 10 picks of yesteryear written by former Razzball writers.  All week we'll thumb through our old fantasy rosters and revisit our top 10 picks from each of the seasons that introduced us to a new decade. We already reflected on the top 10 picks from your 1959, 1969 and 1979 NBA fantasy drafts. Today, we look at the season that introduced us to the '90s. A decade after entering the league, Magic Johnson had just won his second MVP award despite losing to the Pistons in the Finals. A young Naval officer named Robinson entered the league. And reigning scoring champ Michael Jordan had established himself as the most dangerous man in the game on one of the most one-note teams in the league. Would moving the lanky SF Scottie Pippen from a backup to starter make any difference? And now, we review your 1989-90 fantasy basketball top 10:
_______________________
Yo, yo, yo sports fans. Razzb-b-b-ball bringin' it to you for this season's baddest picks for your fantasy basketball draft. It's our 30th anniversary, so you know we ain't here just smackin' our gums. Scoot up your chair close to your Macintosh word processor and take down these picks. You'll be glad you did.
And now: The best bets for your 1989-90 fantasy all-stars!
… Wait. Wait. I can't, in good conscience, start this list without warning you readers ahead of time that I didn't include Atlanta's Dominique Wilkins on this list. I know half of you have already stopped reading, but for those of you who remain, please believe that 'Nique is No. 11 on this list. Matter fact, he'd go right here on the actual page if my editor allowed me to do a Top 11 list. But he didn't. He limited me to 10 because he knows I tend to ramble.
The fact is, I just think The Human Highlight Film has reached his full (astonishing) potential. Chris Mullin, on the other hand … his stats were comparable to Wilkins' and I think he still has room for improvement. We'll see at season's end.

10. Larry Bird, BOS – Larry Legend belongs higher on this list. If this were last year, he'd be somewhere around third or fourth. Unfortunately, the '88-89 season is over and Bird only played six games during it. If Bird is Bird again and you can nab him with the 10th pick of the draft, feel free to laugh at the sucker who chose Mullin.
.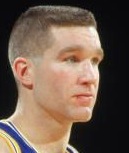 09. Chris Mullin, GSW – I'm still not convinced Mullin is from this decade. It's like this new "Back To the Future" sequel that's coming out next month. The preview shows Michael J. Fox traveling into the future instead of into the past. This must be what Mullin did. Mullin looks like he played H-O-R-S-E with Bob Cousy. And as good as his 26.5 points/.509 FG percentage is today, imagine who must have won that game of H-O-R-S-E way back then.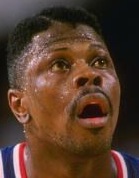 08. Patrick Ewing, NY – Of the eight guys left on this list who haven't won a championship, I'm pretty sure Ewing is the most likely to grab that big brass ring. Playing for a large market and fortifying that market's team with a big man are the two hardest parts of building toward a championship. The Knicks have both. Knowing New York, this team will be winning championships peppered throughout the next 20 years.

07. Clyde Drexler, POR – How beloved is this guy in Portland? They're going to name streets and art fairs and forest preserves after this guy over there. And can you blame 'em? Portland may be "Bridge City," but The Glide's 27/8/6 average will provide passage from your fantasy team to a fantasy championship.
… For you. A fantasy championship for you. In case it wasn't implied.

06. Charles Barkley, PHI – I'll be honest, I don't like the guy. He's a big mouth and he thinks he's a better power forward than Karl Malone. Well, no one's a better power forward than Karl Malone, not even the Round Mound of Rebound. But neither you nor I need to like him to respect his ability. If Chuck is still available after the fifth pick, he's the guy for you. This cat better be careful with his opinionated disposition. He's liable to retire, get blackballed and never be heard from again.


05. Karl Malone, UTA – There's no two ways around it, the best thing about the Mailman is John Stockton. If you hate Malone, you probably say Stockton does all the work despite Malone's dunks being the only thing showcased on the highlight reel. If you like Malone, you want this conversation to distract everyone from the fact that he averages a half dozen of these dunks every game without anyone being able to stop him.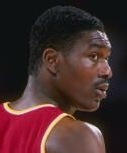 04. Hakeem Olajuwon, HOU – Look, I'm not going to try to convince you that Olajuwon is better than Barkley or Malone. I will say that The Dream blocks 2.5 more shots and earns one more steal than those other guys each game. He also plays center, which you'll notice is the least-represented position on this list.  I'm also not going to try to convince you that Houston is an awful city that you should never visit. Even though I'm not going to try to convince you of this, you still owe it to yourself to remember that I brought it up in the first place next time you make travel plans.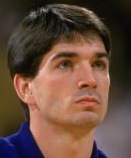 03. John Stockton, UTA – I used to watch "Leave It To Beaver." I don't know why I watched it. I didn't like it very much. I think maybe it was because of Wally's friend Eddie Haskell. Eddie Haskell was a troublemaker who always brown-nosed June Cleaver. Mrs. Cleaver just thought he was the kindest, wonderful-est young man ever. But he wasn't. He was dirty and slimy and he fouled in the paint a lot. What's my point? Why, that John Stockton led the league in assists and steals last season, is all.

02. Earvin "Magic" Johnson, LAL – "… One just never knows with rookies. Most rookies. Not this rookie. There's no question with Johnson. Combining Kareem, Wilkes, Nixon and now Johnson will be magical. The kid's gonna average a triple-double this season."
I wrote that about the reigning league MVP a decade ago when he was a rookie and I ranked him eighth. He didn't average a triple-double that year or any year since, but I'm just as convinced he can do it this year as I was in 1979.
01. Michael Jordan, CHI – There have been whispers that the International Olympic Committee might start letting pros play. That's a pretty wild rumor, but just imagine it for a moment for fun. Magic passing to Bird on the wing, swings it around then dumps it down to Ewing. Malone sets the pick. Shot not there. Clears it out to Jordan who squares up for the jumper. Jordan stops … pops … GOOD! Now that's fantasy basketball, folks.
(As far as picking M.J. first: If you have the No. 1 pick in your fantasy draft and you pass on 32.5 PPG / 8 RBD / 8 AST / 2.9 STL / .538 FG%, you deserve to lose and not get asked to play again next year.)