…title sounds like some sort of Adult Swim episode.  Something the Squidbillies might do!  Oh man, what a time to be a Nikola Jokic owner!  I don't know if any top-50 pick has played with your emotions quite like this!  It's like the crazy hot girlfriend in college – and might as well be a crazy hot redhead because ginger girls are nuts!  She's hot as hell at first, goes a little nuts on you early on, but the hotness keeps you around.  16/8/11/0/1 last night on 6-12 shooting, and point guard-ing the shit outta that game last night!
He was dishing so good, I decided to edit together that GIF this time!  And it was tough to show only 15 seconds worth!  Perils of trying to explain why you're hanging out with a hot redhead that is acting nuts in your dorm (I have no personal experience here…)…  it takes some finesse explaining it!  Anyway, the Nuggets are looking soooooo much better with Jock Itch running the point: after ups and downs with his AST, since Dec 10th when he got 6 dimes, the Nuggets are 6-3 over the last 9 games with Jokic averaging 5.7 dimes and 67.7% shooting from the field.  While the dimes from a C are beastly and all, he still only has 19 STL and 19 BLK on the season, good for 0.7/0.7.  I thought my #44 overall rank was going to end up being bold, but turns out the hype machine pushed him top-30 in several ranks/draft selections, which made his value a little bit of a bubble.  But thankfully if you gutted through that rough November, you've got a mad case of Jock Itch keeping you red hot right now!  Here's what else went down last night in fantasy hoops action:
Michael Kidd-Gilchrist – Buzzing again as a pickup option (pun police!), going 12/6/4/2/0 last night.  It's bleh, but usable with the upside for some DDs.  Kinda like your crazy hot college girlfriend who wants a boob job…  Is this theme getting run into the ground yet?!
Nicolas Batum – Tripdub flirt!  20/9/8, and shoots 8-12.  He's actually shot pretty well the last 4.  When he shoots efficiently, he kills it for ya.
Elfrid Payton – The flip side of efficient shooting was Elfird last night, 2-10!  27 horrible minutes, but the Magic played through the dregs of their line-up and punted this one after a terrible third quarter.
Serge Ibaka – The only Orlandoian to show up, going 20/7/3/0/3 with 2 treys.  That said, led the team at -26.  I was about to pile onto Orlando's roster comp issues, but they're 15-19?!  Wow, that ain't as bad as I thought!
Aaron Gordon – Hahahahaha!  Figures.  Off a second 30-burger in the span of two weeks, goes right back to being unusable for 2/4/2/0/0 on 1-5 shooting in 25 minutes.  I think he might actually be Teen Wolf.  It has to be a full moon for him to play well – only happens once a month.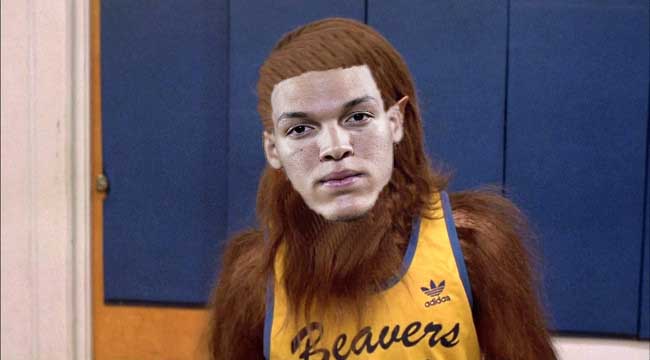 I think we have a new nickname for Aaron Gordon! Teen Wolf!
Paul George – Haven't really talked about him a ton, but after a little mini-slump, 34/3/4/1/0 with 6 treys and no TO last night.  That's an R rated line right there!
Thaddeus Young – It's low volume, but his FT% has somehow sunk to a career-worst 50%.  11/6/3 last night with 1-3 FT and 4 turnovers.  Just gets saved with 6 steals.  It's what he does, but still feels pretty bleh to me overall.
C.J. Miles – 15/3/1/0/0 with 4 treys.  ThrAGNOF!
John Wall – So good.  36/11/9/2/0 on 11-19 FG (2-3 3PTM 12-13 FT).  After dogging the Wizards over the first month of the year, they're suddenly 15-16 after beating the Pacers last night.  Really is putting this team on his shoulders.  Wall Shrugged!  Who is John Wall?
Carmelo Anthony – Ejected for being a punk and throwing a little jab at Thabo Sefolosha's neck.  It was dumb.  Who does he think he is trying to hurt Thabo, an NYPD officer?!
Kristaps Porzingis – Took a little more onus, but kinda had a rough line.  24/8/1/1/3 is awesome with 4 treys, but 6-9 FT and 5 TO.  That said… This:
Get outta there!  Then get back in there!  What a Golden Goose…
Derrick Rose – Meh.  26/7/6.  Hurray for 3-cat only leagues!  9-28 FG, no treys, no D stats.  Typical Poppycock.
Justin Holiday – Got the extra run with Melo being a dunce, going 14/3/4/2/1 in 34 minutes.  But not much to see here.
Kent Bazemore – 11/1/4/0/0 with 3 TO in 40 minutes…  40!  OT-aided, sure, but that's pretty Tayshaun Prince-esque.
Paul Millsap – Love the line!  12/7/6/1/2 with a trey and no TO!  But dude must've pregamed with Willie Nelson or somethin', 4-20 from the field!  Did take that tough shot to the eye last time out, so maybe got some of that medical marahoochy to help ease the pain!
Jabari Parker – Whoa, look out for Bari!  31/9/7/1/0 on 13-18 shooting with 4 treys.  Probably his best game in the NBA.  The Pistons looked atrocious though, I might try to sell high off this one.  But it would have to be mad high, his TO rate for all his USG is phenomenal and he's at a career -best 49.5% from the field despite taking treys now and making 1.3/per.  Just wish the FT were a little better, but man he's been kinda a quiet breakout.
Malcolm Brogdon – Another team with PG issues in the fantasy context, with Broggy Brog getting the most minutes this time over Matthew Dellavedova, going 8/1/8/1/0 in 28 mins.  I pimped out Brogdon as a value coming out of the draft (ACC bias!) and he's really delivering as a 2nd rounder!
Weird Pistons Stuff – Wow, the Pistons starting 5 had all of – get this – 2 TO.  Had a 20:2 AST:TO from the starting 5, yet they got rocked by the Bucks…  And we're still getting weird F minutes, with Jon Leuer still starting and still being blah (9/7/4/0/0), Tobias Harris cruising (23/12/2/0/0) and Marcus Morris the enigmatic wild card (11/2/3/0/0 in only 23 minutes).
Austin Rivers – Woohoo for streaming!  22/4/0/2/0 with J.J. Redick out (hammy).  They lost to the Pels, but Rivers and Chris Paul (who returned from his own absence due to a hammy) looked OK together.  Redick was a game-time call, but Rivers is getting big minutes either way with all the injuries.  I might give him a medium-term hold in 12ers even though it'll bottom out sooner than later, even with family preferential treatment…
DeAndre Jordan – 25 rebounds.  That said, a loss by 4 on a 3-8 FT shooting night.  I'd still love to see how many Clippers games would've been won if DJ was a 100% FT shooter.  I think the answer could be hilarious.
Tim Frazier – Wowwwwwwww.  DNP-CD.  Way to completely shit on your best player from the first few weeks not named Brow.  Tyreke Evans got 16 bench minutes of 12/5/5 and Langston Galloway has run away with the 6th man role, going 12/4/0/1/1 with a trey in 31 bench minutes.
Buddy Hield – Only 23 minutes is a little interesting since he was hot, shooting 7-11 FG with 3 treys for 17/6/0/2/0.  Kinda hot the last 2 games now, but not enough minutes to be anything but a ThrAGNOF.
Jimmy Butler – Jimmy Buckets!  Jimmy Mother F'in Big Balls Buckets!
Wait, why is BoBo the friggin' clown playing defense on Butler on this pivotal shot here.  I use "defense" loosely as well…  Why not put friggin' RHJ out there for some tighter D?!  Monster game-winner, monster line (40/11/4/4/0 14-29 FG 11-11 FT), just full Godzilla on this one!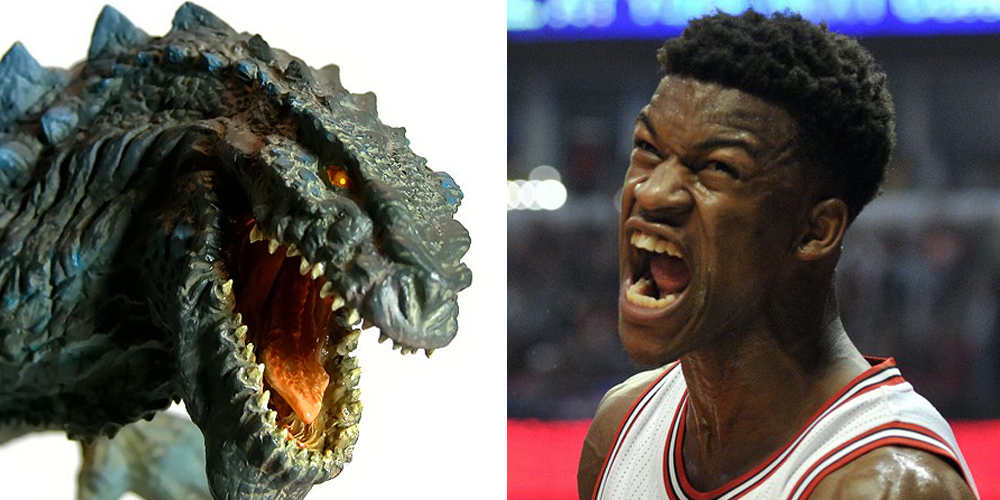 Rajon Rondo – He's been OK!  5/9/12/2/0.  Sure he shoots terrible, but it's low volume and the TO at 2.8 are doable given he hits AST/STL.  Still don't understand the flack I got for ranking him OK (cough, Adam, cough)…
Sean Kilpatrick – Well, so far so good handling a little more facilitating!  18/3/6/1/0 with 4 treys and only 2 TO.  Love me some Sean Kill!
Brook Lopez – Brolo takes down Rolo!
33/3/4 with 5 treys and one family poster for Brolo.
Kawhi Leonard – Ugh, stupid last minute DNPs due to diarrhea!  Happening all over the NBA!  The NBA must have some sort of sponsorship deal with Chipotle.
Kyle Anderson – Got the start, and didn't do anything.  Jonathon Simmons got a few extra minutes, and didn't do anything either…  Spurs carried by the old guys!
LaMarcus Aldridge – The mad efficient monster game of yesteryear is back!  27/8/2/1/1 on 10-12 shooting with no TO.  It's like he's back to that first-round Roto beast at the end of his Blazers run!  …Pop will bench him tomorrow…
T.J. Warren – Nice bounce back after a rough game last time out, going 6-12 FG 10-10 FT for 23/6/1/1/1 and a trey.  Glad to see this head issue looks to have worked its way out!
Dragan Bender – For the love of blowout minutes!  27 minutes for Bender, going 10/4/1/1/1 with no TO, and 4-4 FG making both his treys.  Where'd this come from?!  Damn I overlooked his last game I guess too, 11/13/2/3/2 rainbow against the Rockets.  Both were in garbage time, but it looks like he's firmly in the rotation and not like the Suns are winning games anyway.  Maybe a flier-streamer in 12ers, but I'd be scooping him up in anything deeper.
Karl-Anthony Towns – Not to be outshined by Jock Itch in the MIN vs. DEN game last night, tripdub alert!  15/11/10/0/2 with a trey.
Gorgui Dieng – Choo choo!  20/8/1/1/1 on 9-11 shooting with 2-2 FT.  I know he hasn't quite taken off like a Snowpiercer, but he's been chugging along like a pretty elite train!
Ricky Rubio – Slicky Ricky!  18/8/7/4/0, but what in the hell is he doing taking 14 shots?!  5-14 from the field, and an ugly 1-7 from deep.  Does make his 7-7 freebies though…
Gary Harris – This is about the happy medium I kinda expected.  Solid, but just OK.  17/4/1/0/0 on 7-12 shooting with 2 treys.  It's fine!  But not the nutso we got right when he got back.
Will Barton – only 19 minutes and 6 points.  Why he's tough to be a "must-hold" in 12ers.  I'm not going out of my way to drop him after this game, but it's more like Will the Still.
Jusuf Nurkic – I watched most of his minutes last night, and it's absurd he only got 8:40 of run!  Played mad hard and gave the bench great energy after the starters were a little flat in the first quarter –  powering a nice 2nd quarter run.  4/4/1/0/1 on 2-2 shooting, did have 2 TO again though…  Maybe that's why he didn't play more.  But looked great, and a nice step forward to get back into the rotation.
Matt Barnes – Another start with Rudy Gay's hip still flaring up, going 13/5/2/1/1 with a trey in 29 minutes.  This blurb was more about mentioning Gay being out, I want no part of streaming Barnes…
Darren Collison – Here's yet another NBA team with PG an abyss.  Drop Colly in 12ers, enough is enough.  20 minutes of 6/1/5/0/0 on 2-7 shooting, while Ty Lawson gets 29 minutes of 8/1/1/1/0.  It's too painful, I can't do it anymore!
C.J. McCollum – Nice win for the Blazers who had absolutely fallen apart, and beat a hot SAC team without Damian Lillard (kankle).  20/2/7 in a decent enough showing despite shooting 6-18.
Moe Harkless – 33 efficient minutes shooting 5-7 and finally getting back into the 3PTM column making 2 triples, but 12/4/1/1/0 with 2 TO is still soooo boring for me.  I know, I know, "why JB gotta be, Moeeee Harklessssssss!" about it?!
Meyers Leonard – 16/5/1/0/1 off the bench with 3 treys in 25 minutes.  He's had 2 16 point games lately, but the minutes are way too sporadic and I still don't think he's that good…  He's like a ThrAGNOF, low-rent version of Aaron Gordon – looks like he has all these physical tools, but they only show up once in a full moon.
DeMar DeRozan – I said this the other day too, what's with the multi-cat?!  Just score, baby!  29/5/6/3/1 on 10-23 shooting with 9-10 FT and 0 TO.  Well, OK, if you wanna score AND multi-cat, that works for us!  Beastmode in a great game as the Raptors tried to come back after a horrific 42-17 first quarter…
Jonas Valanciunas – Only 21 minutes as his run is bottoming out lately.  That said, the Warriors are a horrible matchup for "true centers".  I am gonna float some buy lows off this game.
Terrence Ross – Rosssss can!  24/7/1/2/0 with no TO on 10-23 shooting with 4 treys.  Second unit trying to bring em back!  He's playing by far the best ball of his career, yet it's in the lowest amount of run off the bench.  Per-36s are off the charts better…  If anything were to happen to DeRozan, he could really take off.  I think he might be one of the only "handcuffs" I'd try to own backing up my stars.
Patrick Patterson – As I mentioned the other day, I still hate him now for dirty fouls, but I still streamed him where available haha…  5/5/0/1/1 with a trey last night in 33 pretty bad minutes, but hey, Pit Pat will make some 3s at some point and they had a back-to-back with the Suns on the slate tonight.  Then he's getting chucked out the window like a filling breakfast burrito.  Baxter!!!
Kevin Durant – Quintuple double alert!  22/17/7/0/5…  But the hidden 6 TO!  Hah.  3 treys as well in an epic line, but why the TO, KD?!
Draymond Green – This team is a fantasy-goodness machine.  Rainbow for Dray for 14/6/10/2/2 with 2 treys.
Whew, big night last night!  With fantasy football [mostly] wrapped up, the NBA is taking off with some awesome action the past week!  Thanks every for dropping by, and this is my last notes for the year…  2017 here we come.  Thanks to all of you awesome readers and commenters for checking us out, and here's to 2017!