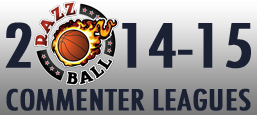 Whoa, drafts are starting already?!  The early bird catches the predator!  Wait, I don't think I got that right…  Getting a draft done early after all this rankings work was a liberating, yet headache-inducing experience. People have been looking at my ranks too much!  Razzball Nation is going to a tough customer in their fantasy leagues this year… If you're itching to start a Fantasy Basketball league, we need more RCL commishes to host a league just like this one, so hop over and start and RCL League today!
Overall, I'm iffy on my first team.  I think I like it.  Has a little too much youth – but just how the draft went.  "Enough noodling, show us your goods!"  "What if my goods are a noodle!?"  Here's how the draft went last night, and my pick-by-pick analysis below:
JB
Round 1, Pick 3 – Stephen Curry – PG, SG –  Screw Metal Face Doom!  I've already determined he's my arch rival this year.  Weeks 5 and 16 I'm gonna get so amped up on amphetamine, I'll seem like a Broncos slot receiver!  I was hoping Metal Face would follow convention and take LeBron James #2, but he made the correct choice in taking Anthony Davis.   I want the Brow on at least one team this year, dammit!  Curry vs. LeBron is somewhat close, but I'm very happy getting Curry (and did follow my ranks), especially as the rest of the draft unfolded.
Round 2, Pick 22 – Paul Millsap – PF, C – I had this one all queued up after Curry!  I've got Milly Vanilly at 13th overall, and getting him in the second round of virtually all drafts.  Last year was no fluke people!  As I mentioned in the ranks, had his best month the final stretch with Al Horford last year before he tore his pec; Millsap is going to be a beast.
Round 3, Pick 27 – Chris Bosh – PF, C – So I quickly ditched my rankings by the third pick… JB is a liar!  Well, of the 3 players I had ranked ahead, one guy I passed on I still got (below), the other two – Nicolas Batum and Ty Lawson – went consecutively right after me.  Lawson was an easy pass since I got Curry (which I semi-regret now, looking at my lack of PG depth) and I didn't need Batum's treys.  Something this pick did help with was allow me to be a little more reachy for youth with 3 pretty bonafide safe picks.  And it doesn't hurt he's careful with the ball compared to my TO-prone top 4 picks.
Round 4, Pick 46 – Michael Carter-Williams – PG – Welllllll, I've got him 26 so there's that…  This was the easiest pick of the draft for me, since as I mentioned in my PG tiers, I'm taking two PG in the first four rounds with one almost certainly MCW.  It's like I'm a fortune teller!  Yahoo has him pre-ranked at 78.  That's just a minor 52 spot gap.  "I was thinking of the immortal words of Socrates, who said, '… I drank what?"'  Gonna be a monster this year.
Round 5, Pick 51 – Chandler Parsons – SF, PF – Despite a little ebbing and flowing getting Bosh, this was the first pick I struggled with.  I really wanted to reach for Nerlens Noel (went 2 picks ahead of me) since I wanted to lock up a big with a little more blockage upside, but I think Parsons was the better pick anyway (I have him ranked 40th).  I'm pretty sure he would've been the best available on my board at this point, but I did debate him vs. Jabari Parker as well since my treys with Curry will be fine.  I went safer, and love these top 5 picks.
Round 6, Pick 70 – Andrew Wiggins – SF – This is where things got a little screwy… I had, and still have, absolutely no intention of drafting Wiggins on any teams… But at 70?!  I do regret passing on Jose Calderon, who I would've taken at 75 (he went 72), but with 5 pretty safe picks I decided to take the upside gamble.  It may look rough early on, but I'll be cheering for the Wolves to blow and give Wiggins 34 minutes a night in the second half.  I do have Trevor Ariza ranked higher who went the pick after me, but his best attribute is the deep ball which I thought I was fine on with Curry/Parsons – along with Bosh and Millsap chipping in 1 a piece.  A few picks later I hated it, and looking back in totality I think I actually kind of like the pick now.  Very love/hate with this one…
Round 7, Pick 75 – Elfrid Payton – PG – Back-to-back rookies?!  While Payton only 5 picks after Wiggins seems a tad reachy, looking at the field, there was absolutely no assists upside left anywhere else on the board.  Mario Chalmers, George Hill, and Brandon Knight were the next 3 PG taken after me to give you an idea of the barren assists wasteland.  I certainly don't need any points from Elfrid on the Shelfrid (a low-volume scorer), and my FT% should be solid even if he struggles there like his college numbers would indicate.  TO might be a problem for this team, but I can live with that.
Round 8, Pick 94 – Markieff Morris – PF, C – A ton, and I mean a full metric ton, of guys I like went in my 19 pick layover, but I had Markieff all ready to go.  Great mix of all stats, a big sleeper for us here at Razzball, love my front court depth.
Round 9, Pick 99 – John Henson – PF, C – To be honest, I'm surprised these round 8-9 picks lasted this long!  My team's biggest weakness is blocks, and if Henson pans out and starts, it'll be a pretty well masked weakness.  A Muppet Mask!  I have him 101 and have said I wish I had him in my top 100 when I finished up 100-200, and his draft day stock could easily rise with encouraging preseason play and a starting nod.
Round 10, Pick 118 – Rodney Stuckey – PG, SG – A 19 pick layover is brutal…  Reggie Jackson, Jeremy Lin and Patrick Beverley all were taken as some PG/SG depth I was hoping for, along with Taj Gibson for the blocks (although he went right after me at 100 and didn't think I had a shot).  So I went deep into the ranks for a SG (only Curry was eligible at SG for me at this point), and took my flier on Stuckey.  The Pistons have nothing – no facilitator, no scorers, no nothing, so Stuckey actually has some interesting upside.  From 2008-2011 he averaged 5 assists a game, and I think there's a shot he could do it in Indy.
Round 11, Pick 123 – Jameer Nelson – PG – I don't really need the treys, so I'm still shooting for assists upside here.  And to be clear, upside is like 4-5 a game.  I think he's the best PG by far in the Mavs PG mix, and the only one who can hit treys.  Makes all the sense in the world to give him the majority of the minutes vs. Raymond Felton and Devin Harris, as I go with my back-to-back boring veteran sleeper picks.
Round 12, Pick 142 – Alec Burks – PG, SG – I've got him 100, but I think I've got to move him down a little bit.  Still, at this value and fitting a need with SG eligibility, I love it.  I don't really need a scorer, but with Dante Exum so raw and Trey Burke still a big question mark, I think Burks could surprise with 3.5 dimes a game after getting 2.7 per in 28 MPG last year.
Round 13, Pick 149 – Rudy Gobert – C – Last pick flier alert!  It was between Gobert and JaVale McGee with my last pick, as my biggest weakness for my team are those anemic blocks.  I decided to go with the guy who's playing right now (and playing well in FIBA) over the injured-virtually-all-last-year McGee.  Plus Gobert's upside for minutes is a little higher.  I have him 188 vs. McGee 155.  Looks like a little edit in my ranks needs to be made there!
And there's my squad!  I don't think this will be my favorite team I draft, but probably won't be my least favorite.  The Wiggins pick really seemed to throw me off my game – it was just so surprising to see him fall that far.  What do you think of this team Razzball Nation?  And one more shameless plug to start up an RCL League today!