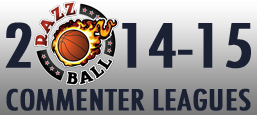 [Reposting to the top!  We have many spots open, but more importantly, need more leagues!  Plenty of time to launch and commish an RCL league for the season.  
I lied.  The most important thing is ideas for the YouTube prize!  Read below and post your thoughts!]
The time is here.  The calling, early.  The draft day prep work, extensive.  JB's hair, slowly growing in.  Yes, RCL Basketball is back!  And we're as pumped as ever to see who will be the next champion among champions.  The smartest in the room amongst the moderately intelligent people in the room.
So I know what you're all thinking…  What is JB going to embarrassingly do this year?  If you missed it, I shaved the 13-14 RCL Grand Champion's team name in my head, and I'm going to do something goofy again.  Well, you're the biggest part of the site (talking to you readers!) and so I think the Youtube video prize should be something suggested in the comments.  Something that majestically displays the RCL Winner's team name that I can spread to the world, but doesn't involve a big monetary investment.  Nothing illegal!  Or tattoos, I don't have Birdman's budget!  Low key, but funny.  That would be my tagline if I was single and online dating…  Be sure and share your ideas, reply on comments/suggestions you like, and we'll have another public shaming in 2015!
But you don't get only the humiliation video; as usual, Razzball loves to pimp out our gear and we have another official 2014-2015 RCL Champion Jumpsuit (branded basketball of course) to tailor to the official winner (cost of tailor not included).  Most importantly, an everlasting shrine in the annals of history.  Wow, that sentence is fun!  And just as fun, we'll have the weekly updates tracking the standings throughout the season as we did last year.
We're going to do the standard head-to-head 9-cats again this year (FG%, FT%, 3PTM, PTS, REB, AST, ST, BLK, TO), 12-team leagues (Yahoo defaults), and the same easy way to track the overall winner.  The top prize will go to the team that A) won their playoffs/league title and B) of the champions, had the best overall W-L-T regular season record.  So to topple the RCL field, you've got to weather the playoffs yet have a dominant record in the regular season.  This takes out any crazy logarithms, all that Moneyball math, and makes it an easy way to determine the winner.
We'll all be chasing defending champion High as Greg Kite, so come one, come all, and start up an official RCL Hoops league today!
TO CREATE A LEAGUE 
Set your Draft Date/Time, but leave everything else DEFAULT.  (NOTE – you must leave your original draft time the same or have unanimous agreement to change the date once your league is set to ensure everyone that has signed up for your league can make the draft.)
Make your league public (Commish Tools – Edit League Settings – the last option under "League Settings" – "Make League Publicly Viewable" – "Yes")
Add the league info to the Spreadsheet (which you see below).  You can't add into the spreadsheet directly in the post, you have to go through that Spreadsheet link.  To get your link to allow RCLers to join your league, go to Commish Tools – Invites Settings – (scroll to the bottom) – Invite URL.  Copy and Paste that link in Column G of the spreadsheet.
Update how many spots are filled when you can and enjoy your RCL League!
TO JOIN A LEAGUE
Click the Link of the league you'd like to join in the spreadsheet below and sign up.  That's it!
I've already got my JB's Random Commenter League ready to be joined, so good luck in RCL action this year and we're looking forward to a big 2014-15!  If you have any questions/comments for setting up or joining, shoot your comments below or if you really need me via e-mail, hit me up at [email protected]  Thanks for checking out RCL Hoops!
(link to the Spreadsheet below to add a league)