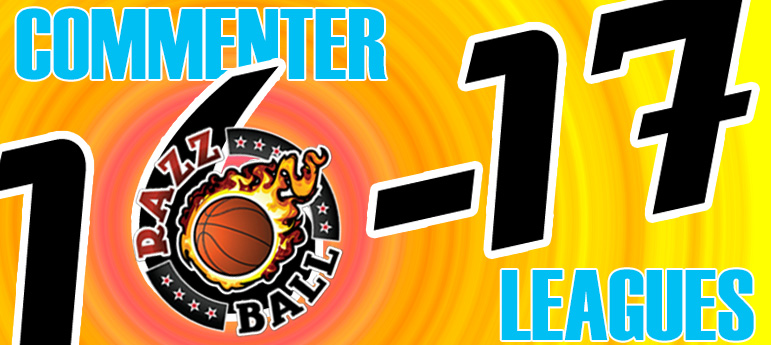 The epic battle between good and evil has begun!  The 3rd annual JB vs. Slim RCL drafted last night, pitting the heroic forces of yours truly against the nefarious hordes of that villainous Slim.  Last year, I got the upper hand by knocking Slim out of the semi-finals, but still fell short of winning the league title.  Stupid Mr. Green Beans!  Ruining it for everyone…
If you're still jittery with excitement for the NBA season, there's still time to make a last second RCL League!  If we can get a couple more created, I'll be sure to heavily promote them through the end of this week and the weekend to be sure you have a full league.  Hit up our 2016-17 RCL Sign-Ups!
With the epic responsibility to maintain goodness and order in the universe by besting Slim, here's how my draft went down:
JB vs. Slim Random Commenter League Draft Results
Round 1, Pick 2 – Stephen Curry – Wooooo, I get a Steph team!  After having the #7 pick in my first RCL, I then got slaughtered by the randomizer, getting #11 and #12 picks in my next two RCLs.  Ugh!  But this was a godsend getting Curry (#1 player in my ranks), of course thrilled to see Beard go #1 and have a Curry build.  The FG% you get with all those 3s is just too valuable for me not to have him #1, and while it's a boring strategy, I'm now going to try and build a % friendly, well-rounded team.  Am I worried a smidge about DNP-rests?  Sure, but the only guy that makes him close to is Harden for me, and I still think it'll work out.
Round 2, Pick 23 – Brook Lopez – Man, long-time readers know I have typically been pretty Brolo averse, but he fits a Curry pick oh so nice!  50+% FG shooting, 80% FT shooter, and even though his rebounding isn't as good as it should be, he does deliver da swats while keeping my scoring up.

Round 3, Pick 26 – Eric Bledsoe – We were talking in the draft chat, that by pick 26, only 1 player (Blake Griffin) was still available through my top-26.  Almost went perfectly through my ranks!  Alas, my pick 26 was my 26th ranked player as I wanted to lock up another PG.  Yes, my TO are starting to not look pretty, but getting a PG with top-15 potential was a no-brainer.  Plus he's a 45ish% shooter and maintains my strong-ass %s build.  I feel like Curry and Brolo are actually pretty safe injury-wise, so I don't mind that part of the Bledsoe-risk here.

Round 4, Pick 47 – Gorgui Dieng – Choo Choo!  Even though Yahoo is keeping him fairly high in the pre-ranks, I'm getting Dieng in all my RCLs.  All the talk of my %s, and Dieng fits like a caboose in my locomotive!  Ew.  There's been some chatter in the comments that Nemanja Bjelica could steal some minutes, but Dieng was unreal last night going 19/11/0/1/4 with 5-6 FG and 9-10 FT that I think can put some of that to bed.  Great %s, helps lower some TO, and great upside should he get that Thibodeau 34ish MPG I'm hoping for…

Round 5, Pick 50 – Pau Gasol – The hate has ABSOLUTELY gone way too far for Gasol.  Pick number 50 gets me the #18 overall player last year?!  Sign me up!  Yeah, he's old and on the Spurs, I get it.  We all know this.  But I continue my assault on %s, pick up another big, and this gives me some pretty strong REB/BLK without hurting my metrics.  The only concern here is now two of my pillars have DNP-rest concerns in the fantasy playoffs.  But nothing says I can't trade!

Round 6, Pick 71 – Elfrid Payton – Everyone knows I love me my Elfrid, and I wanted to lock up one more AST source.  He hasn't been diming that much in the preseason, but he's playing aggressive and making his FT, so I don't think he hurts my %s as much as most.

Round 7, Pick 74 – Dirk Nowitzki – Ugh, so sandwiched between my picks, I had to see my one true love this year – Chandler Parsons – fall through my fingers.  Mayyyyybe I should've gone Parsons 71, but I wanted to lock up the PG.  In retrospect with this Dirk pick, I now have some major fantasy playoff issues, but I do get another rebounder and %s source.  Even though it's the streamable ThrAGNOF cat, I wanted a boost in treys after neglecting it more-or-less since Curry.

Round 8, Pick 95 – Rudy Gay – What a weird draft!  Rudy Gay falling to 95?!  I guess everyone is scared about the situation, but he's going to play for the Kings and get traded to a team needing a scorer…  I can't see him finishing with a value below this spot.  I'm hesitant to call this "the steal of the draft" given I'm not necessarily big on Gay this year, but the value feels pretty damn good!

Round 9, Pick 98 – Kent Bazemore – Really liked the value here as well, filling out some wings in the 8/9 rounds.  Further boost in %s, should have an increased role; a nice multi-cat roster-filler.

Round 10, Pick 119 – Tim Frazier – Everyone knows I like to hoard PG over any other position, and that's the one thing I didn't do this draft.  But I like how it went killing the %s, and while Frazier might not be a long-term hold, he should give me a nice AST boost.  Averaging 7 dimes a game in 25ish MPG this preseason.

Round 11, Pick 122 – Luol Deng – Love this value.  Another guy who can chip in 1+ 3PTM a game while keeping his %s high and give me a few more REB.  Having a quiet preseason, but I think Walton is limiting the run for the vet.

Round 12, Pick 143 – Marcus Morris – I just moved him down in my ranks to #111, and I'm seeing him go undrafted in RCLs…  I don't really get it!  Sure, I know a lot of teams wanna chase some upside with their final picks and Morris offers none-a-dat, but he should have no issue scoring 13-14 Pts again, nabbing boards, hitting 3s, and not killing you anywhere.

Round 13, Pick 146 – Kenneth Faried – While everyone chased upside at the end, I went for a boring pick just to see what happens early on in the Nuggets rotation.  We've talked about Nikola Jokic's hype-machine making him over-drafted and we carried (and are still carrying!) the torches for the Jusuf Nurkic hype, but they still might want to feature the Manimal for a trade. I'd be pissed if it happened, but it at least it would work for this RCL team!  And he's an easy cut for the first hot waiver add.

What say you on this team, Razzball Nation?!  Will I be besting Slim for the second straight year?!  Shoot your thoughts below, and happy drafting!