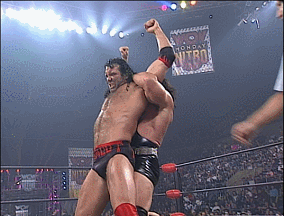 Y'all think he got out of it? I mean, c'mon…it's Razor offing Ramon! I bet he walked over, grabbed his toothpick and flicked it straight at Scott Steiner's eye. The glory of that gif. The mullet. Sorry, the sweaty mullet. The stubble chest hair. The shaking hamstrings. The black leather leotard. The metal print banner of WCW Monday Nitro. Goodness, take me back to 6th grade already!
No, don't do that. I don't want to be 12 again. However, that was the first time I ever played fantasy basketball. But I'll quit reminiscing and focus on what's really happening in that gif: the full nelson. Change the faces around, time travel to today and make that a basketball court in Denver and you'd see the story of Jameer Nelson and Emmanuel Mudiay: the young'n with the death grip on the PG position to start the year, but, wait for it…the wily veteran shaking free of his bonds on the bench to reclaim his rightful place running the team! Is it a stretch? Sure, but look at that extension through his obliques. Clearly, this is a great move to increase flexibility.
Ok, are we talking about wrasslin' or fantasy basketball? I'm all befuddled now. Must be the mullet.
The 7 Ahead
5-game week: N/A

4-game weeks: ATL, BOS, CLE, DAL, GSW, MIA, MIL, NYK, OKC, PHI, POR, TOR, UTA, WAS

2-game week: N/A
Top Weekly Waiver Options (<40% owned in Y!/games this week):
Jameer Nelson (38%/3) – The Gem of the Week doesn't even need four games to take the top spot. And yes, we're clearly talking about fantasy basketball now. Jammer's been one of the best fantasy options period the past two weeks, and even the break didn't slow that down. With a grand total of a whopping 5 minutes in the first game back, Mudiay was body slammed back to the bottom of the bench by the savvy vet Nelson. And in the two weeks since that switch he's averaging 14.2/4.8/7.6/1.8 with 2.4 3PM. Haha, that's top 50 worthy! Drop your hopeful nothings at PG and make sure you put your team in the full nelson of Nelson's hot play! Alright…I'm done. I've been done with wrestling since the 7th grade, and now I am once more.
Michael Beasley (24%/4) – I thought for sure the next guy on the list would be the min benefactor to the Jabari Parker injury, but looks like Beasley's not only getting the minutes, but also the shots. And if there's anything we know about Michael Beasley, dude's not afraid to take shots. Over the last 14 days he's averaging 19.7 ppg on 13 shots per contest. Let's read between those lines…that's really good. And really efficient. I don't know that he keeps that up, which will drop his ppg, but with nearly 30 mpg lately he can still give you 15 mpg.
Malcolm Brogdon (33%/4) – Where Beasley is getting shots Brogdon's struggling with them. Beasley & Brogdon. What a great law firm. Or a great fill-in for the Bucks to make a run towards the playoffs. I've mentioned Brogdon in more 7 Aheads than anyone else, so here we go again…stash him. Come playoff time he could give you a weekly line of 13/4/5.
P.J. Tucker (29%/4) – Good for Tucker. From the second-worst team in the Suns to the second-best team in the East with the Dinosaurs. And his shots may be less, but he wasn't shooting a ton, anyways, Tucker's value comes from all the peripheral stats, and on this team he's going to see more open shots by playing with Kyle Lowry and DeMar DeRozan. The steals are massive, the rebounds will still be there, and he'll give you good %. Solid addition still.
Alex Len (32%/3) – Here's the prospective pickup once again. Tyson Chandler just had a DNP-CD on Saturday, and it's likely that will happen more often as the Suns try to tank up to the #2 lottery slot. Len was very 'meh' in Saturday's game, but has the potential to bring some double-doubles when gets 25+ mpg.
And now a look at the daily rhythms of the NBA for this week!
Monday: 7 GAMES – If only Joel Embiid could stay on the court. Now, let's callout what it is. I imagine the Sixers are in zero rush to play Embiid any more this year, especially with the Ben Simmons news. So, rather than watch a fun game in Philly with the Dubs visiting, I'll watch my Hawks visit the Celtics in what could be a great Eastern Conference playoff matchup. No one's talking about Atlanta in the East…and I kinda like that.

Tuesday: 6 GAMES – Seeing how the new look Thunder play against the top defensive team in the league when Utah visits should a dandy. I love the additions of Doug McDermott (potential fantasy add, also) and Taj Gibson. Russy just needs a few more options to trust, and when Enes Kanter returns he'll have a bevy of them. Even though I still think Utah wins the game. Gimme all the Gordon Hayward shares in the world! And his haircut.
Wednesday: 11 GAMES – If Boston wants to actually become a threat in the East they'll actually have to play well against the top teams. I believe they'd have a shot of knocking off the Cavs in the playoffs (albeit a small one), but going 2-7 against the top three Eastern teams this year doesn't bode well. And this is Cleveland not at full strength. Here's tot he home stretch!
Thursday: 3 GAMES – In what feels like a chance for the league to catch it's breath (wait…they just did that…), just three games on the docket, highlighted by, well…Golden State at Chicago? Haha, it's kind of a dud night with no national games and three contests that should be relatively easy to pick. Be on the lookout for newly acquired Cameron Payne and how he handles the Warriors backcourt for the Bulls.
Friday: 10 GAMES – There we go. Back to it. And outside of seeing Nerlens Noel compete for the Mavs against the Grizzlies big men, I'm staying in the Eastern Conference. Toronto at Washington should have playoff implications, as well as Cleveland at Atlanta. If ATL doesn't play pissed off that they can never beat the LeBron Cavs,well…nothing new. But the Raptors can make a big statement with a win over the Wiz after beating the Celtics to start the second half.
Saturday: 8 GAMES – LeBron James returns to Miami, but it's Memphis traveling to Houston that has me excited. The Rockets offense only got better with the addition of Lou Williams, effectively taking some pressure of James Harden for 15 minutes per night, but the Grizzlies continue to compete and make things tough with great defense. Opposing styles that could meet again in the playoffs. Worth watching? Um, yes.
Sunday: 7 GAMES – And we'll cap things off with a double doozy. Not only do we get to watch the Warriors in MSG on ABC in the afternoon, but the nightcap features the bitter enemy, and, in my opinion, greatly improved, Thunder face Dallas. I don't think there's much opposition to the two Western Conference powerhouses, but it's always a treat to watch when those teams take the floor. Can Dirk Nowitzki will Dallas to a win? Nope, but it'll be fun to watch! Haha.
Now, DROP THOSE COMMENTS!
And don't be afraid to send along any questions on trades, pickups or life!
Good luck in Week 19!