When we moved from California to Wisconsin last October, we knew it would be hard. Catching the tail end of fall was the final gasp of good air before the dual jaws of winter and the pandemic clamped down on us. From there, we just had to ride it out. Hiding indoors, online, and in the NBA calendar was all there was to do. As the days got darker — in every sense — we were subjected, over and over again, to the Milwaukee mantra: Summers make winters worth it. Having no experience to draw on, we had to take these hearty midwesterners at their word. 
They were right. 
Ice thawed and snow melted. Patches of terra firma sprouted and then turned green. The Bucks exercised Miami demons in Game 1 of the Playoffs and squeaked past the Nets by the margin of a single shoe size. The Hawks were feisty but underseasoned, and then there was the block and the steal and the alley-oop over Phoenix. "Bucks in six" was the song of the summer. Flowers for The Good Land.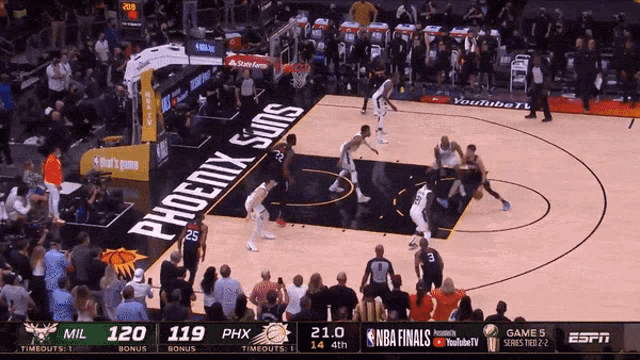 During the zenith of the sunny season, we outlawed the "W" word in my house. Maybe if we didn't mention it, our thinking went, then the grass would always be green, the lake a warm blue, and the bloom would not fall off our roses. We know better, of course, but I'm holding tight to my warm, summery dreams even though I've caved and started saying the dirtiest six-letter word I know. It's inevitable. I can hear the distant sound of a ball bouncing, the rip of clean jumpers through the net. Squeaking shoes are in the wind, even here in our good summer glow. It's coming, I know. It cannot be stopped. Still, summer is on my mind and out my windows, so I'll only consider the good of what's to come. Winter may be inevitable, but these flowers still bloom.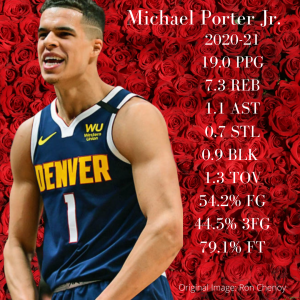 Michael Porter Jr. — Longtime readers (if such a thing can exist after writing about fantasy hoops for exactly one season) are familiar with me singing Porter's praises — and with good reason. As a 22-year-old with essentially just a single year of basketball played since graduating high school, MPJ was the 27th (!) best player in the Association last year on a per-game basis. The shooting numbers are just gorgi — 54.2/44.5/79.1 — and the MPG have finally pushed above 30 once and for all after struggling to see consistent time from Mike Malone in the '19-20 season. All Porter Jr. needed to secure his reputation as a scorer was the opportunity, and now that he's gotten it, there's no room for doubt: he's a bonafide walking bucket, which is something that you almost certainly knew already. 
What you might not have known, and what makes Porter so attractive to me (if given the opportunity, I'm taking him as early as the middle of the second round), is how the rest of his game emerged last year too. We love the scoring ceiling, the triples, and the gaudy efficiency, sure, but how about 7.3 rebounds and more than 1.5 steals + blocks and negligible turnovers? Yeah, the dimes are invisible, but if I squint hard enough do you know what I see in Porter's '20-21 year? A more selfish, less defensive Jayson Tatum with a better stroke. If things break right this year, it might be the last opportunity to snag Porter outside of the top 15 for years to come. And what kinds of things need to break right, exactly? 
For starters, it would help if Jamal Murray's 24% usage rate up and disappeared (get well soon, king), and playing with a generational big man that sucks in defenders to open up kick-out threes and also drop outrageous dimes on cuts would also speed up Porter's arrival to fantasy superstardom. And it certainly wouldn't hurt if the teammates around him were older and creaky (Jeff, and to a slightly lesser extent JaMychal, Green), were coming off a banged-up year (Will Barton missed almost a quarter of Denver's regular season), or were primarily ball movers rather than scorers (Facundo Campazzo, Monte' Morris). Hey, wait a minute…
To be blunt, the path is clear for Porter to be a monster this season. Sure Aaron Gordon is here, but we've seen how well he functions as the focal point of an offense. I'm not especially concerned about him and you shouldn't be either. Michael Malone still might kinda hate the kid, but Porter has undeniably improved defensively and I'm not sure there are a ton of better options for the role of Robin to Joker's, uh, Joker on offense.
Another factor to consider when looking at the 27th-most valuable player in our game last year: MPJ caught Covid for the second time early last season, missed ten games in January, and then struggled to regain his form through the end of the following month. "That's not a good thing, Mr. Hooper," you correctly say, but look at my guy's March through the end of season: 
38 GP, 33.3 MPG, 21.9 PPG, 3.1 3PM, 7.8 REB, 1.3 AST, 0.6 STL, 0.8 BLK, 1.3 TO on 56.6/46.8/80.4 shooting. 
Just for fun, here's Jayson Tatum's All-Star '19-20 year: 
66 GP, 34.3 MPG, 23.4 PPG, 2.9 3PM, 7.0 REB, 3.0 AST, 1.4 STL, 0.9 BLK, 2.3 TO on 45.0/40.3/81.2 shooting. 
It's totally possible, given what we know about him, that MPJ catches Covid for a third (or even a fourth) time. The Porters have a nontraditional approach to health and wellness. Mike Jr. also missed two years of basketball because of a balky back, a troubling issue for a player of his age, so I won't say there's no risk here. Still, if I can pair him with an assist machine to even out his black-hole tendencies, I'm doing what he's doing: shooting my shot.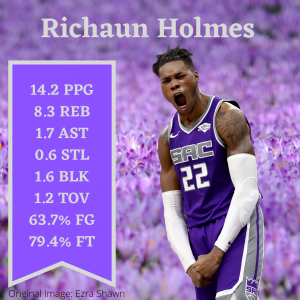 Richaun Holmes — There is a chance that this is the year that people finally start putting respect on the Big Holmie's name, but if history is any guide, it's a safe bet that your league mates are still sleeping on Sacramento's center. Two years ago, Holmes had a Y! ADP of 116, and this past drafting season that number jumped up all the way to…89? While the modest increase in ADP would indicate that drafters are getting savvier, the reality is that Holmes has smashed his ADP in consecutive years. In '19-20, Richaun was the 42nd-most valuable player on a per-game basis. Not the 42nd best big man, player. His '20-21 season was even better (33). On a per-game basis, Richaun was more valuable last year than NBA All-Star Julius Randle (and John Collins. And Deandre Ayton, Christian Wood, Draymond Green, and Pascal Siakam.)
Granted, the scoring is never going to wow you while the boards are a bit light for a center. He's also outside of the top 35 in steals per game at the position, so it's not like he's a secret AD or anything. He is, however, a top 10 center in swats and FG%, and an excellent free throw shooter to boot (79.4% on fewer than three attempts.) Holmes doesn't hurt you anywhere and because he plays for the worst team on the West Coast, there's been a massive draft day discount for two straight seasons. 
Even better? The Kings got back to running last year (10th in pace) and his competition for minutes at the pivot is Marvin Bagley III (who can't hold up there long term, or maybe even at all), Tristan Thompson (who is three years Richaun's senior and on an expiring contract after being acquired in the Delon Wright deal), and Alex Len (who, and I'm quoting Son here, "kinda sucks.") Holmes just got paid (4 years/$46.5M) but it's his motor and guts that got him his money in the first place, so I don't anticipate his effort suddenly drying up now that his wallet is fatter. Word may be getting out on Holmes, but even if you reach for him by a round, you're still in line for great value. Draft him.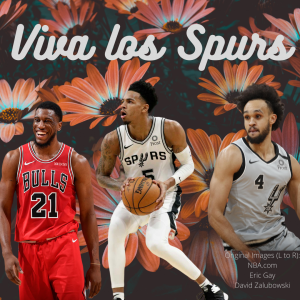 Dejounte Murray, Derrick White, and Thaddeus Young — Last year was the first time I ever rostered DeMar DeRozan (I think). On draft day, after taking big swings with my first four picks (read: making a total mess of them), I realized that I needed to grab some floor and snagged DD at 52 overall. After posting 4th-round value on a per-game basis and 3rd-round value in raw output, an argument could be made that it was the best pick I made in the first half of the draft (obviously things went poorly.) 
It was, in some regards, a historic year for DeRozan, who is now playing his home games in Chicago. In his eleventh season as a pro, DD posted a career-high 6.9 AST — nice — the 14th-best mark in the league, ahead of Ben Simmons, Ricky Rubio, Fred VanVleet, Steph Curry, Kyrie Irving, Mike Conley, and both Ball brothers. Perhaps more telling was his 30.9 assist percentage, a statistic that measures the percentage of teammate field goals a player assisted on while on the court. DeRozan's mark there put him right behind ex-teammate Kyle Lowry, and the only non-guards with higher marks than DeMar were, predictably, LeBron, Joker, and Draymond (and Jimmy Butler too, if you feel like quibbling over positions.) That's…a lot more dimes than I was expecting? His next best effort was 2018-19's 27.6 assist percentage and his average historical output has been down around 23% since his first All-Star season as a 24-year-old. 
But wait, this is supposed to be about Murray, White, and Young. What I'm driving at here is that not only did DeRozan take his 21.6 points, 4.2 boards, 1.2 3PA, and 26.1 usage rate with him to Chicago, but he left behind a Texas-sized hole in assists in San Antonio. Dejounte Murray has never cracked more than 5.5 assists per; Derrick White has yet to break 4. Both guys are in line for larger work roles with DeMar's departure, and a sneaky area for growth could be dimes. With good health (not necessarily something White can be counted on, having missed half of last year with Covid and foot issues), I'd expect both to blow past their previous career bests. Opening up the kimono a bit here, Son's projections have White and Murray both good for 5.4 AST this year, but my gut says that the Murray number is low. 
Keldon Johnson was a fantasy darling early in last year's campaign before falling off a bit as the year marched on. All the reports coming from Alamo City detail how much Pop adores Young Keldon, and his inclusion on the 2020 Olympic roster certainly bolsters this idea. Despite the potential for Johnson's boat also rising on the tide of a DeMar-less roster, he certainly won't be the playmaker or offensive initiator that DeRozan was, particularly last season's version of DD.
Enter Thaddeus Young, who could step into DeRozan's role as a playmaker in the frontcourt. Thad finished the season just outside the top 100 on a per-game basis, improving on his 144 finish the season prior. There were stretches where Thad and Tomas Satoransky (and decidedly not Coby White) were the focal points of the Bulls offense that sputtered outside of Zach LaVine. Young was no slouch when it came to slinging the ball around (4.3 dimes per, 25.3 assist percentage), so if there's a wet blanket on dimes for the guards, it's the 33-year-old ex-Chicagoan. It's not a sexy pick — really none of these Spurs are outside of Murray — but Thaddeus has turned in top 100-ish production in four out of the last five seasons. Don't expect him to turn into a pumpkin under Popovich. 
Other infatuations: