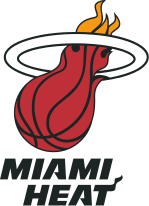 2018-2019 Record: 39-43
Outlook
Back when Dwyane Wade, LeBron James, and Chris Bosh were in town, long before the Vice City uniforms and the jersey-swap retirement tour, four iterations of dynastic "Heatles" teams dominated the league and our collective sports consciousness. It was a glorious time. For Miami. For the NBA. For every sports media outlet in existence. Since then, a tidal wave of viral events have swept over the NBA—LeBron James' homecoming and championship in Cleveland chief among them.
The Heat enter the 2019-20 season with the most buzz since their four-year run of NBA Finals trips. Jimmy Butler has arrived, all of his brashness and baggage in tow. Tyler Herro is set to become the new white-baller-du-jour, though he may have some unexpected competition from Alex Caruso. And the #PointWinslow movement is on the verge of boiling over its sweat and blood-stained cauldron. Let the new post-Bron, post-Wade, cautiously optimistic about Jimmy Butler era of Miami Heat basketball begin.
Key Acquisitions:
Jimmy Butler
Myers Leonard
Tyler Herro
KZ Okpala
Key Losses:
 Dwyane Wade
Josh Richardson
Hassan Whiteside
Tyler Johnson (mid-season trade)
Point Guard
Goran Dragic is still the best point-guard on the roster, he's the elder statesman and the only former all-star on the team outside of Jimmy Butler. In addition, the Heat might be interested in trading his expiring contract, as they were rumored to be doing this offseason. Pat Riley has labeled Dragic the starter anytime it's come up this offseason. I'm assuming those statements aren't a smokescreen and Dragic will indeed start at point-guard. Unlike all the veterans in Memphis, I wouldn't be surprised to see Dragic finish the season with the Heat. So what should we expect from Dragic this year?
Goran Dragic is a slasher, he wants to get downhill and put pressure on the rim. Dragic has been one of the better guard finishers at the rim over the course of his career. Don't believe me? In the 2014-15 season, Dragic had the same shooting percentage from less than 10 feet from the basket as LeBron James—69 percent. Unfortunately for Dragic, his otherworldly finishing near the basket has gotten worse every year since 2014-15. Last year, he shot only 50 percent on those same shots. I'm a bit worried about Dragic, as his one elite skill is disappearing and he's 33 years old. Jimmy Butler is the unquestioned alpha and Justise Winslow is nipping at his heels, but none of that will matter for fantasy purposes. At worst, Dragic will fall in line with his career averages of 13.7 points, 3.1 rebounds, 4.8 assists, and 1 steal on 46.6 percent from the field, 36.3 percent from three and 76.2 percent from the line. If you want to be conservative, chop off one assist and lower the shooting percentage a few points and you have your low-end expectations for Dragic's 2019-20 production. Keep the expectations reasonable and Dragic shouldn't disappoint.
With Goran Dragic playing in only 36 games, #PointWinslow was unleashed and the returns were encouraging. Justise Winslow started 52 games and averaged 12.6 points, 4.3 assists, 5.4 rebounds, and 1.1 steals a game while shooting 43.3 percent from the field, 62.8 percent from the line and 37.5 percent from three. What do we make of these numbers now that Dragic is back? For his career, Winslow has averaged 8.9 points, 5.3 rebounds, 2.7 assists, and 1 steal while shooting 41.9 percent from the field, 64.4 percent from the line and 34.3 percent from three. Winslow can rebound, as he's never averaged less than 5 rebounds in a season and anytime he gets enough minutes he averages a steal a game. Defense and rebounding aren't the parts of his game you need to question, those numbers will be there. You also don't need to question his shooting percentage—it's going to remain low. The 2018-19 season was Winslow's best, but he still only shot 43 percent from the field. Winslow lacks overwhelming speed and quickness which forces him to score in the mid-range anytime he's inside the three-point line. He relies on mid-range jumpers, floaters, and scoop shoots. These are tough, generally low-efficiency shots, and unless you have otherworldly "touch" it's difficult to convert them at a high rate. He's also not going to help your fantasy team in free-throw percentage—he's never shot 70 percent from the line. I am buying his improved three-point shot however—free-throw percentage be damned! Even if Winslow comes off the bench and dominates the ball in the second unit, he's still going to get some playing time with Jimmy Butler and/or Goran Dragic, situations where he will be off the ball and have plenty of catch and shoot opportunities. Last season, Winslow shot 41 percent on catch and shoot threes. Winslow is maybe one of the safest buy-low options in the league, the Heat would be stupid not to let him handle the ball like he did last season and if Dragic gets hurt or traded he steps into an even larger role. The flip side isn't even that scary, even if his growth stalls, there's enough raw production with Winslow to make him a useful bench option on the right team.
Shooting Guard
The two-guard position might be the most intriguing one on the roster, its home to two immensely and occasionally irrationally confident players in Dion Waiters and Tyler Herro. While Waiters was in Cleveland, reports trickled out that he may have thought he was better than Kyrie Irving. One look at the way Tyler Herro comports himself on the court and on social media makes it clear how confident he is in his abilities. These dudes are going to get shots up, and if they go in at a high rate the Heat might be able to get out of the first round of the playoffs this season.
My best guess is that Dion Waiters starts at shooting guard this season. Waiters is a capable scorer, he's averaged double digit points every year but one in the NBA. He's also a surprisingly capable three-point shooter. Waiters is a career 34.7 percent from three, but he shot 37.7 percent from three on 6.6 attempts in 44 games last season. It's an Erik Spoelstra coached team so playing time will be spread out, but Waiters remains a reliable source of offensive production—points and threes most prominently. For his career, Waiters has averaged 13.2 points, 2.7 rebounds, and 2.8 assists. Waiters is a decent bench option in a deep enough league if he can stay healthy.
Tyler Herro has already made a name for himself. He demonstrated his unimpeachable shooting chops in Summer League while flashing enough off the bounce scoring and playmaking ability to get even the most skeptical Heat fan excited. Herro's biggest issues will come on the defensive end. He's tall enough—6'4.5'' in socks and 6'6 in shoes—but his wingspan leaves a lot to be desired, measuring 6'3.25''. Herro reminds me of Landry Shamet. Like Shamet, the three-pointer will need to fall at around a 40 percent clip for him to be an effective player. I think Herro walks into the league as a better off the bounce player than Shamet which could help off-set any shooting woes, but that dribble drive game isn't world class by any stretch of the imagination. And those short arms I mentioned are going to make it tough for him to be a good finisher insider. Herro is confident, he's got a smooth shooting stroke, and real pedigree as a shooter—93 percent from the line and 35.5 percent from three at Kentucky—and the Heat like him. He's a prime buy-low/upside play.
Small Forward
Amid all the uncertainty in the Heat rotation, there are two positions of clarity—small-forward and center. Jimmy Butler and Bam Adebayo will start at small-forward and center, respectively. Jimmy Butler is the best and most reliable real and fantasy NBA player on this roster. Butler has averaged a 23.5 percent usage rate the past five seasons. Dwyane Wade had a 26.9 percent usage rate in his farewell campaign last season and Butler should be somewhere around that number this year. Butler has been remarkably consistent over the past five seasons, providing his teams and fantasy owners with a well-rounded stat-line. During his 55-game stretch in Philadelphia, Butler averaged 18.2 points, 5.3 rebounds, 4 assists, 1.8 steals, and shot 46.2 percent from the field, 34.7 percent from three, and 85.5 percent from the line. But Joel Embiid and Ben Simmons aren't on this team. Butler's usage and production may look more similar to his 2016-17 season when he had a 26.1 percent usage rate and averaged 23.9 points, 6.2 rebounds, 5.5 assists, 1.9 steals, and 8.9 free-throw attempts a game. Injuries are the only concern with Butler. In that 2016-17 season, Butler played 76 games, his second most games played in his career. A healthy Butler should be a monster for you and Erik Spoelstra this season.
KZ Okpala didn't play a minute in Summer League and the Heat still gave him a three-year fully guaranteed contract. Meaning, you should keep your eye on him. He likely won't be fantasy relevant this year, but the future is never far off in fantasy sports. Duncan Robinson can shoot, but playing time will be hard to come by, especially since defense isn't his calling card.
Power Forward
Are things opening up for Derrick Jones Jr.? Maybe. Kelly Olynyk is still dealing with the knee injury he suffered playing with Team Canada and James Johnson failed to meet Pat Riley's weight expectation, making him ineligible to practice with the rest of the team in training camp. If Olynyk and Johnson don't return quickly, I would expect Derrick Jones Jr. to open the season as the starting power forward. Myers Leonard might also be in consideration in that situation, but his inability to track mobile power forwards on their drives to the basket would be an issue. Erik Spoelstra praised Jones for his off-season work recently and Jones believes he's transformed himself into a sharpshooter? If you believe the hype he could be a great buy-low candidate, but even if you don't believe the hype it looks like he'll have extra opportunities to start the season.
Kelly Olynyk's knee injury is not believed to be serious, as a result, I would expect him to take over the starting power forward role whenever he returns from injury. He split starting time with James Johnson last season, but in a starting lineup with lockdown defenders like Jimmy Butler and Bam Adebayo and no elite three-point shooters, Olynyk's shooting seems like the perfect complement to both Bam Adebayo and slasher-extraordinaire Goran Dragic. Olynyk has been pretty healthy in his career, averaging 72 games a season and never shooting below 35 percent from three (I rounded up for 2014-15 when he shot 34.9 percent, sue me). As is the case for many players, Olynyk's lack of volume and consistent nightly production limit his fantasy impact. His season numbers are going to wind-up where they've always been, but relying on Olynyk's game to game production to provide your team with value is risky.
Do the Miami Heat have too many playmakers, is that possible? Is there enough playing time and ball to go around to maximize the skillsets of James Johnson, Justise Winslow, Tyler Herro, Dion Waiters, Goran Dragic and Jimmy Butler? Dragic and Butler are the two best on-ball players on the roster, but both James Johnson and Justise Winslow are best deployed as ball-handling playmakers and they may spend most of their time playing together in the second unit. At this point I think you'd have to expect James Johnson to take a bit of a backseat or at least start the season off slowly. Johnson isn't currently practicing with his teammates because he hasn't reached his expected weight, and this is after being injured and out of shape last season. Derrick Jones Jr is getting praise from Spoelstra and the #PointWinslow train was humming along quite harmoniously late in the year last season. Johnson doesn't seem to have a lot of momentum heading into opening day. The good news is that it's a long season and there will be plenty of time for Johnson to round into form. I'm expecting a bounce back real NBA year for Johnson if he's able to overcome this Heat-specific weight issue, but I don't foresee his production making an impact in fantasy with so many other mouths to feed on the roster.
Center
BAM BAM!! The Heat traded Hassan Whiteside to the Portland Trailblazers this offseason, clearing the runway for Bam Adebayo to takeoff. There's no turning back now, Adebayo is going to start and get the majority of the minutes at the center position this season. Adebayo is everything the Heat organization wants to embody—toughness, selflessness, relentless work ethic, and carrying around a glacier sized chip on your shoulder. If Bam plays 30 minutes a game, he could average a double-double this year. Last season, playing 23 minutes a game, he averaged 8.9 points, 7.3 rebounds, 2.2 assists, 0.9 steals and 0.8 blocks while shooting 57.6 percent from the field and 73.5 percent from the line. All of those numbers could improve with increased playing time. There's also talk of an evolving mid-range game and three-point shot. Give me all the Bam Adebayo Kool-Aid, I'm all-in.
The last time we saw Myers Leonard he was doing his best Dirk Nowitzki impression in Game 4 of the Western Conference Finals against the Golden State Warriors, scoring 30 points on five three-pointers. The Heat don't expect that sort of consistent production and neither should you. Leonard will slide into the back-up center role for the Heat, which, as you might imagine, is not a position of great upside. Leonard won't be the choice in small-ball lineups, that responsibility will likely go to Bam Adebayo and maybe even Kelly Olynyk before Leonard gets an opportunity. Leonard can stroke it, he's a career 38.5 percent three-point shooter and an impressive 82.8 percent from the line in his career. Unfortunately, that's about all he can do. He's a very poor rebounder, averaging only 3.7 rebounds a game for his career and never coming close to averaging a block or steal a game.
Udonis Haslem is pretty much a coach in uniform. His most important contributions will come on the practice court and in the locker-room.