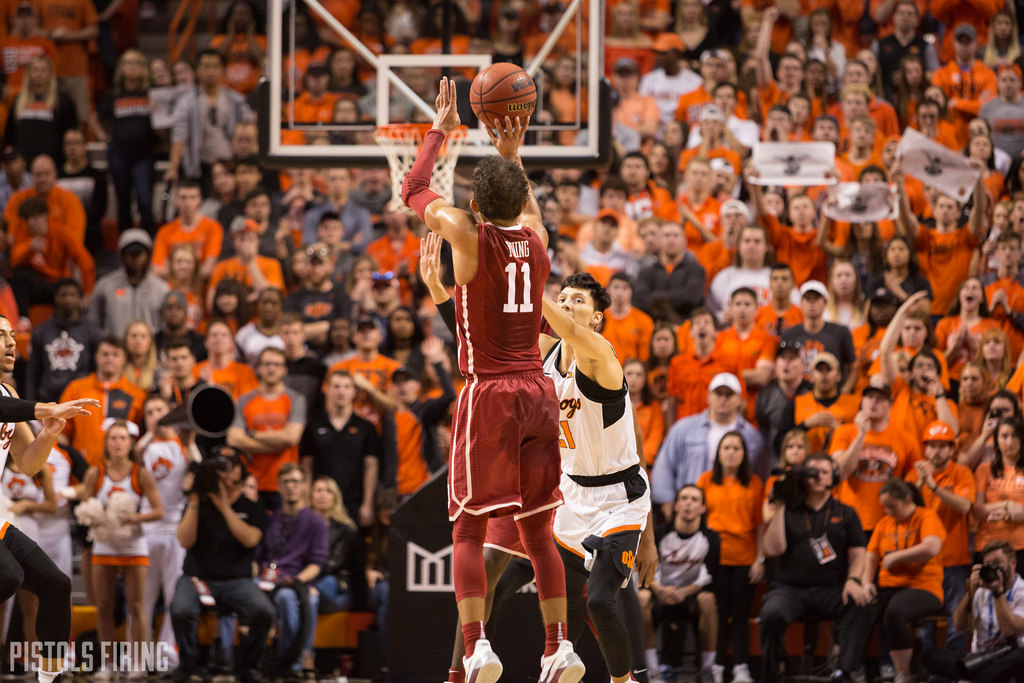 Waddup Razzball nation!!
Welcome back to another edition of Dynasty Deep Dive, here to fill your fix for finding the stars of the future.
For the 2nd edition of my likely lottery picks, I will be focusing on yet another former McDonald's All-American and likely the pride of the PG class, Trae Young.
If you read Dynasty Deep Dive, then you are familiar with the name, and also aware that many anaylsts are divided on the sharp-shooting Sooner. Let your brother from a different mother enlighten you on why he is ranked 2nd overall (currently) in my mid-season 2018 draft eligible rankings.
My Razzball colleague, Tad, provided the numbers for my current top 12, so if you want to see how Trae stands out on a statistical standpoint, be sure to check it out.
Want the best tools and projections to help dominate your league? Check out the Stocktonator, the byproduct of Rudy and machine making love. Click HERE for a FREE 3-day trial.
Rudy has been hard at work in the lab. His latest creation? DAILY LINEUPS PAGE. So good. So smooth. So helpful. He decided to go with the Sonny Bono red tint, while I prefer the blue tint. What say you?
The Profile:
Age: 19 years, 5 months
Height: 6'2
Weight: 180 lb
Wingspan: 6'2
The Good:
Trae Young is one of the more divisive prospects at the top of the class. To believe in Trae is to not only buy into the skill set, but the fierce competitor that is within. Ask anyone about Trae and the first thing you are likely to hear is 'devastating shooter'. When it comes to shooting from range, there are few in recent college history that rival his ability to hit a shot from anywhere in an opponents half. The fact that Trae has the ability to not just knock down shots as a catch-and-shooter, but also from complex dribble moves without being solely reliant on screens, sets him up well to be a very strong offensive threat as a scorer at the next level. Much like Steph Curry, he also has that quick release that allows him to get his shot off so quickly that it is often difficult for opponents to react in time (as seen below)
In every instance you will see little hesitation in his game, and his ability to read opposing defenses allows him to fully maximize his ability to find space in the halfcourt.
With such devastating range, Trae forces defenses to play much higher on the court, and Trae has a great ability to read and use this to help assist in other areas of the game. Not just a great shooter, Young also has very good court vision and uses the extra space created in the paint to his advantage in getting easier looks for his team mates. It is worth noting that Trae tied the NCAA assist record in a single game with 22. He also uses that extra space in the paint to create unique pick-and-roll opportunities, which allows his mid-range game to flourish. Sure, the national headlines are focused on his high scoring output in college, a year which has seen him average 30 points a game on 45% shooting, which when you factor in 10 three point attempts per game is mightily impressive. His ability to facilitate is somewhat under-rated, largely in part because of his high volume shooting. On the season, Trae is averaging a terrific 9.9 assists per game, which coupled with his high volume scoring results in a somewhat ridiculous usage rate. Again, something very similar to what we saw from Stephen Curry in college. His great vision often sees him drive towards the basket from the pick-and-roll, and dish effective hand-off and passes to team mates in space with a good look at the basket. Although just 6'2, Trae is not frightened to drive the lane, and is not fearful of contact from much bigger and stronger athletes, as evidenced by his 9.4 free throw attempts per game. He also is able to finish with both hands around the rim and uses good body control to get favorable looks in the paint even against lengthy, athletic defenders.
The Bad
There are clear physical weaknesses that the sharp shooter finds himself with, which center very much around his lack of height and wingspan. Not ideal in the modern NBA, when we are seeing much bigger and stronger ball handlers as the years move forward. The Oklahoma native doesn't really posses much in the way of next level athleticism either, which for some analysts creates a problem in their ability to rank him so high.
The biggest question from a skill standpoint is his lack of defensive ability. Without great physical tools, this might be the biggest turn off for NBA scouts. We in fantasy land, however, are not too concerned as to whether opposing offenses will target him constantly, unless of course it effects his playing time, which in some situations and matchups it might. There are also people who question his effort rate on the defensive end, something which of course would have to improve at the next level.
I think there has been some dumbfounded criticism of Trae Young being too selfish, and that he has not made much of an effort to bring his team mates into the games at time. For me, when you have a guy shooting nearly 50% from the field, and 40% from downtown on high volume, it is difficult for any coach to not utilize that kind of weapon. Given that the Sooner also boasts a 9.9 assist rate shows the effectiveness of his ability to bring his team mates into the game on the offensive end.
Overall:
I feel very comfortable in projecting Trae at this stage as the number 2 player on the board behnd Luka Doncic, and think that both Luka and Trae have the best chance to be able to carry a team offensively on their backs. It is hard to not imagine Trae Young as a powerful fantasy basketball force, given not just the high volume and efficient shooting, the three's and the steals, but because his ability to strike from anywhere in the halfcourt will no doubt lead to Trae still having a high rate of assists with the kind of space created in the paint that athletic NBA players dream of due to defenses being forced to stretch out to cover his range. Trae Young projects as everything we want in a fantasy point guard, and has the chance to join the fantasy elite given the right offensive strategy around him.
Dynasty Deep Dive 2018 draft eligible ranking: 2
You can find me on Twitter @storytelling41 for more prospect talk in and around the NBA.