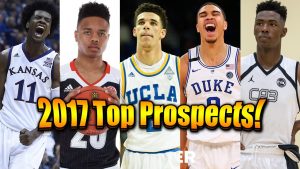 In the wake of the draft, I embarked in many interesting conversations with people in the industry. I wanted to share with you a conversation that I found fascinating with a good buddy of mine, Steve Connell, an independent scout who also happens to be a Boston Celtics fan, on his theory as to why the Celtics traded the No. 1 overall pick and why it wasn't just to stockpile more assets.
Markelle Fultz, for all his talent, is coming off a season at the University of Washington in which the team went a disappointing 9-22, raising question marks as to whether Fultz really has that 'winning' mentality that coaches love. The Celtics are a team that pride themselves on being able to play well on both ends of the floor. A look into the advanced metrics for Fultz shows a wide variance between offensive and defensive ratings, 7.7 OBPM compared to a 1.4 DBPM. In addition, Fultz had the lowest defensive rating for any No. 1 overall selection.
There is also the difference in long-term guaranteed money between the one and three slots, which saves a team a ton of money, especially if they decide to pick up the options and sign for 120% of the rookie deal. It is no secret that the Celtics own a lot of assets. In order to keep those assets while maintaining the flexibility to pursue players in free agency or the trade market (Gordon Hayward or Paul George?), the Celtics need to be thrifty with their cash. They do have Ante Zizic, Guerschon Yabusele, and Abdel Nader stashed away, who could all potentially be huge bargains for the Celtics' bench in the future.
Another thing that was raised by my good buddy is the fact that Markelle Fultz might not have been the Celtics' guy anyways. Pre-draft NBA is filled with smokescreen statements from clubs so as not to give their hand away, and if Fultz wasn't the Celtics' guy then, not only did the Celtics get their man in Tatum, but they also saved a considerable amount of cash and gained an additional asset.
The points raised by Steve were extremely valid ones, and points that really got me thinking. There is always more to the story than meets the eye. Does any of this affect Fultz's value in fantasy basketball? Of course it doesn't, but it does serve as a friendly reminder the differences that fantasy players face between the real world and fantasy. We are only interested in the statistical production and job security of our players.
Fultz is going to be an outstanding fantasy contributor, but if we are to 'Trust the Process' in Philly, then we are relying on Ben Simmons and Markelle Fultz to develop that 'winning' mentality after coming off losing records in college.
Without any shadow of a doubt, Markelle Fultz is my number one prospect in fantasy basketball, but that doesn't mean the Celtics were wrong to trade away the No. 1 overall pick.
Enough about the magic of the pre-draft NBA, and more of what you have come here for: Part 1 of my dynasty rookie rankings.
It is important to consider the following with these rankings:
This only includes rookies from the draft class of 2017 (Players such as Ben Simmons and Bogdan Bogdanovic are not included).
This is for dynasty purposes. Not for redraft leagues.
Landing spots are important, and they are somewhat taken into consideration, but the main focal point is the overall projection for the players' career.
It often takes time for NBA prospects to adjust to the NBA. Just because players don't crack the rotation from the outset doesn't mean they are a bust. Three years is often a good time frame to define roles in the NBA.
This is my own personal rankings, and not representative of all writers at Razzball .
Value Pick: Dennis Smith Junior, Dallas Mavericks
It is likely that the top two picks in your rookie draft will be Markelle Fultz and Lonzo Ball.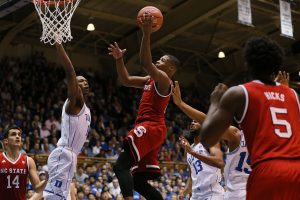 I covered Malik Monk and De'Aaron Fox in my last article, so let us take a look at Dennis Smith Jr here.
The point guard out of North Carolina State is an explosive do-it-all player that has the fantasy potential to rack up the stats, making him an easy player to fall in love with. Coming back from major injury, DSJ not only proved his health, but also managed to lead his team with 18.1 points, 6.2 assists, 4.6 rebounds, and 1.9 steals per game on 45% shooting. The big-time athletic PG sat out his senior high school year with a torn ACL and is quickly demonstrating that he has not lost much of his explosiveness as a result. Although he is an explosive finisher who gets to the rim with ease, there is still work to be done on the shooting end, as he has struggled with his three-point shot, and is not spectacular when shooting from the charity stripe. There are also question marks about his attitude and desire when it comes to playing the game. It will be interesting to see how he handles himself if things go poorly in Dallas.
With that said, DSJ is a freak athlete that has the potential to rack up the fantasy stats. Just be aware of the health concerns and inconsistencies with his shot.
Is There Any Room At The Inn? Jayson Tatum, Boston Celtics.
It's very possible that I have ranked Tatum too low here, and taken far too much consideration into the landing spot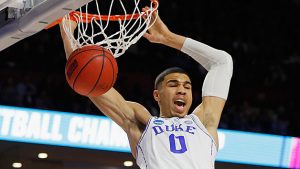 in Boston. No one denies the versatility that the former Duke man brings, as well as the NBA ready frame that comes with it. The questions come in how much Tatum will be utilized by the Celtics, given the talent they already have on the roster. They could also be adding Gordon Hayward and/or Paul George and Guerchon Yabusele and Ante Zizic are waiting in the wings. For now, I am being pessimistic with my ranking of Tatum, but that could change once the picture becomes clearer.
A New Era in Atlanta? John Collins, Power Forward, Atlanta Hawks
The Hawks are going in a different direction. Dwight Howard is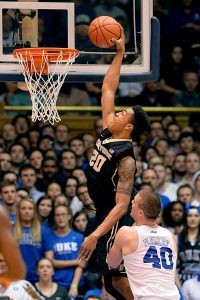 in Charlotte and Paul Millsap is currently an unrestricted free agent. So where does this leave the Hawks? In full rebuild mode and a perfect landing spot for John Collins, who looks to be the future in Atlanta.
As it stands, the only player ahead of Collins on the depth chart is Miles Plumlee, who is under contract until 2020. There is the possibility that Mike Muscala returns.
John Collins is a 6′ 11″ center who has an excellent offensive game around the rim. Collins shot an outstanding 62% from the field and 75% from the line last season. He also has a jump shot which is developing nicely. That being said, his wing span is not elite given his size and there are elements on the defensive end which will need to be improved upon.
Collins found himself in an outstanding landing spot and should be a player you look to target come rookie draft day.
Feel Like Gambling? Harry Giles, Power Forward, Sacramento Kings.
Pre-draft, it was rumored that the Kings were ready to take the former Duke star as high as No. 10, after medical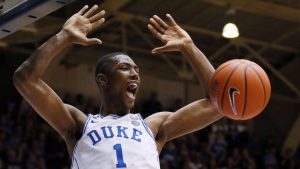 reports were more favorable than expected. Heading into the college season last year, one of the most talented high school phenoms had all eyes on him, to see how he would bounce back after two ACL surgeries. The minutes were extremely limited and he looked very rusty, leading many to believe that he might return to Duke for another season.
At his best, Giles is an explosive athlete that displays good strength in the paint and possesses great hands. He runs the floor well, something which should work well in time with a young Kings roster. He also has the potential to play the 4 or the 5. The red flag here is obviously the health. The Kings will likely bring the big man along very slowly with the hope that he can return to the form that made him one of the most talented prospects in the country. It is possible that the Kings hit a home run here, but there is also the potential that Giles is a bust.
That's my Top 20. For those of you looking to go deeper into this year's draft for potential gold, be on the lookout for #21-40 in my Dynasty rookie rankings.