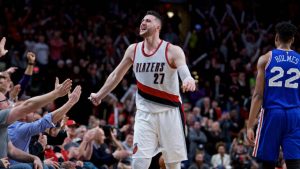 Jusuf Nurkic had a huge afternoon in Brooklyn on Friday. He really took advantage of the Nets' lack of viable big men. He came to Brooklyn to kick ass and chew bubblegum… and was all out of gum.  29-15-3-1-4-1. He's got balls of steel! The Nets put up a good fight and it came down to the last shot, but they couldn't top the Blazers.  This game was played at 12:00 Eastern time, so it could have been a factor in the Nets keeping it close or maybe the Nets are a little better than people think. Either way, they're still 6-12 on the year, but they're a very interesting team for low-end fantasy value. Anyway, here's what else went down on Friday in fantasy hoops:
Want the best tools and projections to help dominate your league? Check out the Stocktonator, the byproduct of Rudy and machine making love. Click HERE for a FREE 7-day trial.
Damian Lillard – 4-34-4-9-1-1-3. The Omen had another great line. The extra assists are definitely nice, but you'll have to wait until Lillard can get 10 dimes for my awesome Blazers/Dimebag reference. Skimped dime bag!
C.J. McCollum – 1-26-2-5-1-1-0. The Trailblazers Big 3 all had good games against the Nets. Not surprising if you checked the Stocktonator. It usually likes playing guys against the Nets, as they are one of the fastest-paced teams in the league.  The final score was 127-125, so that's pretty telling.
Spencer Dinwiddie – 4-23-4-6-1-1-0. Spencer's Gifts (3's and Assists) keep on giving. Now that Thanksgiving is over, 'tis the season. Speaking of which…
DeMarre Carrol – 10-9-3-0-1-1. Christmas Carrol! Not quite yet, and this line came with 2-of-5 FTs, but Carrol's been such a cheap source of production, even Ebenezer Scrooge would be jealous of your thriftiness.
Rondae Hollis-Jefferson – 17-4-2-1-1-1 on 8-of-13 shooting. Jefferson's movin' on up! The rankings that is.
Joe Harris – 3-13-2-5-0-0-1. Another solid low-end game for Harris. He could be a 3-point specialist for your squad if that's what you need.
Jarrett Allen – 9-8-1-2-1-0 in 24 minutes. He could be a sneaky source of blocks and I wouldn't be against adding him for the upside.
Kristaps Porzingis – 4-28-4-2-0-2-3. Nothing to complain about from this line, but the Knicks somehow lost to the Hawks. They're much better at home, but damn…
Courtney Lee – 2-26-4-2-0-1-0. He's been better than last year, but he's pretty boring most nights. Still, wouldn't mind owning in 12ers as a guy that doesn't really hurt you anywhere.
John Collins – Not his best game, but 13 points on 6-of-10 shooting isn't bad. Most importantly, he's starting for the Hawks. If he can learn to avoid foul trouble, look out. I'll have a John Collins!
Dennis Schroder – 1-26-2-8-1-0-2. The Dennis System works every time!
Kyrie Irving – 2-30-4-3-1-0-1 .Like Tupac, Kyrie is Still Ballin'. Not too many interesting lines in this one as Boston beat the Magic 118-103 and that's 14 losses in a row for the Magic in Boston in an Eastern Conference Snoozefest. Terry Rozier got off the schnide with 23 points and five 3's.
Marvin Williams – 5-17-8-1-0-0-0. Marvin Gardens was a valuable property to own tonight, but the Cavs told the Hornets: "Do not pass go!" And eked out a 100-99 victory.
Kemba Walker – 2-15-6-8-1-0-2. He got the lede last week, but Walker was more like Red Label tonight. Blech! That stuff is gross IMO.
LeBron James – Another huge line: 3-27-16-13-0-3-3 "It was a Good Day" for LeBron as he messed around and got a triple-double. Hopefully, one day, the Lakers will beat the Supersonics again.
Kyle Lowry – 5-24-10-8-3-0-3. Every time I see this guy's name I think of Mike Lowry from Bad Boys. Hopefully, you bought low on him, but if not whatcha gonna do?
Fred VanVleet – 2-16-5-4-3-0-0 in 28 minutes. This was probably his best game of the year, so he might be worth an add if you're bold or a star on your player list if you're like me and you are just not that excited.
Darren Collison – 2-17-3-8-0-0-1. He has been having a great year and I've always liked his game for fantasy. His assists are up from 4.6 last year to 6.8 this year and he's got the Pacers on a Collison Course with a playoff spot in the East. Totally worth it.
Myles Turner – 1-7-10-3-0-1-0 in only 21 minutes. He got into foul trouble, every young big man's kryptonite to fantasy value. He's still got Myles to go before he sleeps. Myles to go before he sleeps. Robert Frost.
Goran Dragic – 5-20-4-6-2-0-2. Nice line for the Dragon as he led the Heat past the T-Wolves 109-97.
Wayne Ellington – 6-21-3-1-0-0-1. The T-Wolves took the L-ington tonight!
Jeff Teague – DNP with a sore Achilles tendon. Tyus Jones picked up the bulk of the PG minutes and went 2-8-6-6-4-0-3. Hopefully, you played him in DFS, as the news of Teague missing the game came kind of late in the day.
Detroit Pistons – Had six players score in double figures and are 12-6 on the year. Stan Van Gundy deserves praise for how he has this team playing and the addition of Avery Bradley might have something to do with it, even if his line last night 1-11-3-3-1-0-5 on 4-of-13 shooting was not very good.
OKC Thunder – The Big 3 all had poor shooting nights and they drop to 8-10 on the year, but Russell Westbrook at least got a triple-double going 1-27-11-11-3-0-5. 10-of-29 shooting will probably lose you FT% on the week though.
Paul George – 2-16-2-2-5-2-3 on 7-of-17 shooting. See ya in LA next year!
JaMychal Green – 2-21-3-1-0-0-0 on 9-of-9 shooting. The blocks should start to trickle down and I could see owning in 12ers and possibly 10ers.  He's getting minutes and that's half the battle in fantasy basketball.
Marc Gasol – 1-15-6-14-2-0-4. The fat dime bag from Gasol! Very Kind!
Kenneth Faried – 14-9-1-0-1-1. Got the start for the injured Paul Millsap and had a decent enough game. Might be worth the short term add, but he just never improved his game enough to become a real star. I want to like him, but his opportunities have been coming less and less frequent and he may need a change of scenery to realize his full potential.
Nikola Jokic – 2-28-13-8-1-0-5. Nothing to say but, Damn!  This is astute fantasy advice!  By the way, I've never used more exclamation points in my life than in the last 6 weeks.
Gary Harris – 1-15-4-3-4-0-2 on an uncharacteristic 6-of-16 shooting, but you've gotta be happy with him on the year.
Jrue Holiday – 2-18-0-2-5-0-1. 6-of-13 shooting and 4-of-4 FTs. He's having a much better year from the charity stripe and it's making him a bit easier to own than last year. "Jrue Life: I'm a Mid-round Fantasy Value"
DeMarcus Cousins – 2-19-10-6-2-0-6 on 50% FG shooting, but 5-of-8 from the line. He can kill it for you in certain games, but he can kill you in certain categories. Not on my team!
Darius Miller – 3-10-9-3-0-0-2 on 3-of-10 shooting. He looked a lot more enticing when I added him at halftime and he had three 3's.
Greg Monroe – 0-4-1-0-0-2 in 12 minutes. I don't know what to make of the Suns big men. They might be trying to showcase him or Tyson Chandler (14-9-0-1-0-1 in 28 minutes) and it's coming at the expense of Alex Len (5-12-0-0-2-0 in 19 minutes). I think when it all shakes out, Len is the one to own.
Tyler Ulis – 1-17-0-2-2-0-1 in 26 minutes. 8-of-13 shooting is nice, but he's been not great on the year, but could be worth a look in 12ers.
Golden State Warriors – Absolutely polished off the Bulls in Oakland.
Draymond Green – DNP Rest. Giannis, Draymond, and Teague all missing games this week. All on my fantasy team. Why God?
Jerian Grant – 3-21-3-3-0-0-2. If you wished for a nice game, Jerian Grant-ed your wish. "You like that!" I dropped him for Doug McDermott… Lesson here is don't over-manage your fantasy teams. Who could have seen this coming though?
Jordan Bell – 7-6-4-2-6-1 in 26 minutes.  He was the main beneficiary from Draymond's absence. He had the block party tonight and hopefully, this leads to more games like this going forward, but the Warriors don't even need much help.
Stephen Curry – 4-33-7-4-2-0-2 with 9-of-9 FTs and 10-of-18 shooting. The Curry was hot tonight. Yes, it's getting late. The puns get worse as the night goes on.
Klay Thompson – My computer autocorrects Klay to Play. So, I'm going to call him Play Thompson. You know Klay gets plenty of play! 5-29-3-1-1-1-4 is a line you'll definitely take.
That about wraps it up. Hope Friday was good to you and your fantasy teams. Drop a comment or question and I'll try to answer them promptly.