This might be more of a somber lead for your fantasy liking, but someone has to speak truths. So here I am taking the responsibility upon myself to teach lessons to those who play in Head-to-Head leagues and find themselves wondering, why? Think about it. As the level of NBA entertainment rises, the fantasy-friendly confines begin to fall. Excitement levels reach all-time highs, along with your heart rate, when Karl-Anthony Towns only has 2 games this week. There are a few schools of thought for teams around the NBA. Either said team is so far ahead, they rest their starters, team is so far behind, they play their youngsters, or team is right in the middle and do things just right. We tried something new in my league this year. We started the playoffs at the end of February. Sounds crazy right? We tried to avoid the problem sweeping the fantasy NBA realm, and that is the art of navigating the sit. H2H, distant cousin of H2O, is so very common, but so very flawed, and you'll find yourself dropping Taj Gibson because he doesn't play for another 6 days. Maybe you drop Bobby Portis who's hot as hell because you need more games that week than your opponent. Then your friends brother picks him up, and you just lost a friend. It's a complete numbers game and one hell of a slippery slope. So, I'm not going to write a thesis on how to fix this. That's for another time, but I will  hand you some hot pickups to help you get through the end of the year and weather the storm.
Want the best tools and projections to help dominate your league? Check out the Stocktonator, the byproduct of Rudy and machine making love. Click HERE for a FREE 3-day trial.
Rudy has been hard at work in the lab. His latest creation? DAILY LINEUPS PAGE. So good. So smooth. So helpful. He decided to go with the Sonny Bono red tint, while I prefer the blue tint. What say you?
Corey Joseph – Next. Man. Up. Darren Collison has been hurting and will be out at least another week. Joseph continues to see extended run and, since February 5th, has played under 30 minutes only twice. A great source of points, assists, and steals while on the floor, Joseph could be a useful pickup for the home stretch.  
Fred VanVleet – VanVleet is still playing behind Kyle Lowry, but he is getting significant run and is contributing on many fronts. This is more of a down the road pickup. The Raptors are hot and find themselves 9 games ahead of the Cavs. If they clinch the 1 or 2 seed, Lowry will most likely sit, and VanVleet will give you some well needed minutes.
Jarell Martin/ Deyonta Davis – Marc Gasol is a shut down candidate. Need I say more? Martin has been playing a lot and well recently. Here's a big man who hits threes. Think Bobby Portis, but free and playing 30+ minutes a night. Martin is a major athlete and the Grizzlies are going to let their young athletes run wild. That brings us to Davis, who has been on stash boards all over the web for weeks now. The tall and lanky big man could be fantasy gold when given the chance, and with Gasol hurting and the Grizzlies tanking, now might be the time to finally add Davis.
Jonathan Isaac – Nerlens Noel on steroids. That's my description of Isaac, and I have been excited to see him play all year on a consistent basis. The defensive prowess of Noel with the ability to stretch the floor and shoot the three, Isaac is a unique skill set. He could make an impact in a big way, as his minutes rise with the Magic out of contention.
Skal Labissiere – The youth movement is in full motion, and Skal needs to be owned. Zach Randolph is just stunting the growth of this talented big, who can shoot from outside, play D, and run the floor. I think Skal sees a ton of run in the coming weeks, and with the type of impact he can have on the defensive end, everything else is just icing on the cake. Averaging 11 and 5 with 1.6 blocks over the last 30 days. I can see a whole lot more coming our way soon.
Jakob Poeltl – Another case of the clinchsies. All of the big men in Toronto have been playing less and less to prep for the playoffs. Poeltl is taking full advantage. 2.6 blocks per game in under 25 minutes per game is impressive, and those numbers should continue to grow as the season comes towards a close.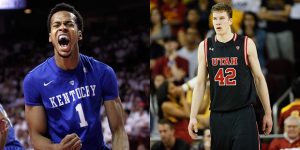 Terry Rozier – Kyrie continues to get nicked and bruised, so why would the Celtics risk a long term injury, The playoffs are close, the Celtics are in, and Kyrie could sit a bunch in the coming weeks. Boy, I'd hate to be a Kyrie owner in the H2H playoffs. So pick up Rozier and his nightly triple-double potential and reap the benefits.
Larry Nance (again) – Thompson is out and in a walking boot and I saw that Nance went off on Monday for 22/15/2 over 31 minutes. Giddyup!
Good luck to you all.