I know the "Player of the Week" award is not that important. I know the return of Carmelo Anthony has been a pleasant surprise for many and I can freely admit, as evidenced here, that I was not a believer. But for the love of everything that is holy, Carmelo shouldn't be the winner of the award this week by averaging 22.3 points, 7.7 rebounds, and 2.37 assists. Not when Luka Doncic had 30.3/8.7/9.0 and especially not when James Harden had 47.0/4.5/6.5 during the same span.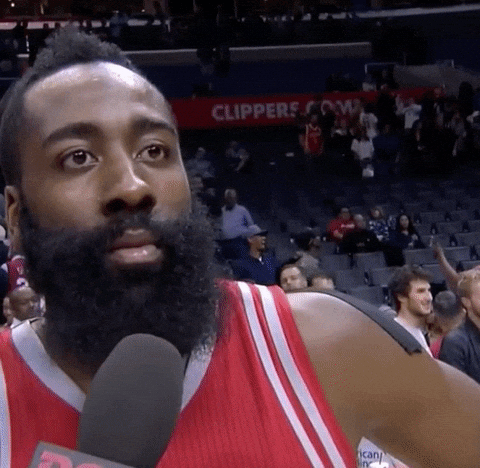 Maybe it was the "Comeback Player of the Week" Award. Or the "Western Conference Player with a Last Name Starting with "Ant" Week Award", since Giannis also won the Eastern Conference. I am definitely glad the league is highlighting other players besides the MVP candidates, but Harden's week was too unreal to ignore.
Last week's "Buy" suggestions fared pretty well, with both Nerlens Noel and Glenn Robinson III having productive weeks, while Frank Ntilikina was useful until he got ruled out due to a bad back. Finally, Cody Zeller lost his starting spot and has done nothing to convince me he is not a "Sell" candidate.
Buy
Davis Bertans: After the news that Thomas Bryant will be sidelined for at least the next three weeks, Davis Bertans becomes a MUST-add. Capitals for emphasis. He was already cruising with top 50 per game value for the season but, since he is a lesser known name, he might still be available in some of the more casual leagues. GO GET HIM!! (64% owned).
Tim Hardaway Jr: I am always wary of suggesting Tim Hardaway Jr., as he is as inconsistent as they come. However, there is no denying that his last two weeks have been really productive, with averages of 18.2/3.3/1.8/2.5/1.7/0/1 on 55.4%/89.5% shooting. He is not going to be so accurate from the field but he has earned around 30 minutes and is worth a look while he is hot (41% owned).
Tyus Jones: Ja Morant aggravated his back and is considered week to week, so the next man up for Memphis is Tyus Jones. His minutes will increase closer to 30 and he has historically been a good source of assists and elite steals. As long as Morant is sidelined, Jones is worth a streaming spot on your roster (18% owned).
Sell
Hassan Whiteside: His move to Portland has been nothing but a success from a fantasy standpoint, as he is ranked 31st for the season and 15th for the last two weeks. The main difference in his statline is the ft%, as he has improved all the way to 75.8%, a huge leap compared to last year's 44.9%. I expect this percentage to drop closer to 70% and with Jusuf Nurkic potentially returning at some point during the season, this seems like the perfect opportunity to capitalize on Whiteside's trade value.
Kyle Kuzma: He was supposed to be the Lakers' 6th man and was going to get more usage due to DeMarcus Cousins' injury, but it has been a disappointing season for Kuzma. His playing time hovers around 23 minutes per game and the supporting stats have been nonexistent so far. With a 75% ownership, there seems to still be a market for him so I would suggest trying to swap him for someone with a more fantasy-friendly game or even consider dropping him, if you can't find a deal. He is currently ranked all the way down to 279th in per-game value, below basketball legends like JaKarr Sampson and Isaiah Hartenstein and that's all the information you should need to act.
So there you have it folks. As always, I am eager to read your thoughts about other players you think are Buy/Sell worthy in the comments below, as well as all your fantasy related questions! See you next week with new suggestions and a recap of the performances for this week's showcased players.