It's hard to grasp, but we are already past the 15% mark of the regular season! Time does indeed fly and there have been some surprising and underachieving teams. The surprises have been the Celtics (11-2), Heat (9-3) and Suns (7-6), while the underachievers have been the Warriors (3-12), Pelicans (5-9), and Trail Blazers (5-10). Although it's early in the season, don't be surprised if some of the underperforming teams make some major moves to try and shake things up. Some are even getting desperate…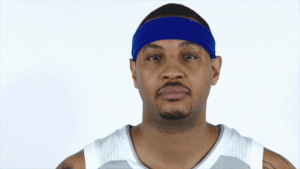 I don't hate Carmelo's fit in Portland. He can be a valuable contributor if he moves the ball willingly and at least tries on the defensive end. But those are two big "ifs", as history has taught us.
Regarding last week's suggestions, Alec Burks is one of the last Warriors standing (that sounded more heroic than I planned) with any kind of talent, so he will get all the usage he can handle. The fg% will be occasionally bad, but the scoring and counting stats will compensate. Finally, Marcus Smart also had a good week, while Cory Joseph has been disappointing in his starts and is a drop candidate.
Buy
Markelle Fultz: Is it finally happening? Is Markelle Fultz finally figuring everything out and is getting past his injury issues? The potential is high but the early career production has been nothing but a disaster. However, he has won the starting point guard position for Orlando and has ample opportunity to keep it going forward. He is worth a gamble if you have an open spot on your roster and won't be available for too long if he can put 2-3 good games in a row (26% owned).
Moritz Wagner: The Lakers basically gave him away for nothing last summer and he has taken advantage of the playing time in Washington. He is quietly ranked 93rd in per-game value and has improved to 53rd in the last two weeks. His main assets are triples, rebounds, and percentages and is a great streaming play (20% owned).
Jaxson Hayes: The injury bug has hit the Pelicans all season and has thus opened up almost 23 minutes per game for Jaxson Hayes. He is a freak athlete with great blocking instincts and is worth a grab until/when the Pelicans get back to full strength (15% owned).
Sell
Kevin Love: His season is off to a great start and he is currently ranked 24th in per-game value. He also has not missed a game yet. However, with Cleveland in rebuilding mode, I fear his minutes will decrease as the season progresses. Furthermore, Love is not the most durable player and Cleveland will not hesitate to rest him at the earliest opportunity.
Enes Kanter: How the mighty have fallen. Once a very productive center, especially on the offensive end, Kanter was supposed to have a good fantasy year as the staring 5 of the Boston Celtics, but an early injury derailed those expectations. His minutes hover around 18 per game, so however bold it may seem, he is a drop candidate in standard leagues.