If you are wondering about the title, just look at the postscript at the end of the article. It's not basketball related but some things are far greater.
The playoffs have started for most fantasy leagues and I hope your teams are competing in them. May the basketball gods bless you with no injuries to your key players (ahem Stephen Curry) and good percentages to lead you to the championship. If you are instead in a Roto league, like I prefer for the most part, these injuries affect you less but it's still a good time to focus on the categories that can give you the most points in the standings and shape your team accordingly.
On a completely different subject, as soon as I saw Josh Richardson and James Johnson celebrating after a made triple, I knew I had to include it in the article.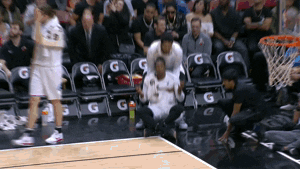 Master Yoda, you sure look taller…..The phrase "teamwork elevates you" gets a new meaning with these guys.
As per usual, let's check the performance from last week's suggested players, but before that, an extra shout out to my man Nemanja Bjelica, who I mentioned 2 weeks ago and is straight carrying my teams for the past weeks (ranked 18th during this period). Larry Nance Jr. has taken full advantage of the starting role in Cleveland, with three double-doubles in his last 5 games and will maintain this production for as long as Tristan Thompson is sidelined. On the other hand, Jakob Poeltl's impressive defensive numbers faded this week as he averaged only 1.0 block after going for 2.7 per game during the previous two weeks. Finally, Skal Labissiere had two solid games before going down with a minor injury, while Marcin Gortat and Al-Farouq Aminu proved good drop calls as they had at best forgettable performances.
Want the best tools and projections to help dominate your league? Check out the Stocktonator, the byproduct of Rudy and machine making love. Click HERE for a FREE 3-day trial.
Rudy has been hard at work in the lab. His latest creation? DAILY LINEUPS PAGE. So good. So smooth. So helpful. He decided to go with the Sonny Bono red tint, while I prefer the blue tint. What say you?
Buy
Terry Rozier: Rozier is maybe the most mentioned player in this buy column, but it's for good reason. Whenever someone from Boston's backcourt goes down, he steps up in a major way and right now both Kyrie Irving and Marcus Smart are sidelined, with the latter expected to miss significant time. Remember the last time these two were both out? Rozier responded with these two back-to-back fantasy gems:

I think he can be a fantasy difference maker down the stretch so run, don't walk (cliché) and grab him in your leagues (49% owned at Yahoo).
Corey Brewer: Jason Terry played 36 minutes in a game, Emeka Okafor is contributing on a playoff bound team, and now I'm going to recommend adding Corey Brewer as a valid fantasy contributor…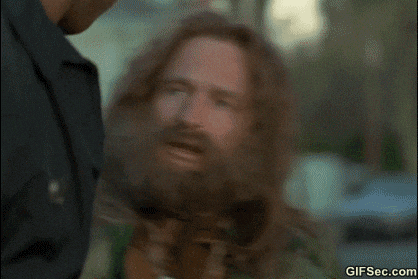 After being pushed from the rotation in L.A. and eventually bought off by the Lakers, Brewer landed in Oklahoma to fill in the shoes of Andre Roberson as a defensive-minded wing. Nobody expected him to be a fantasy factor, but during the last 5 games in a Thunder uniform, he is averaging 12.4/1.6/3.0/1.2/1.4/0.8/0.6 on 47.6% shooting, numbers that have him ranked as the number 39 player during that span. He can provide sneaky value, especially in roto, if he can keep his playing time around 30 minutes and is at least worth a streaming spot for the time being (10% owned at Yahoo).
Kyle O'Quinn: Blocks can be very, very hard to find in fantasy, especially from the waiver wire, but Kyle O'Quinn is an exception to this rule. He is averaging 1.2 for the season, but this number has skyrocketed to 2.6 during his last 5 games. He does not have the highest upside, as his playing time rarely exceeds the 22-minute mark, but if you need a big man with good percentages, he can be your man. O'Quinn is the 17th ranked player during the last two weeks, mainly due to his blocks and is widely available (16% owned at Yahoo).
Jimmy Butler: Reports have surfaced that Jimmy Butler's rehabilitation is going very well and he can return as early as March 26th. Maybe an owner in need of immediate production dropped him (happened in our Razzball Experts league) so if you have the IR spot to spare or you have a "Bye" week go ahead and make sure he is not available. The same advice applies for Kevin Love who can potentially return around the same time.
Sell
Allen Crabbe: I know many of you might have picked up Allen Crabbe during his hot streak during the last month, but the returns of Caris LeVert and Rondae Hollis-Jefferson have taken a toll on his fantasy production. He will still have the ocassional scoring outburst, but has scored in single digits in 4 of the last 5 games and has played more than 30 minutes only once during this period. I advise looking at the available players in your league for a better and more consistent option.
Ish Smith: It has not been a very productive month for Ish Smith ,with a lot of underwhelming games and the looming return of Reggie Jackson does not help his case. His minutes are also trending down, so you might want to explore the market and drop him for a hot free agent.
Kent Bazemore: This is more of a notification than actual fantasy advice, but Bazemore's recovery timeline has been expanded to 6-8 weeks, mainly because the Atlanta Hawks are playing for ping-pong balls, so there is no need for him to be rostered in redraft leagues.
P.S. Rest in Peace to one of the greatest minds this world has ever seen, Stephen Hawking. His contribution to science and his views about the human race have helped us grow as a species and allowed us to learn a little more about this mysterious thing that surrounds us called "universe," which is still beyond our capabilities to fully comprehend and understand. For me personally, he was an inspiration to learn about astronomy and the philosophy that surrounds this scientific field and his optimistic opinions regarding life and death despite his medical condition are breathtaking. He will be sorely missed.