I've been on hiatus, probably since about a month to go in the 2017-18 season. I blame myself, and my schedule, for not being loyal to my readers. My league had ended, as I ranted about in my last piece, but yours probably didn't. For those looking for the league winners I had been providing throughout the season, I apologize. For those who are reading my column for the first time ever here in July, I applaud and welcome you to Beyond the Glory.
For those who don't remember, I was literally two game 7 wins away from being the only Razzball writer to have the Rockets and Celtics in the finals, and then I got neither. I would have basked in that glory for at least a year, but being bold only brought me close to brilliance. Either way, I am back and will be knocking out more content in the offseason, before going back to weekly columns for your reading pleasure.
Oh, the offseason. The start of the NBA season is many months away, yet something inside of me is far too excited for fantasy basketball. Call it what you will. We are the midst of the baseball season and fantasy football prep has begun in earnest. With all of this going on, though, I come home at night and turn on the NBA Summer League. I don't know why, but my remote leads me there. The only reasonable explanation is that I am pumped for the new draft class. I am pumped to see free agent signings and I am pumped for LeB… I promised myself I wouldn't go there. I am going to hold strong, because in truth, I'm not excited for anything but basketball, fantasy basketball, and Kevin Knox (more on him later) for 2018-19. So let's get into the recent draftees and who they may compare to this upcoming year, giving us some pre-pre-preseason sleepers.
Let's start with looking for the next: Donovan Mitchell
Lonnie Walker IV – I absolutely love Walker and will be conducting this train all year. Smart, savvy, athletic, and did I mention smart? The Spurs are on the brink of losing their superstar. Not many teams are faced with this situation in the NBA these days… oh wait, never mind. If any team can recover, it's the Popovich-led Spurs. They have lost numerous stars to retirement, old age, or departures over the last few years and went through a major overhaul. Kawhi Leonard was supposed to be the present and future alongside LaMarcus Aldridge (a perfect fit for the Spurs), but now, he's checked out, looking to leave, and may be gone before August hits. Walker was among the best values in the draft coming out of Miami. He is 6' 4," jumps out of the gym, can hit jump shots, attacks the rim, and can handle the ball with his 6' 10″ wingspan. The Spurs always find a way to navigate the draft successfully. In 2016, the Spurs snagged the 6' 5″ point guard Dejounte Murray and his 6' 10″ wingspan very late, and he now holds the keys to the franchise. A backcourt of Murray and Walker is extremely exciting. A tandem that could be a force to be reckoned with for many years to come. I happened to snag Donovan Mitchell in the last round of my league last year. If you're looking for the next Mitchell this year, look no further than Lonnie Walker IV.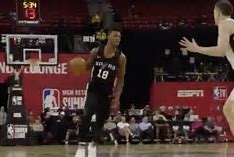 The next: Lauri Markkanen
Jaren Jackson Jr. – The 6' 11″ power forward out of Michigan State has dominated the Summer League and looks to be a major asset for the Grizzlies, a team bereft of talent. Jackson can learn a ton from Marc Gasol, who has recently extended his game past the three point line, a facet of Jackson's game that I wasn't aware of until now. With a wingspan of 7' 5," terrific footwork, and stellar shot blocking ability, I see a lot of Lauri Markkanen in Jackson. Like Markkanen, Jackson's draft stock continued to rise over the course the season, as he played fantastic basketball. Jackson's combine propelled him to number 4 on the board, with many saying he should go above Marvin Bagley. Markkanen didn't move up that high, but he did surpass his initial draft position and had every opportunity to succeed in Chicago, finishing with a line of 15.2/7.5/1.2/0.6/0.6 and 2.1 3PM. I can see Jackson finishing with a similar line. Just add 2 blocks per game, which would make him a fantasy beast.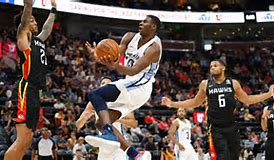 The next: Bam Adebayo
Mitchell Robinson – There is very little data confirming this pick, as Robinson was out of the college game before it began. Robinson has top 10 talent, but the track record and lack of play last year drew many red flags. Yet, at 6' 11," Robinson has the size of an NBA center with the prerequisite athleticism to flourish in the modern game. Snagging a talent like this in the second round could prove to be tremendous coup. How does he compare to Bam Adebayo? Physically, both are tall, athletic, and very agile. Situationally, Adebayo joined a Heat team with only an injury-plagued Hassan Whiteside ahead on the depth chart. Robinson only has Enes Kanter above him. After being stymied at Kentucky, Adebayo was set free in the NBA and flashed his potential. We could be saying the same things regarding Robinson this time next year.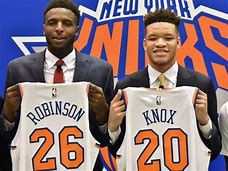 The next: Jarrett Allen
Robert Williams – Williams was drafted #27 in the first round by the Boston Celtics, a team that lacks big man play and may have gotten a steal. Williams is a 6' 10″ and played his college ball at Texas A&M. For a 237 pound guy, he has tremendous athleticism, which could make him a force at both ends of the floor. He is not selfish and played a major role in anchoring the Aggies defense last year. Williams has a highlight reel of out-of-nowhere blocks and thunderous slams. A team that needed a defensive-focused, yet offensively-gifted center got exactly who they wanted and then some. Jarrett Allen, coming out of Texas, could have gone in the top 10, but slipped to the middle of the first. Allen's biggest strength is on defense, but his athleticism up the floor was highly understated. He stepped up for the Nets last year once he got the starting job and received every opportunity to thrive. Williams should have that chance as well. He may not start initially, but Aaron Baynes and Greg Monroe are not going to hold Williams off for long. I'm excited to see how his shot blocking prowess affects fantasy leagues.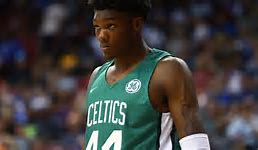 The next: Josh Hart
Jevon Carter/ Jalen Brunson – I am double dipping here. Josh Hart was the last pick of the first round last season, but was able contribute immediately on a young Lakers team and become a fine fantasy asset. Being a four-year college player, Hart was more prepared than most to acclimate to the NBA game. He has a high basketball IQ, plays hard, and put his work to the test. With a few breaks, Hart ended up starting games. Carter is a four-year player from West Virginia who can shoot the three and handle the ball. The Grizzlies are in a rebuild and Carter should have every chance to see the floor. He is not an elite athlete, but is smart and could log useful fantasy minutes this season, as Mike Conley is no beacon of health. Brunson entered the NBA after his junior year. He can play both guard positions, profiles similarly to Hart, and also played his college ball at Villanova. With Seth Curry in Portland, there are meaningful second unit minutes available, and being able to play alongside Luka Doncic and Dennis Smith Jr. will give him floor time and could make him a useful fantasy asset.
Other players I am monitoring:
The next Kyle Korver – Kevin Huerter of the Hawks is a great shooter and more agile than Luke Kennard. Can really fill it up when hot, á la Korver. Threes are always useful in fantasy.
The next Lance Stephenson – Grayson Allen of the Jazz is a hard-nosed, solid passer with great playmaking ability, and a knack for getting opponents angry.
The next Giannis Antetokounmpo – Kevin Knox. Yes, I am kidding, but he sure looks like a unicorn. As an ashamed Knicks fan, I love what I've seen in the Summer League. Can't wait for him to take NY by storm.
Potential Second Round Studs:
Hamidou Diallo – Freak athlete, former big prospect who took a step back
Keita Bates-Diop – Major scorer. Profiles similarly to Michael Beasley
Kostas Antetokounmpo – Imagine having two of these guys in the league. Saw him jump from too far away to make a block the other night and got scared thinking about it.