The name Reggie brings a few players to mind. Reggie Jackson, Reggie Smith, and of course, Reggie Miller. That awkward, yet smooth, combo of grace and precision known as a shooting form. Reggie Miller is one of the greatest shooters of all time. 6' 7″ shooting guard, able to rise up (barely) above the smaller defender to snap the net with a perfect rotation. Anyone who averaged 1.8 3PM for their career before 2008 is basically a champion, especially considering that his 4.7 attempts per game for his career is a joke these days. So what's in a name? The name Reggie.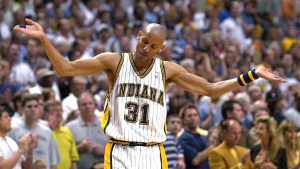 Want the best tools and projections to help dominate your league? Check out the Stocktonator, the byproduct of Rudy and machine making love. Click HERE for a FREE 3-day trial.
Rudy has been hard at work in the lab. His latest creation? DAILY LINEUPS PAGE. So good. So smooth. So helpful. He decided to go with the Sonny Bono red tint, while I prefer the blue tint. What say you?
As you all know, Blaaaaaaake was traded to Mo-Town and is now surrounded by just about nothing but Andre Drummond, scraps, and shooters. One of those shooters is named Reggie. Ironic? Yes. As talented? No. But is there opportunity for very useful fantasy lines? Yes again. Reggie Bullock is a four year pro, who has suited up for 3 teams, and has yet to get a real opportunity. Now is that opportunity. Since Avery Bradley has been hurt, and SVG has been toying with different lineups, Bullock has been playing around 30 minutes per game, scoring 10 points and hitting 2.4 threes per game. Those numbers should go up, as Tobias Harris and Bradley have now left for warmer pastures. This Reggie happens to be 6' 7″ like the Reggie we discussed above, but let's not get carried away. Between Bullock, Luke Kennard, and Stanley Johnson, the perimeter players are nothing to write home about. Blake is going to have the ball in his hands a lot. Ish Smith is not a threat from the outside. SVG has said that he likes Kennard, but I think Bullock is the primary beneficiary from this trade and the best bet for long term production for fantasy purposes.
Trade Deadline Preview:
As the trade deadline nears, I hope to highlight a few players who could see an uptick in minutes and in return, a ton of production. Remember, here at Beyond the Glory, we look deeper than the classic pickups that everyone is suggesting, so I hope this can help you win a championship;
Bam Adebayo – If, and that's a big IF, Hassan Whiteside is dealt, Adebayo will be in line for some massive stat lines. He is a great stash.
Bobby Portis – Mirotic looks more and more like he will be moved at the deadline, which will #FreeBobbyPortis (Updated: Mirotic is reportedly being traded to the Pelicans)
Frank Ntilikina – The Knicks should be sellers, moving Kyle O'Quinn and Courtney Lee most likely. The keys will be handed to Frank.
Nerlens Noel – He is set to be back after the deadline passes, and could be inserted into the lineup, or someone's lineup, and produce thereafter.
Jonathan Isaac – Not many players have the upside to hit threes, block shots, and steal many balls. Isaac is one of them, and when he comes back and the Magic are tanking, he should get a real chance.
Jarrett Allen – The Nets have four centers, but none possess the upside of Jarrett Allen. He could be huge and is only 19 years old. Why not see what he can do?