In 2016, there were six teams that did not have a 20 ppg scorer: Pistons, Hawks, Magic, Nuggets, Mavs, and Lakers. The Pistons' leading scorer was Tobias Harris at 16.1 ppg. The Magic had Evan Fournier at 17.2 ppg, while the rest of the teams had a leading scorer at 18ppg or higher. The Bad Boy Pistons of the late-80s proved that you don't need a 20 ppg scorer to win a championship, but even those teams had two players in the 18 ppg range, Isiah Thomas and Adrian Dantley. If you were wondering, Joe Dumars was at 17.2. Anyways, I have a friend in Japan that makes fly-like drones with audio equipment embedded inside. We were able to place a few in the Pistons War Room during this year's NBA Draft. Here are some of the snippets that we gathered. SVG (Stan Van Gundy): I'm a great defensive coach. Look, we were ranked seventh in points allowed, fourth in steals, and sixth in blocks. We need more offense gentlemen! 22nd in field goal percentage, 27th in three-pointers made, and 26th in points scored is not going to cut it! JB (Jeff Bower): Calm down Stan. I know you're a great defensive coach because…well…I hired you. We will get you offense. SCOUT: Mr. Bower and Mr. Van Gundy. We as a scouting group are in love with Donovan Mitchell. He's a great athlete, will help us on D, and can shoot the heck out of the ball. SVG: God damn it!!! Didn't you hear what I said earlier??!! I am a great defensive coach and we were awesome on D last season! We need offense! SCOUT: But…but….but…Mitchell is. SVG: Get these clowns out of here! Why are you studdering mother bleep bleep bleeeeeeeep! I like this Luke Kennard kid. Exactly the kind of player we need. Ladies and gentlemen, your 2016 Detroit Pistons.
2016 record: 37-45
Key acquisitions:
Luke Kennard via draft
Langston Galloway via free agency
Avery Bradley via trade
Anthony Tolliver via free agency
Key losses:
Outlook:
The Pistons have as good a chance as anyone to snatch that eighth seed in the East. Much of their fortunes may hinge on the health of point guard Reggie Jackson. The loss of KCP hurts, but it's mitigated by the acquisition of Avery Bradley, who is also a very good two-way player. There's talent on this team. Free Boban!!!
PG – Reggie Jackson should start but how healthy is he? He missed the first 21 games to start 2016 due to platelet injection procedure for his knee tendinitis. He was also shut down for the final nine games of the season. When healthy, he's an explosive player that makes the PnR with Andre Drummond deadly. With that said, he can be a black hole at times and rub teammates the wrong way. He's been rumored in trades for a while now so it wouldn't shock me if he gets dealt, especially since he views defense as a chance to rest up for offense. Ish Smith is a quality backup. He doesn't shoot particularly well, but is able to run an offense. Not fantasy relevant unless Jackson goes down or gets dealt. Langston Galloway was signed for three years, $21 million. Why? I have no clue. He does shoot well from three-land. Please refer back to the snippets we caught with our fly-like drone.
SG – Avery Bradley. I love Bradley. He's underrated offensively and is a very good defender. SVG is going to love him. Luke Kennard impressed me when I watched him in Summer League. Has a really good shot and high IQ. He's going to struggle on defense due to lack of athleticism, but he tries hard and that's half the battle. I don't think he's going to get that many minutes, though.
SF – As mentioned in the intro, Tobias Harris was the leading scorer for the Pistons. The funny thing is he only started 48 games, as SVG was changing things up during the season looking for any kind of spark. As a result, Harris filled the super-sub role for much of the season. He's a really good player, as he can shoot from long-range, operate the PnR, and post up. He could get better at distributing and finding the open man, though. Someone needs to play more 2K. Behind him are Stanley Johnson and Reggie Bullock. 36% shooting ain't gonna cut it Stanley. He's only 21 years old and is 6′ 7″ and 245 pounds, so there's a ton of upside here. Bullock is suspended for the first five games of the 2017 season, due to violating the league's anti-drug program. The one thing he does well is shoot, 42% from the field last season and 38% from three-land. Too bad SVG can't morph he and Stanley into one player.
PF – Jon Leuer is slated to start at power forward, but there's a chance he is used as a stretch 5 to back up Drummond. Tobias could play the 4 while Stanley plays the 3. We will just have to see how it plays out. As of now, Leuer is at the 4. He's paid to shoot and shoot he does, 48% from the field and 29% from three-land. The ball will find him for a few rebounds but that's about the extent of his contribution. Anthony Tolliver is second on the depth chart. He is also a shooter and SVG loves him, but minutes may be tough to get for him. Henry Ellenson is the 6′ 11″ 245 pound baby at 20 years of age. He was the Pistons first round pick in 2016 (18th overall).
C – Andre Drummond is a double-double machine, as he racked up 49 last year, which was good for eighth in the league. The free throw percentage….38%. Seriously, how is that even possible? Drummond did lose minutes at the end of games due to the weakness. With that said, he's pretty much a lock for 28-30 minutes per game. One interesting thing that I've read is that teams started defending him differently in PnR action. Basically, collapsing on the dive and making him catch it and become a playmaker. We shall see if more teams employ that strategy this season. Free Boban!!! Boban Marjanovic is behind Drummond on the depth chart. At 7′ 3″ 290 pounds, he's so fun to watch. Unless you're this guy…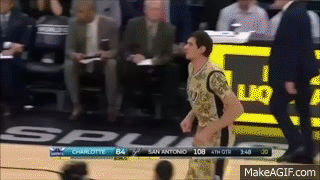 In the final four games of the regular season, Boban scored 15.8 ppg and grabbed 10.3 rpg with 0.8 spg and 0.8 bpg in 22.8 minutes per game. SVG has said there's a chance Boban gets more minutes, but I'll believe it when I see it. FREE BOBAN!!!!