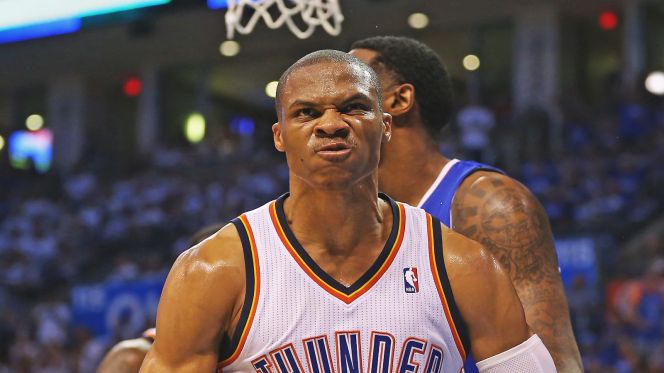 I imagine this a good representation of the frustration Westbrook feels inside… I am currently writing this article during halftime of the Thunder/Warriors game, and frankly I don't think I have the heart to watch the second half.  OKC came out of the gate in a strong fashion, but a Jerami Grant posterization of KD led to a Slim Reaper onslaught that buried the Thunder.  More on that below…
It's now time for my debut on the daily notes! I'm going to format it a bit differently, so feel free to give feedback on whether it's better, worse, or if you don't care at all.
     Kings at Magic (7:00 pm EST) – Final Score: 94 – 102 Magic Win

This game was rather ugly for the Kings, but that's par for the course.  The Magic looked played like a cohesive unit, and they showed a lot of grit.  With this level of play, this Magic squad will be playoff bound. On the other hand, Sactown is the same set of talented players that can't work together.  Frankly, they looked better as a team when Cousins wasn't on the floor, despite Cousins' impressive line.
Evan Fournier – 29 points on 67% shooting with 3 treys.  He didn't kick in much in the way of peripheral stats, but that shooting percentage was sweet!
Aaron Gordon – 13 points with a trey, plus 10 boards, 3 assists, a steal and a block. Gordon hustled and played within himself.  That 30 mins has got to be nice to see – he's clearly a part of the big picture in Orlando.
Jeff Green – 15 points in 18 minutes with no real peripheral stats.  He played a pivotal role off the bench, but he isn't particularly relevant for fantasy purposes.
Bismack Biyombo – 4 points, 9 boards, a steal and 2 blocks in 18 minutes.  It's not a fantastic fantasy line, but he looked like a beast out there.
Rudy Gay – 16 points, 2 treys, 2 boards, 2 assists, and a steal.  The definition of meh.  He started out hot, but then his production completely disappeared into the black hole that is Demarcus Cousins.
DeMarcus Cousins – 33 points, 60% shooting, 1 three ball, 7 boards, 4 assists, 2 steals and a block.  Huge line, but he ultimately sunk them with a complete lack of ball movement.
     Pacers at Bucks (8:00 pm EST) – Final Score: 107 – 125 Bucks Win
The Pacers frankly looked lethargic in this one.  Giannis and Jabari simply out-hustled the Hoosier squad.  If Middleton were healthy, this could be a contending team.  I bet they still make the playoffs without him though.
Paul George – 23 points, but the counting stats just weren't there, plus the 6 TOs were murder.  Not a great outing for George or the Pacers.
Jeff Teague – 16 points with 6 assists.  It'd be an ok line if he didn't shoot 36%.  Stated plainly, he has sucked this season.
C.J. Miles – The lone bright spot for Indiana.  Miles lit it up with 19 points, 2 treys, 3 steals, plus a few boards and a couple assists.  He did all of this in 23 minutes, so it looks like he's going to be productive while Stuckey is down.  If you need 3s and steals, then grab him!
Giannis Antetokounmpo – The Greek Freak continues to ball with 27 points on 61% shooting!  7 boards, 9 assists, 2 steals, and 2 blocks will help us to easily forgive the 4 TOs.  Giannis is locked and loaded for a massive year.
Jabari Parker – 27 points. 4 Treys. 8 Boards. 3 assists and a block.  Jabari looked like the star prospect that he was drafted as.  The 64% shooting says more about the Pacers defense than Parker's talent, but it's impressive nonetheless.
Greg Monroe – 16 points, 16 boards, 6 assists.  Figured it was worth mentioning.  Doubt it happens again anytime soon.
     Nuggets at Timberwolves (8:00 EST) – Final Score: 102 – 99 Nuggets Win
Probably the most entertaining game of the night.  Bjelica missed the game tying three at the buzzer, but the game was back and forth most of the time.  The big standouts were Jameer and Nemanja, who weren't getting huge minutes prior to this game.  Both played down the stretch in a close game.
Danilo Gallinari – 19 points, 4 treys.  A great shooting night, but the peripheral stats just weren't there.
Nikola Jokic – Only played 14 minutes – his outlook is starting to look less promising.
Wilson Chandler – 19 point burst from Chandler.  He was a key component in their win.
Jameer Nelson – The MVP for the Nugs this game. 14 points, a couple of clutch 3 balls, along with 7 boards and 7 assists.  The vet can still ball when called upon.
Karl-Anthony Towns – A huge 32 point double double with 14 rebounds.  Plus he threw in a steal and two blocks for good measure. KAT is the real deal.  Nothing else I can say about that. Oh did I tell you he went 2 of 4 from deep as well?? Expect a lot more of these lines in the future.
Kris Dunn – 4 TOs and 1 of 6 from the field, but he did have 9 assists and 3 steals, so it's definitely a mixed bag for the rookie.  I wouldn't own in anything but the deepest of leagues though.
Nemanja Bjelica – A surprising 22 minutes, with time down the stretch and a game tying play drawn up for him.  14 points, 2 treys, and 8 boards on the game.  Makes deep leaguers raise their eyebrows a bit, but not much more than that as of now.  Thibs definitely likes him though.
     Celtics at Cavaliers (8:00 EST) – Final Score: 122 – 128 Cavaliers Win
The Cavs toyed with the Celtics all game, and while it was close at points, the final score was not a great indicator of the Cavs overall domination. The normal suspects contributed for both sides, with one exception.  The big news in this game was Jaylen Brown bursting onto the scene with Crowder down for a few weeks.  Run to the wire and stream him if you can!
Jaylen Brown – 19 points, 50% shooting, 3 treys, 5 boards, 2 assists, 3 steals, and only 1 Turnover!  He is forcing the Celtics to give him playing time.  Grab him at least for the next couple weeks!
Avery Bradley –   26 points and 10 rebounds – the man continues to produce!  If you drafted him, then be proud of yourself!  This is no time to sell high.
Isaiah Thomas – 30 points with a perfect 14 of 14 at the line.  The little man came to play, but his efforts just weren't enough, and Uncle Drew torched him on the other end.
Marcus Smart – 14 points, and more importantly, 28 minutes.  He's just starting to round into form, so he's not a bad stash.
Lebron James – 30 pts. 7 reb. 12 ast. and only 2 TOs.  The man is just great.
Kevin Love – Kevin Love is looking better, and more aggressive this year.  26 points, on only 33 percent shooting.  He bailed himself out with 12 of 13 at the stripe though.  Plus 4 of 8 from deep.
Tristan Thompson – Tristain had 10 boards at the end of the first, and finished with a 15 and 14 dub dub. Plus 3 blocks.  Great game, but we know who TT is at this point.  Although, I am expecting a Kardashian caused implosion in the not so distant future… RIP Humphries.
Kyrie Irving – Uncle Drew did what he do. 23 with a few Treys and a little bit of everything on 50% shooting.  Frankly it looked like the Cavs were just going through the motions.
     Thunder at Warriors (10:30 pm EST) – Final Score: Bleh – Meh – Warriors Win 
It is now the 4th quarter of this game, and it looks like the starters have been taken out for both sides… It is 74 to 102 with 9 minutes left.  This game simply didn't lead to much happiness from a fantasy or reality perspective.  These scores are from the time of writing, but I doubt they'll change much.
Victor Oladipo – The bright spot for the thunder. 21 points on 62% shooting with 4 threes!  The other stats are very meh though. Oh well.  Looks like JB is looking right on this call.
Russell Westbrook –  Yikes. 20 points. 27% shooting. 71% FT. 10 assists. 6 TOs.  This game is a disaster, even with the double double.
Joffrey Lauvergne – 8 points, 7 boards, with a 3 and 2 blocks!  I just found it amusing that he was somewhat relevant… Looks like he has a rotation spot though.
Kevin Durant – 39 points, 7 treys, and he had 29 at half time!  It could've been so much better in a competitive game.  Only 7 boards with nothing else outside of the scoring, so it turned into a really good thragnof line.
Klay Thompson – Continues to be that awkward 3rd wheel to the KD/Curry bromance. 16 points, on 42 percent.  He had 4 threes, but nothing else to really speak of, plus they even put him back in during garbage time so that he'd feel better about himself… It's getting pathetic. Sell him if you can.  He may get some numbers in these last few minutes!
That's it for me today everyone!  My notes after this week won't be so long, but I figured I'd go all out for my first one.  Let me know what you all think of formatting it by game!  Have yourselves a Razzy day!  Damn that was cheesy..