Whoa, how weird is that?!  "2017-18 Fantasy Basketball"?!?!  Already?!  Well, as what typically happens with postseason fantasy hoops disappointments for me, I'm ready to again turn the page.  Gonna get nothing but titles next year, wooooo!  I'm gonna be like UCLA in the 60s-70s.  Plenty of white players on those teams, right LaVar Ball!?  Oh shizz, yeah let's get straight to the inappropriate right off the bat for 2017-18!
As tradition, we're kicking off our Way Too Early Ranks for 17-18 on the last day of the 16-17 season, passing the torch to next year on a hot handoff, but not hot enough to knock the baton out of someone's hands.  Ish ain't allowed!  Also, I should be disallowed from ranking Chandler Parsons, amiright?!  Thanks again to everyone reading through the season, and let's get some early rankings on!  Here's my Way Too Early Top 10 for the 2017-18 Fantasy Basketball Season:
1. Giannis Antetokounmpo – Starting off with a bang!  Yeah F all the traditional top-5 guys, no more Slim Reaper, get those TO drain guys outta here, and Steph too easily gives up the alpha status…  Let's go full Greek (fitting since I just said "alpha!") and full upside!  According to Rotoworld, Giannis is the first player in NBA history to finish in the top-20 in points, rebounds, assists, steals and blocks.  Popcorn stat multi-cat!  He also has dramatically improved his FG% every year – 52.1% in 16-17 – and boasted huge jumps in FT% and volume.  And it surely helps he's played 77+ games every year in his now 4-year career (he's been around that long?!) and 80+ the past 3 seasons.  A do-it-all player with the best shot at not missing games and still getting 2+ blocks?!  Greek is fleek!
2. Kevin Durant – After being fantasy's #1 per-game player in 16-17 by a good margin, I can see why some would argue KD at #1.  But I ask you, loyal compatriots of Razzball Nation, one simple question: is Kevin Durant injury prone?  Last 3 seasons games played – 27, 72, 61 (well, might be 62, sounds like he's playing tonight).  How does that not scare you?!  Sure the foot is healed, and sure, Zaza flapping around like a 300-pound fish-out-of-water can't be expected, but he is 28 and will turn 29 before next season, and I do think the mileage on those tires is at least a minor concern.  While he was undeniably awesome in 16-17 – career-high REB and massive career-marks in FG%, TO, and BLK – I think the rebounds and blocks feel a little fluky.  I know the argument is that fast-paced system lends itself to more possessions and more chances to take risks on D, but I see all those career marks regressing – at least a smidge – in 17-18.
3. Anthony Davis – Way to underscore your injury-risk argument on KD, JB!  Ranking Brow this high is hypocrisy!  Yeah, yeah, recency bias and all – he was healthy this season, wooooo! – but as we've seen with several young athletes, sometimes it takes a few years of injuries and getting through the grind before you can stay healthy.  Plus it certainly helps when you score at elite rates (28 PPG, 50.5% FG), are still blocking 2+ shots, and will now have DeMarcus Cousins as a shock absorber to bang with all the centers down low.  Let's take some Unibrow Rides!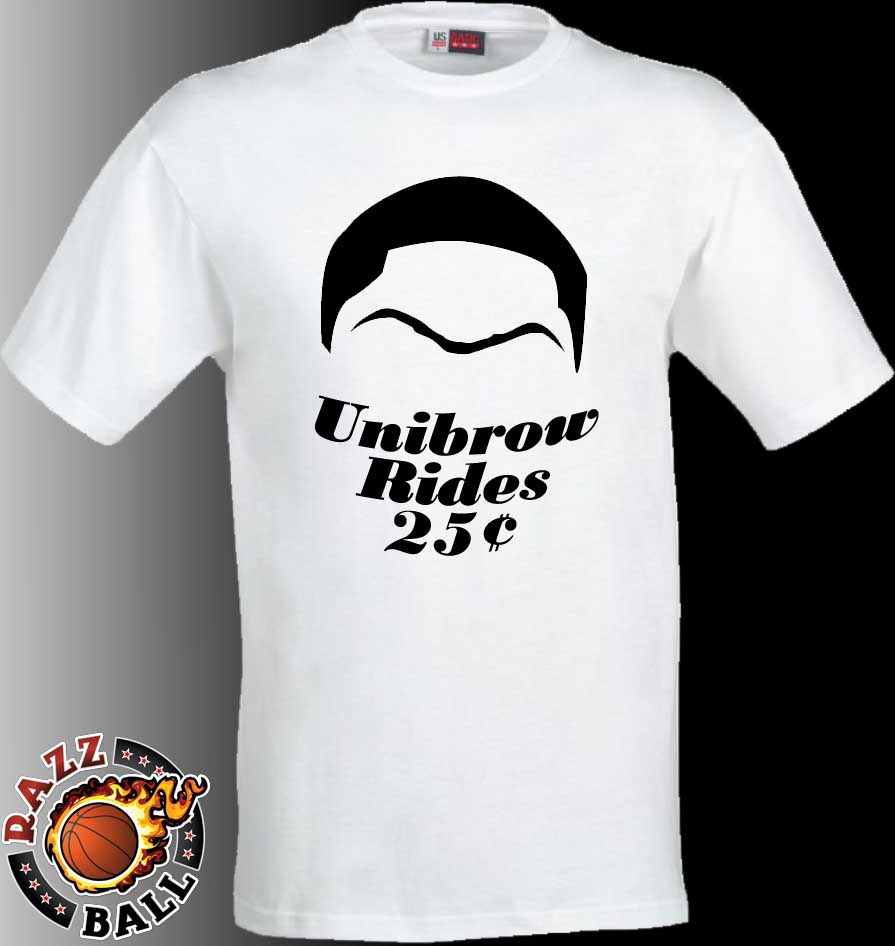 4. James Harden – Now to some Beard rides!  This late wrist injury has slightly impacted the numbers, as he was shooting a phenomenal 44.8% from the field with 3.2 treys until these last 7 games.  If he's going to be a 45% shooter while making 3 treys and racking up 11+ dimes, he's going to no-question be right in the conversation for the fantasy MVP.  Damn, there are 5 sure-fire studs that you could make the argument for to take with the first pick in 17-18 drafts…  Makes missing out on the top pick not the worst thing in the world!
5. Russell Westbrook – A guy averages not only the first triple-double in a season since the seemingly impossible-to-top Oscar Robinson year, but also does it scoring 31.9 points a game?!  If you told me that 10 years ago and said he wouldn't be a top-4 fantasy player, I woulda said "what do the five fingers say to the face?!"  We all know the popcorn stats, but the steals fell a little bit and the TO were historically bad, if not for Harden.  The biggie is the FG% (42.6%) and in such a ridiculous volume (24.1 shots per game) that you become multi-punt.  Even so, in H2H, that's not the worst route to take.  But give me the 3 guys with blocks, then narrowly going with Beard over Westy for the ~2 points in FG% and added assists.  It's razor close though.
6. Stephen Curry – Wowwwwwww.  After Curry's monumental 14-15, I didn't think there would be any way he'd be outside the top-3 for the next 3 or 4 years.  But here we are!  Settling to take a beta role too many times in games, the scoring fell from 30 to 25, the treys from 5 to 4, and oddly the FG% fell from 50%+ to 46.9% this season.  The FT volume went down, the steals down, the rebounds down…  Well, you get the picture, pretty much everything went down.  He still offers a great FG% from a guy winning you 3PTM, and there's still the upside with the loaded line-up that we see the FG% get back to the 50% range with all their weapons spreading out opposing Ds.
7. Karl-Anthony Towns – Dude, KAT is an unbelievable player, and I thought he could easily hop into the top 2 or 3 by this season.  16-17 wasn't really a "disappointment" – 25/12, 54% from the field, added 1.2 treys, and improved most areas – but where's the beef?!  The blocks fell from 1.7 to 1.3.  If he had hopped up to 2+ blocks, he might be right after Brow with those swatters up top.  Plus his TO rate got a little too high for my taste, going from 2.2 to 2.6 his rookie-to-soph seasons.  Durability and efficient scoring keep him a clear first-rounder, but hopefully he starts getting up for some more swattage in 17-18!
8. Chris Paul – I imagine several CP3 owners have been too spurned.  Spurned I say!  After another season with an injury – and will be turning 32 before next year – I could see him getting passed in drafts until the 10-11 range.  Twould be a big mistake!  While his dimes fell to single-digits (and the PG above are racking up dimebags like they're Harrison Ford), CP3 continues to flash an elite TO rate compared to his PG contemporaries (2.4 in 16-17).  Plus he hit a career-high treys per game of 2.0, thanks in part to that Lasik.  "Is that goal regulation size, or what?!"  I know I quote that all the time, but Happy Gilmore is always on TV!  I always linger on it every time it's on too…  With aging guys, you'd expect to see more treys, lower FG%, and lower steals, but Paul maintained his FG% with the added treys, and his steals remained right at 2 per.  If I miss out on those top-5 studs and get a late draft slot, CP3 will be a just-fine consolation.
9. Kawhi Leonard – Ka-Why JB gotta rank him so low?!  I'll bet he's ranked a few guys higher, but as we all know, it's the Spurs man!  They make owning elite players a headache, plus Kawhi's roto-ways get overvalued in H2H.  Who cares if you're close in several cats most weeks and win TO, then get murdered in the popcorn stats by a Westbrook/Cousins team in the playoffs?!  Kawhi had another season where he vastly improved as the primary scorer in the Spurs O, but steals stayed at 1.8, blocks at 0.8, and his value gets propped up amongst the other first-rounders by the 2.1 TO.  Love Kawhi in real life and he's one of my REL pillars, but I rarely get him at his premium in RCLs/re-draft.
10. Rudy Gobert – We back to Rudy!  Monsieur Elbow is back in my top-11!  Watch him get worn out by some international competition again, and burn me like in 15-16.  While he's only 18th in BBMonster's per-game valuation for 16-17, with those three pillars up top, I want to secure the blocks in my first round and pair Gobert with a PG.  Wall/Gobert is looking like a fun combo again!  Plus Rudy gets a little boost with how he's finishing offensively to 16-17: last 18 games, 18.0/13.7/1.9/0.5/3.2 at 71.3% from the field.  If he's going to make 70+% FG and score that much, it's not going to be a throw-away big man cat!  The FT% still hasn't quite taken the strides we were hoping – 65.4% this year – but his stroke keeps looking better, and I wouldn't be surprised if it's 70+% in 17-18.  Monsiuer moi elbow, s'il vous plait!
And there you have it, likely my top-10 for the 2017-18 Fantasy Basketball Season!  Can't see too much changing with those guys, but you never know in the off-season!  Stay tuned through next week as I rank my top-25 then top-50 as we get the jump on prepping for next year!