Playoff basketball – yes spelled "basketball" – is underway, got some great games to kick it off, including from our boy PBev!  While I'm coming around and trying to watch more playoff hoops (baseball is still fresh and new, sue me!), I'm still more excited for the hopes and dreams of 2017-18 fantasy titles.
In case you're still catching up, here's my Way Too Early Top 10 ranks, which hopefully mostly hold up (they mostly come out at night…) for the 2017-18 season.  Of course my boldest call of Rudy #10 gets greeted by a first quarter knee injury in game 1 of the playoffs, hooray!  C'mon Rudy, just stay healthy, no one in fantasy cares how you play in the playoffs!  Hah!  So let's all hope none of these guys in my 11-25 get injuries their next postseason game…  Here's my Way Too Early Top 25 for the 2017-18 Fantasy Basketball Season:
11. Jimmy Butler – Godzilla is back!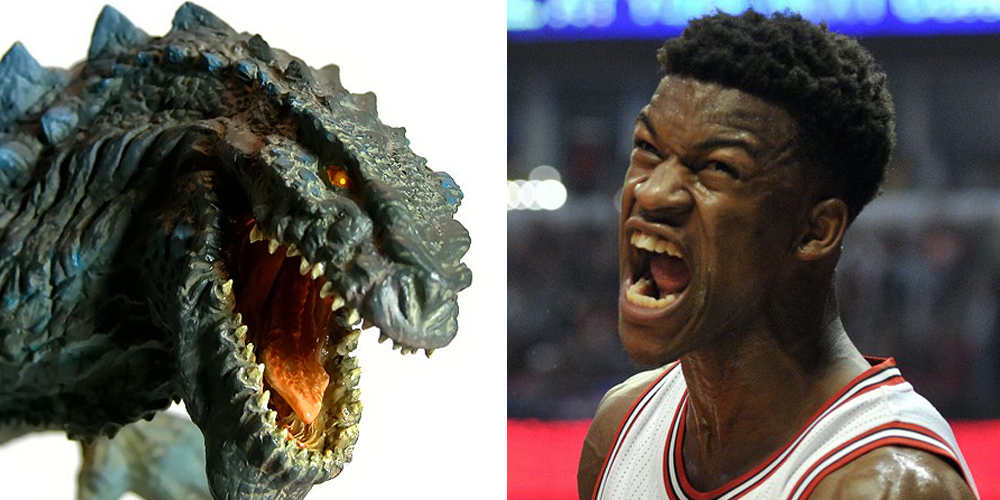 Oddly, Grey asked me on the Baseball Pod this morning if anyone calls me "JB Godzilla".  Even odder, no one has ever compared my pickup game to Jimmy Butler either…  Egregious on all counts!  BBMonster had him as the 10th overall finisher, he avoided injuries playing 76 games, matched a career best in steals while besting in points and assists, while still only committing 2.1 TO.  With Dwyane Wade likely gone and no PG to speak of, Buckets should have all the USG he can handle.
12. John Wall – If you wanna see a PG lefty slam, Wall is ya boi!  Also if you wanna see a career-high 45.1% shooting, career-highs in PTS and AST (23.1/10.7), then keep tippin' on 4-4s!  Is a Paul Wall reference too dated?!  Rankings systems hate on him due to the high TOs and his low 3s (compared to the other high-TO PGs), but when you chip in over half a block a game and become a stat killer in Pts/Ast, we'll accept all of your faults!  Gonna love the 11th/12th pick Gobert/Wall combo!
13. Damian Lillard – What an unbelievable second half from The Omen, putting the Blazers on his back to bring them into the playoffs.  29.7/4.9/6.0/1.3/0.2 post-ASB, but it was the 46.7% shooting with 3.5 treys that was having him play at a near-Curry-level.  And I don't say that in jest, like the Kings owner about Buddy Hield!  I dunno if I quite buy the steals over that stretch, but I do think we can continue to see FG% improvements as he keeps the treys up.  It was a tough call between he and Wall, but give me the dimes and steals over the treys.
14. Isaiah Thomas – Heart goes out to Isaiah, playing through an unimaginably rough time.  I've got nothing but praise for the lil' fellah on my end though, going mad high for him in 17-18 drafts.  He and Lillard might be the two most similar players in the top-end of drafts – score a ton, decent dimes, high treys, and both had their FG%s take big steps up.  The concern for IT2/3 – something we can't really gauge yet – is how Boston assembles their roster for next season with all their picks and young depth that they could consolidate] into another USG-whore.  That would be no bueno, but we'll see what happens over the offseason.
15. Draymond Green – #Occupy baby!  While we all expected the offense to drop – it did – I thought the treys might tick up a little and the FG% remain usable, but damn he had trouble making his shots!  FG% fell from 49% to 41.8%, but a big reason was indeed the treys.  3.2 of his 10.1 shots in 15-16 were treys (31.7%), but last year 3.5 of his only 8.6 shots were treys (40.7%).  His FG volume is already pretty low, but I'll split the difference and project him at around 45% from the field, and his safety in the popcorn stats and stocks keeps him a mid-2nd rounder for me.  Plus his TO did fall from 3.2 to 2.4, so the efficiency got a nice little boost in the giveaways.
16. LeBron James – Ah, the enigma of ranking LeBron these days…  He's still near the NBA's best when he wants it, but during the slog of the regular season, he's busy not telling you to drink Sprite.  Still finished 12th in per-game value last year, but a lot was boosted by the minutes cranking way back up to 37:46, his highest since 12-13.  The Cavs had some struggles in the reg. season losing that 1 Seed, so I think he over-exerted himself to keep them from prolonged losing streaks.  Anyway, as you'd expect from old players, steals fell to a career-low 1.2, but he salvaged his value with a career-high 8.7 dimes.  Career-high 4.1 TO too…  AND WHY CAN'T HE MAKE A GODDAMMED FT?!  Narrative remains the same, you'll love his value if he falls this far early in the year, then frantically try to trade him as you near the fantasy playoffs.
17. Kyle Lowry – Sigh…  Another upper extremity issue causing the numbers to fall apart, but unlike the hand stuff in 14-15, this time he shut it down and didn't hurt your numbers while he couldn't shoot…  Age is certainly a concern – he just turned 31 – but before the wrist injury, his numbers remained rock solid (unlike his bone density), and he was shooting a career-high 46.4%.  Dude, what's with all these 3PT-shooting PGs suddenly making all their shots?!  I think the balls were juiced this year, they were just a little more flat and the surface a little less bouncy, so the treys didn't rim out as much haha.
18. DeMarcus Cousins – Well, time will tell if the twin towers approach can work in Nawleans, but from a fantasy perspective, all is well!  Scoring went down just a tad for Boogie, but boards went up, treys oddly went up, and everything else was close enough.  BBMonster had him finish 13th overall in per-game, but games played does present a little bit of a concern – got to 72 last year which was nice, but that's after two years of 65 or under, and hasn't played 75 since 12-13.  I could see the argument against him, but I think the TO can go further down with Jrue Holiday running the point, and he can see a little more efficiency playing next to Brow vs. being the central focal point like he was on the Kings.
19. Nikola Jokic – Jock Itchhhhhh!  Wow, what an unbelievable run, after it looked like he might not be a starter all year in November.  Already ranked 20th in per-game, if you take out the rocky start, he was 19.0/10.9/5.5/0.8/0.8 over his final 57 games.  The big stat is the FG% over that span though – 58.9%!  I know Slim loves to rip the low stocks, but this is pretty much Nikola Vucevic with dimes and maybe a trey per game.  And consensus had Vooch like 25-30 for a few years.  Over that final stretch – 11/27 through the end of the season – Jock Itch was 11th in per-game.  11th!  But yeah, since the TO aren't out of control and the %s are so good, the rating systems are gonna love on him a tad higher than I would.  I could actually see this being a pessimistic rank against consensus, but I'd be happy with him from mid-to-late 2nd round.
20. Kristaps Porzingis – Kristaps!  POISON GOOSE!  We haven't played the song recently on the Podcast at all!  BBMonster has his per-game all the way down at 35, but The Poppycockers are about to go through so much change – plus Zinger played a little hurt here and there – that I think his pure numbers in his soph. season will make him a draft day value.  The FG% went way up, blocks got right to 2.0, he doesn't turn it over, I'm actually struggling to see why the rankings don't love him…  He oddly had the FT% drop a little, but I think he's gonna be a mid-80% freebie shooter.  And without the USG-drain of Derrick Rose, and who the F knows with all the Melo drama, I think The Poison Goose is a lock for 20+ points along with the rest of his poisonous goodness.
21. Myles Turner – Burning through our big men!  Man, I can't believe I let Al Jefferson scare me off ranking Turner a little better in 16-17, but lesson learned!  Here's a guy who had a big playoffs in 15-16 that should've had me buying mad hard again last year…  And I was by far the torchbearer for him his rookie year!  Argh, it's like Gobert, I was just a little too bold one year too early…  Anywho, Myles' 31:22 MPG helped cement him a fixture in the top rounds, and he shot 51.1% from the field despite being a mid-range shooter, so was awesome to see.  2.1 blocks, and from a guy who makes his FT?!  The 1.3 TO are a big boost for him as well.  I did initially worry about the wall he seemed to be hitting late in the season – barely over 46% shooting in Feb/March and the scoring went way down – but he picked it up in April.  His first two playoff games against the Cavs haven't been great, however I ain't letting that keep me from walking 500 Myles.
22. Paul George – As the 14th per-game finisher and being a warrior through 77 games (I mean a Pacer through 77 games!), I could see a lot of flack for having PG13 this low.  He looks phenomenal putting the Pacers on his back to try and beat the Cavs, but man, like the 3PT shooting PGs, I just don't buy he's suddenly a 46+% shooter!  I know I said I buy it for some of those guys above, but I'm re-thinking EVERYTHING right now…  I really think I might be on to something with the 3PT shooting guys – did they maybe make the rims like an inch wider?!  So weird!  He's still in his prime, the scoring is awesome, but the steals went down as did the dimes, and I think we see him evolve to a shoot-first-ask-questions-later scorer.  He'll shoot 43-44%, scoring I bet could go up even more to 25+ PPG, but the AST and STL keep him kinda a one-dimensional scorer.  I'll shore up some other stats instead.
23. Hassan Whiteside – Well, the first-round thing didn't quite work!  3.7 to 2.1.  Almost cut in half.  Yup, that's the blocks.  Yeesh!  65% to 62.8%.  The FT% improvements didn't really carry over.  Bleh.  But he was still 17/14 with 2 blocks, and I guess that's not too dissimilar from Gobert, but I'll buy Gobert beats him in FG%, FT% and blocks by a nice little margin that'll have me pay the premium for Monsieur.
24. C.J. McCollum – He's really good at basketball…  I don't think long-term readers will ever live down when I doubted him as a sleeper when he broke out.  Mea culpa!  But I'm with ya now, he's just phenomenal to watch.  A full year of CJ/Omen with Jusuf Nurkic manning the paint – this could really start working for Portlandia.  Here's YET ANOTHER 3PT shooter who saw a drastic improvement in FG%, making an absurd 48% from the field with his 2.3 treys.  Back-to-back seasons of well over 40+% from the 3PT line too!  42.1% from deep last year!  Add in an increased FT volume at 91.2% (!!!!!!!!) and the TO going down, and baby you got a stew going!  You just gotta be sure he's paired with an early PG that gets dimes and steals, and you're golden!
25. Kemba Walker – Are we noticing a trend yet?  44.4% from the field, and 39.9% from deep – both career-highs.  I feel like I'm in the plot of a political thriller, and I've uncovered a huge scandal.  Has anyone written on these FG% bumps?!  I'm going to do more research this week, it's kinda blowing my mind.  But for the sake of wrapping up this post, Kemba scored 23.2 and maintained the dimes and low TO, but the breakout in those cats got masked by the steals falling back down to 1.1.  He's really not that different than Omen or Isaiah, but will come at a nice little discount.  The FT volume went down and he's not a killer in that cat like those other two, but he's a nice, cheaper mini-PG option amongst the lollipop guild.
There we go, Way Too Early Top-25!  What do you think of these guys?  I don't think I'm doing anything too egregious just yet – I think these guys are all safe and solid enough to not get supplanted by some bold calls.  We'll save that for the Top-50…  Happy playoffs and fantasy offseason, Razzball Nation!