The legend grows. 
With the Jazz hanging on to a 1-point lead with seconds left on the clock, Collin Sexton stepped to the line and choked away two free throws in a row. But our hero, Walker Kessler, Utah Ranger – who kicks posterior not just for a living, but for America – bullied his way to an offensive rebound and was fouled. 
There, he faced his most challenging nemesis of all: the free throw line. What's he do? But, of course, he steps up and drains back-to-back; turns, and flashes a look to the camera that says, "Even I can't believe how much of a badass I can be."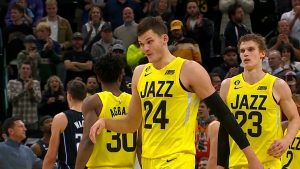 After the game, the Hudson Hornet came up and complemented, "You've got a lot of stuff, kid." [Sorry. Cars has been on repeat in my house to appease the 18-month old. Voom Voom!]
Walker nearly treated his many fans to a Swat Team triple-double, finishing 13 points, 9 boards, 2 steals and 7 (!) blocks in 27 minutes, as Utah beat Orlando 112-108. Kessler played 27 minutes from the starting center spot. We all know what he does. It's simple. It's solid. It's predictable. And it's as entertaining as a montage of round-house kicks to the bad guys. Kelly Olynyk is out at least a few more games with an ankle injury. So sit back, and enjoy the Kessler show. 
Bol Bol played 18 minutes off the bench in his first game of 2023, but couldn't shake the rust off in this one. With the Magic at full strength, he'll likely hang out in the back half of standard league value moving forward. Wendell Carter Jr. posted a 19-10-3-2-1 line in the loss. He's shooting 56% from the field with nearly 2 threes per game and across-the-board production over the last 2 weeks. He's No. 88 in per game value on the season, but easily could be Top 50 ROS.
We're seeing why many are hawkish on Onyeka Okongwu put up 18 points (9-12 FG), 20 rebounds, 4 assists, 2 steals and 4 blocks as Atlanta downed Indiana 113-11. Okongwu  has a nice poker hand going over the last two weeks as Clint Capela remains sidelined (without a time table to return), averaging 10.7 points, 10.7 rebounds, 3.2 assists, 3.2 blocks and 1.2 steals; good for No. 26 per game value over that span. 
Isaiah Jackson also came close to a block party trip-dub of his own, recording 7 swats in the loss with 10 points and 10 boards. I like Jackson' upside down the road, but heaven with the Pacers starting front court out, he's not much of a streamer right now. Initial results of the Haliburton injury fallout show an even spread of value between Aaron Nembhard (6-6-5-1-1; just an off shooting game); T.J. McConnell (13-7-7 with 2 steals) and Bennedict Mathurin (26-5-3 and a steal; 9-18 FG, 0-1 3pt, 8-11 FT). 
"My Name Is Jonas" Valanciunas also feasted on a depleted front court Friday Night, putting up 33 points (12-15 FG, 1-3 3pt, 8-10 FT), 16 boards, 3 assists and a block as the Pelicans kept flying with a 116-110 W over Detroit. Jonas' utter lack of defensive stats (under 1 combined a game) remains a mystery, but the rest of the game has been solid. CJ McCollum shot 8-of-19 (2-7 3pt, 1-2 FT) in a 19 point, 4 board, 9 assist, 1 steal effort, and has been more efficient as of late. 
Saddiq Bey continued his impressive tryout for teams in the trade market, posting 20-10-3-1-1 with a three. The FG% still has a lot of maturing to do, but nailing 25-of-27 free throws over the last three games is an intriguing development. Ride 'em while he's hot. Hamidou Diallo has been a nice source of points (19), boards (7) and steals (2) in the last week coming off the bench. And Killian Hayes has been a Top 50 player in his six games since returning from a suspension.
In my endless pursuit of NBA puns, I came across a new saying: giddy-up to whoa, meaning "all the way from beginning to end" (according to freedictionary.com at least). It may be time for the OKC Thunder to go Giddey-up to whoa on the 2022-23 season, as the strong play of sophomore Josh Giddey have the Thunder playing back-end playoff basketball recently. Giddey scored 28 points (11-8 FG, 1-3 3pt, 2-2 FT) with 10 boards, 6 dimes and two blocks as OKC pulled the red cape from the Bulls, 124-110 (Ole!). Giddey has been shooting with 50%-40%-90% efficiency since the beginning of December. Next step if to get to the line more and collect a few more stocks, and you can see a Top 30 player in the making. With Shai Gilgeous-Alexander (21-5-6-4-2) doing his thing nightly and JALEN Williams (22-8-3-2-0) and every game factor, maybe OKC will make a run for some playoff experience and not shut its young starts down after the All-Star game. 
Alex Caruso nabbed 5 steals to go with 11 points, 4 boards, 5 assists and a block in the loss. Patrick Williams posted a nice 18-5-3-1-1 stat line as the collective fantasy world attempts to talk his breakout into existence. Coby White had 19 points, 6 boards and 6 assists in 33 minutes off the bench, and is playing himself onto the fantasy radar while DeMar DeRozan remains out. 
A new NBA record was set for most attendees to a basketball game who thought they were watching an ant circus. It wasn't much to watch for Spurs fans anyways, as Golden State blew out San Antonio, 144-113, and really nothing noteworthy fantasy-wise from either side here. 
Quick update on my week floating past the break waiting for a big Sochanawave to hit: it was just a lot of pitter-pattering around on the board. Time to paddle in and try again later. 
Jalen Brunson is rising taller than a New York skyscraper, posting a 34-8-8-1-1 stat line with even-steven shooting (12-24 FG, 3-6 3pt, 7-7 FT) in the Knickerbockers 112-108 over the Wizards. Brunson has shot 52% over his last six while averaging about 33-6-6 with 3 threes per game. Back on the bench with R.J. Barrett back, Immanuel Quickley is back to a borderline 12-team standard play, scoring 18 points with 4 boards and 2 assists Friday Night. 
Kyle Kuzma had a nice 40-7-7 line with 4 threes in the loss. Corey Kispert scored 13 points (4-6 FG, 2-4 3pt, 3-3 FT) with 5 boards, 2 assists a block and a steal, and is finally playing some fantasy-relevant ball as of late. With Bradley Beal nearing a return, Kispert will continue to be just a deep ball streamer as needed – he's hit 17 of his last 34 3-pointers. Jordan Goodwin got the start but failed to give me anything to celebrate, shooting an ugly 1-of-12 from the field while posted a 5-5-3-1-1 line in 26 minutes. One day I'll get to use the headline "It was a Goodwin for the Wizards." Daniel Gafford played only 17 minutes, but hopefully that just had to do with his sore ankle. 
Anthony Edwards shot 50% in a game for the first time since 2022 [remember 2022?! What a crazy time that was], scoring 31 on 12-of-24 shooting (2-of-8 from deep) to go with 6 boards, 3 assists and 2 steals as Minnesota won their fifth in six games, topping Phoenix 121-116. The 'Sota Ant has been back at No. 90 in 9-cat value over the last two weeks. The card says that's a minor buy-low opportunity. Rudy Gobert shot a perfect 1-of-1 from the field. Ha! Obviously he's not in Minny for his offensive prowess. But, ONE SHOT ATTEMPT? Naz Reid played just 15 minutes returning from a one-game absence, but still contributed value with 13 points (5-8 FG, 1-3 3pt, 2-2 FT), 6 boards, 3 dimes and 2 steals. He's now No. 88 in Per 36 9-cat value. 
The Chris Paul fill-in du jour was Damion Lee with 31 points (10-17 FG, 6-7 3pt, 5-5 FT) 6 boards and 2 assists. Mikal Bridges (24-4-6 with 3 steals and 3 threes) remains the only brights spot for the Suns in the New Year
Trey Lyles followed up his Thursday Night 4-quarter extravaganza with another solid outing, contributing 13 points, 5 boards and 2 each of dimes/steals/blocks in the Kings' 139-114 win over the Rockets. Lyles played a season high 30 minutes off the bench and there needs to be a discussion about whether he should pass rookie Keegan Murray on the depth chart as Sac-Town continues to eye a serious playoff run. Terence Davis posted 22-6-3 with 3 steals and 3 threes in a spot start for Kevin Huerter (illness). Oh yeah, and Domantas Sabonis added a ho-hum 19-15-16-2-2 stat line in the blowout win. 
Jabari Smith Jr. scored a career high 27 on 11-of 20 shooting, 2-of-7 from deep. He added 8 boards and 3 blocks. He remains a back end standard league player, but seems to be benefiting from Houston's offense working through Alperen Sengun lately. Speaking of the young Turk, Sengun followed up his first career triple-double with 14-7-6 and 4 steals. 
All-in-all, a great Friday The 13th for those who love defensive stats in The Association. Best of luck to all over the weekend as the second half of the season is upon up. Now's the time to make those moves for a playoff push, or to solidify your end-of-season squad if you sit atop your league standings. 
Cheers!