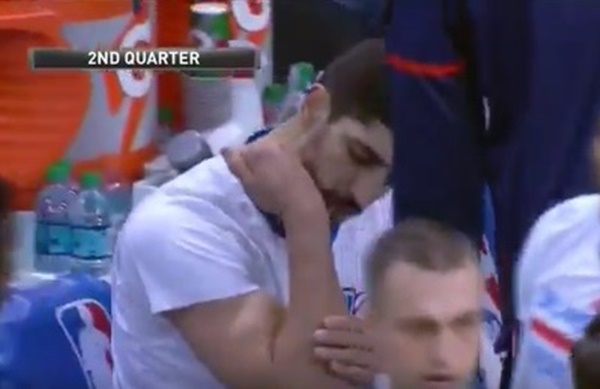 So this isn't a basketball intro, but it was probably the biggest news of the night!  In a game where the Thunder were playing the terrible Mavs squad, Kanter managed to work himself up enough to punch the bench chair… Unfortunately, he's now out for 6 weeks.  Kanter had been putting up 4th round value recently, so this is a big blow to fantasy owners and the Thunder.
Anywayssssss – Here's what happened last night!
Mavericks at Thunder (8:00 pm EST on TNT) – Final Score: 98 – 109 Thunder Win
Pacers at Timberwolves (8:00 pm EST) – Final Score: 109 – 103 Pacers Win
Suns at Nuggets (9:00 pm EST) – Final Score: 120 – 127 Nuggets Win
Lakers at Jazz (10:30 pm EST on TNT) – Halftime Score: 41 – 44 Jazz Lead
Nothing really stood out in this game at halftime, outside of the fact that it's pretty low scoring.  I would've assumed a little more fireworks, given the Lakers' bad defense, but that doesn't seem to be in the cards.