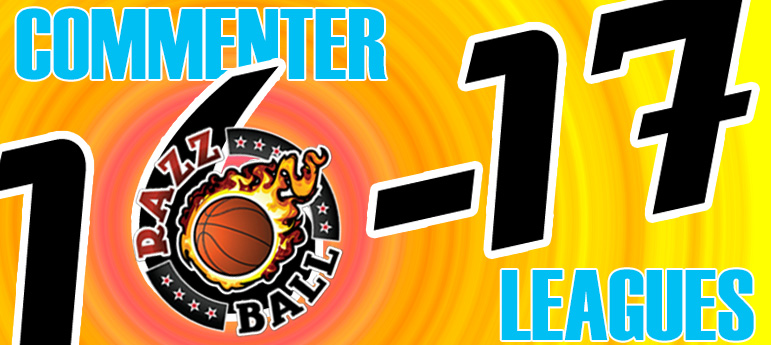 My first RCL draft is in the books!  I may drop another league closer to the start of the season – we'll see on that.  [editor's note – if you're interested in joining an RCL league, you can take a spot in several leagues with openings here!]   At any rate, I'm fairly happy with how this draft went.  I had the 11th pick, so that was ugly, but I caught a break in the first round, and I don't think I blew it too badly after that.  You can be the judge though!
My Team:
My initial evaluation is that I have a pretty well rounded squad.  I could be a bit short in the blocks area, but hopefully I can stream some.  Millsap and Turner should provide a good base there.  One thing I did notice was the complete lack of SF Talent, once we get passed Parsons, Ariza, Wiggins and Fournier (Basically round 6).  I'll get into that more as we go along though.  Let's get into this!
Round 1, Pick 11 – Chris Paul – I was incredibly happy that he fell to me at 11.  Slightly stunned at that.  Anthony Davis, LBJ, Paul George, and Giannis went before him.  Not a lot to say about CP3.  He's a fantastic all around guy, and I'm more than happy to build around him!
Round 2, Pick 14 – Paul Millsap – Once again, my choice was easy.  Sapper is a 1st round guy, and I think the injured tag scared some people away.  He'll be ready to rock by the time the season starts though, and all of that multi-cat goodness is mine!
Round 3, Pick 35 – Kyrie Irving – I love Uncle Drew, and this pick just made a lot of sense.  At this point, I was looking to not punt anything, so Irving's solid percentages were very appealing.  Derozan was another option, but I wanted the treys and assists from Kyrie.
Round 4, Pick 38 – Myles Turner – Here's where things get interesting.  I was debating between Ibaka and Turner with my last pick, but I decided to wait, and the decision was made for me.  Having the younger of the two is not a bad thing though, and hopefully he can be a defensive monster.  Not a lot of big men, that provide good percentages, beyond this point.
Round 5, Pick 59 – Nikola Vucevic – I was slightly surprised he fell so low… Besides Fournier, he is the only scorer in Orlando, and I see no reason why he won't get his 30 minutes.  The Magic have shown in the preseason that they don't mind playing big, so he's going to get time.  Plus, I'm betting he averages over 10 boards again if he plays next to Ibaka a lot.
Round 6, Pick 62 – Ryan Anderson – My target at this point was Wiggins, but I got sniped by the one team that autodrafted… Go figure.  I decided to head in the other direction with Rhyno.  Some people may not be fans of this pick, but he is going to put up stats, and a lot of them.  D'antoni is running the show in Houston, so I highly recommend buying as many Rockets players as you can.
Round 7, Pick 83 – Avery Bradley – A boring pick, but I like the production, and rumor has it, his assists will pick up a bit.  Meh.
Round 8, Pick 86 – Jordan Clarkson – Debated about Devin Booker here, but I wanted more volume than he guaranteed.  Plus, I love this young Laker back court.  Russell and Clarkson will be fun to own this year, regardless of the team's record.
Round 9, Pick 107 – Eric Gordon – Love Gordon here.  Frankly, I think JB completely whiffed on his ranking of EG… Likely the starting SG in a run and gun offense – I'll take that all day long!  Sure, health could be a concern, but I doubt he gets injured shooting 3s, and I don't picture the Rockets being a scrappy defensive squad…
Round 10, Pick 110 – Buddy Hield – Buddy Buckets!  I've been on the Buddy bandwagon for a while now…  Check that link if you haven't seen my thoughts.  Yes, those percentages are a bit high, but with the injuries, Buddy should have a very high usage rate this season.  110 is a steal.  Don't let the haters tell you otherwise!  Someone put Hield almost 50 spots behind Rondo in his ranks… Haters gon hate.  Jussayin.
Round 11, Pick 131 – Evan Turner – Finally!  A small forward.  Nothing too exciting, but I wanted more help in the assist department.  Turner should fill that position quite well.
Round 12, Pick 134 – Dario Saric – Lot of playing time, Coaches like him, and a great skillset.  I'll take a flyer on him.  Worst comes to worst, I'll drop him if the TOs get out of hand.  The upside is too tantalizing to turn down though.
Round 13, Pick 155 – Courtney Lee – Steals, 3s, no TOs.  Meh.  I needed SF depth, and Lee won't hurt me.
That wraps it up for me!  Leave your opinions and judgement in the comments below, and remember to stay Razzy!