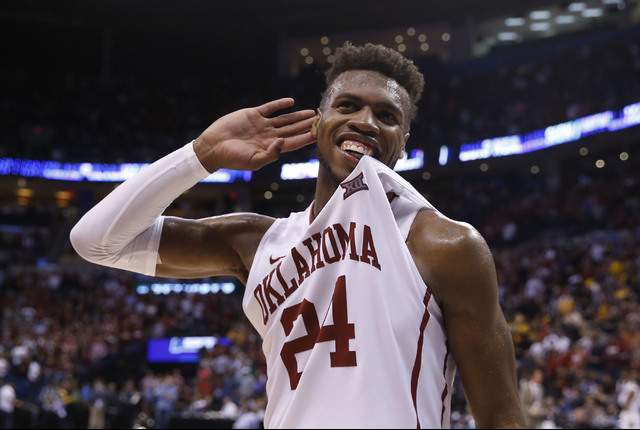 As many of you probably know, I have a major thing for shooters; particularly guys that are great at the end of the game.  Ray Allen, Reggie Miller, Larry Bird, Kyle Korver, Klay Thompson, etc.  Buddy fits that mold to perfection.  In order to be a great shooter, one must have have tremendous focus, and a great work ethic.  Based on that description, these are the kind of high quality guys that you want on your team.
Everyone knows that Buddy can shoot.  Almost 10 attempts from deep per game during his senior year.  He drained over 45% of those.  I see no reason why he won't average around 3 treys a game in the NBA.  The bigger question is: Is Hield Just a THRAGNOF?  I contend that he is not.
To support this point, let's look at Buddy's stat line from his senior year at Oklahoma:
25 points
5.7 rebounds
2 assists
1.1 steals
3.1 turnovers
50% fg
46% 3pt
88% ft – 5.4 attempts per game
Clearly, his rebounding ability is solid for a guard.  It won't win you the category by any means, but he certainly isn't a drain.  The 2 assists per game is a bit deceiving, since Hield set up his teammates a lot, but most of them simply couldn't convert.  His playmaking ability looked to be fairly solid in summer league, so I'd pencil him in for 2-3 assists.  Buddy has an above average wingspan, but he is by no means a steals artist.  I could see him getting 1 a game, but odds are it'll be just under that.  Turnovers shouldn't be a massive issue, because he will not be the primary ball handler.  Hield's TO total spiked during his senior year, because he literally ran around with the ball trying to find an open look.  The offense was pretty ugly from a team standpoint.  Under 2 TOs should not be a problem.  As for percentages, I see a minor hit, but 40% from deep should be attainable. The FT% is also a plus category for Buddy.  He shouldn't have tremendous volume, but I wouldn't doubt that it's enough to make a difference.
Now, lets look at the situation.  The Pelicans are a high-pace team, and they love to get out in transition.  Both of these factors are extremely favorable to Buddy's game.  Plus, the Pels have lacked a real scoring threat, so Hield should be the go-to guy within the first couple years, if not right away.
What to Expect from Buddy Buckets:
Now that we've covered the real life housekeeping, what can fantasy owners expect?
17 points (I could see this number being higher or lower depending on usage, but I think this is a fair estimate.)
4 rebounds
2.5 assists
0.8 steals
2 TOs
47% FG
41% 3 pt
85% ft (4+ attempts per game)
So where does he rank?
While I haven't played around with any rankings yet, based on JB's way too early ranks, I'd have him just inside the top 50.  While coming up with that stat line, I found an interesting comp.  Think somewhere along the lines of Gordon Hayward, with slightly worse assists, but more 3s.  I'd probably take him a touch higher than Gordon, but it's all very close in that range.  Both players are decent ball handlers as well, so don't sell Buddy short in that area.
That's all for now ladies and gents!  Next article will probably be on Kris Dunn, but I have a lot of pet players from this draft, so no guarantees!  Let me know your thoughts in the comments below!  I'll take suggestions for future player's to analyze as well!
Have a great week and stay Razzy!