We're about 2/3 the way into the fantasy basketball regular season, but in the midst of the holidays and breaking down the per position opportunities, I wasn't able to present the overall opposing ease rankings.  Hopefully, most of you reading this are doing alright, or at least within striking distance of the few remaining playoff spots in your leagues.  There's still plenty of games to be played, for coaches (ahem, Earl Watson and Vogel to name a few) to mess up, and injuries to pop up (Chris Paul).  For those who are clinging onto some borderline standard league players due to their name, this is usually the time of the year when you have to make decisions on whether holding such players become an obstacle for your team to make the playoffs or end up being anchor(s) to your team that could have your team lose a playoff spot you've held for most of the season.  By looking at the matchup rankings, you can look to increase the number of slots to stream if your team needs some help in the standings.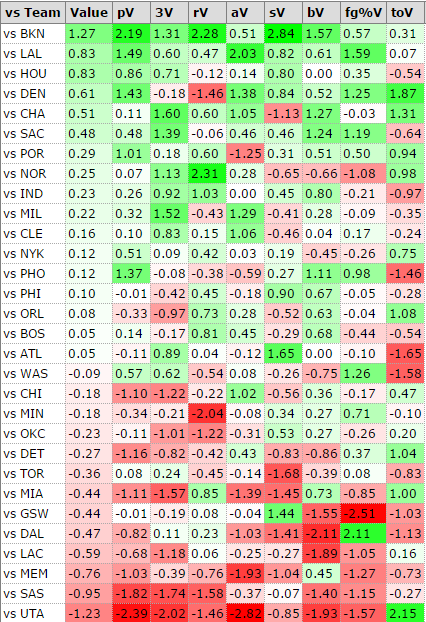 BKN, LAL and HOU have been favorable matchups overall for fantasy.  Looking at the remaining games for the week, BKN faces NOR tomorrow and CHA on Saturday on a 2nd half of a b2b.  If somehow Tyreke Evans is hanging out the wire, picking him up purely for this NOR vs BKN game could be worth it if you're looking at some all around stats, especially if Anthony Davis doesn't play.  Similarly, Rondae Hollis-Jefferson vs NOR and Sean Kilpatrick vs CHA are potential targets against a CHA team that allows a decent amount of 3 pt attempts from opposing PGs.
DAL goes up against the LAL on Sunday and Seth Curry could be a nice pickup for teams looking for some helps in 3s and scoring.
A few other notable mentions:
Marreese Speights is not a good idea if looking for some rebs (and out of position 3s) vs DEN on Saturday.
Kelly Olynyk, on the other hand could be a sneaky source of rebs and 3s vs POR on Saturday.
Looking for 3s, Kyle Korver might be still be available but vs SAS on Saturday you might be better off looking for alternative for help in that ccategory.
Timofey Mozgov has the potential for putting up some helpful big man stats vs IND tomorrow.
Looking for stls? ATL faces PHI on Saturday on the 2nd day of a b2b.  Nik Stauskas and/or Sergio Rodriguez (if T.J. McConnell is still a DNP candidate) could provide a sprinkle of stls.
If looking for blks, CHA faces BKN on Saturday and RHJ could have the potential for dropping some out of position blks. He had 2 blks vs CHA back on Dec. 26.
Good luck on your teams for the rest of the week!