…The Sixers don't have a Clue, that's for sure!
On a night of comebacks where we saw the Spurs come back from their largest deficit at home to beat the Cavs, we also saw the Bulls down more than 20 in the 2nd quarter and 16 at half come back and just obliterate the Sixers in the 2nd half and overtime by unleashing the Godzilla.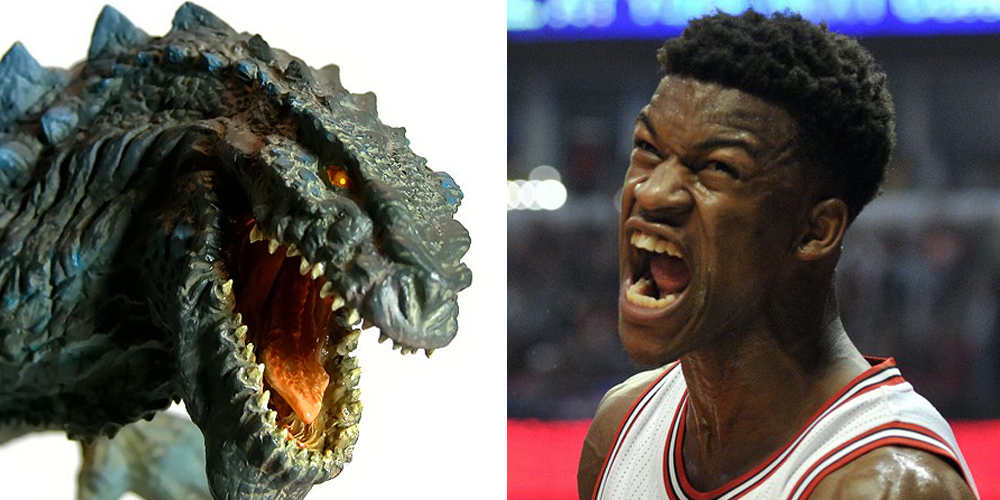 "God" the key word in that one!  Jimmy Butler just went insane going 15-30 FG (2-4 3PTM 21-25 FT) for 53 Pts.  "Ohhhhhh, look at me, I'm Slim, I get another point on the 30-pt Challenge Board!  Do you get double if they score 60, because it was close!"  And of course I poked the Slim, texting him earlier yesterday afternoon that Butler might not play, being listed as a game-time call due to a kankle.  Yeahhhhh, so much for that.  At least I won't suffer this kind of loss again, as Butler made himself a top-10 scorer last night, upping it to 23.1 PPG.  Butler still kept it multi-cat with 10 boards, 6 dimes and 3 steals to top if off.  I haven't been so turned on by a Butler since Michael Caine!  He's also continuing a trend that the second round wings are paying off – Buckets, Kawhi Leonard, Paul George, Draymond Green…  It's really making some nice parity among the game's elites so there's enough to not mind a later draft pick in 16-17, as you'll be able to nab two solid players at the first turn.  It's going to make next year really interesting…  Here's what else went down last night in fantasy hoops action:
Kyle Lowry – "Hail London!"  Except I bet Lowry was asking if the Brits had the baskets at the right height because of some sort of metric system conversion issue…  Shot only 5-20, but otherwise was phenomenal to your fantasy numbers going 24/8/7/1/1 with 2 treys, 12-14 FT, and only 2 TO.  FG% punt teams are rockin' out with the Clash there!  Meh, I wish I knew more rock history with British bands, best pun I got there…
Cory Joseph – 19 Pts off the bench shooting 9-11.  He was born in Canada so he's used to the metric system…
Patrick Patterson – Starting PF (well, if Paul George moved to SF) on Slim's all-hate team.  11/7/2/1/2 with no TO, shooting 4-7 FG with 3 treys.  This was the kind of multi-cat we could see if he started!  But he pretty much played like the starter, ending the 4th and playing OT for 36 minutes.  PitPat, I love you!
Channing Frye – Got 4 blocks.  I only wanted to mention him because his name translated to Channing Chip in England.
Victor Oladipo – Continued to start at PG even with Elfrid Payton back.  Elfrid definitely is no bueno off the Shelfrid, going 4/1/4/0/0 on 2-8 shooting yesterday, with 3 fouls in 20 minutes.  RainbOladipo on the other hand went 27/6/6/2/0 with 5 treys in 46 starting minutes.  Oladipo owners might want to consider a sell-high though.  SKIIIIIIIIILES!
Joakim Noah – Got the start with Pau Gasol resting some minor oldness, and went 6/16/8/2/1.  But you throw in those uggggglyyyyy 7 TO (not to mention 3-8 FG, but hey!  at least he didn't hurt FT% in this one going 0-0) and you get the bad with the good.  In 8-cat, Noah really has a big opportunity here though.
Nikola Mirotic – Wow.  7/5/0/0/1.  And then it gets worse.  2-13 FG and, wait for it… 5 TO!!!!!!  I'm no statistical analyst, but I think 0:5 AST:TO ratio isn't very good…  Someone smarter than me out there, run the metrics on that one!
Robert Covington – Pick him up in every league.  I did a quick scan and couldn't get him in any RCLs sadly…  Brett Brown before the game said that he was going to play big minutes, and I kinda had a feeling he would have a big game.  The subtext of that quote to me reads, "we were artificially holding him back so we can keep tanking, but we're letting him play his game tonight".  25/6/1/2/0 on 8-16 shooting with 6 treys.  Must-own.
Ish Smith – Been a must-own really since the Sixers announced they nabbed him, and went 24/4/8.  Definitely a contender in Adam's pickups of the first half – vote today!
Kawhi Leonard – In easily the game of the night (unless you're a Jimmy Buckets owner!), Kawhi led the Spurs to 23-0 at home going 20/10/5/1/2 with 2 treys and 6-6 FT.  Did have 4 TO, but ya know, can't complain about Kawhi.  Every time I watch him I marvel at how big his hands are.  You know what that means!
Tony Parker – 24/4/2/3/1.  Might be the starting PG on the Slim all-hate team!  Slim really slammed on me saying TP has been bottom end usable on the Pod.  That's what the potty trainer said!
Mario Chalmers – Entering the top-5 in mid-season trades that elevated a player's fantasy value in the past few years.  25/3/8/4/0 including a game-winner last night.  I wonder if the Heat are regretting that move seeing his numbers and having to start their former backup Beno Udrih!
Zach Randolph – Booooooo!  Normally I don't boo when a player plays awesome and gets to start, but T-Dog was killin' it off the bench!  Only 13/3/3/1/0 for Zbo, and not only that, it pushed Matt Barnes back to the bench.  At least Barnes caught fire, going 18/3/0/2/0, but 6-7 FG including hitting all 6 of his treys.  Why did he take that one 2-pointer, huh?!  He was so on fire that I bet Derek Fisher called the cops for fear of arson.
Marc Gasol – Rainbow line!  Mucho amor!
Stanley Johnson – Even though the Pistons scored 101 Pts, it was spread pretty wide and StanJo was the only one of note for me, even though Brandon Jennings played some late minutes over Reggie Jackson.  Whatever, not much to see there for me.  19/3/0/2/0 for StanJo, but hit 5 treys in 7-14 FG shooting.  He only hit 1 trey his previous 3 games, and 4 the previous 7, so this was an anomaly.  A shame this didn't quite work out like we thought in the preseason.
Rudy Gay – Rampant trade rumors yesterday (apparently got offered straight up for Ryan Anderson – only reason would be for $$$$$$$$$$$), but put on his blinders and hit a game-winner.  24/9/1/3/0.  At least if he gets traded, I can reuse my "Don [team name] Now Our Gay Apparel"!
DeMarcus Cousins – 36/17 with two treys.  Boogie is so Woogie!  I have no idea what Woogie would mean…  I know it's what the bald dude's name was in There's Something About Mary…  Although urban dictionary says "woogie" means a super white-boy.  So Boogie is entirely the opposite of Woogie!
Willie Cauley-Stein – Started, and was meh for 9/8/0/1/1.  At least it makes him a streamable big if he sticks.  Bad news is George Karl said he likes Omri Casspi as a Swiss army knife off the bench.  Hey, he's Israeli, not Swiss!  Casspi still played well hitting 4-6 FG with a trey, but overall an empty 10/3/0/0/0 line in just not enough minuets (26).  I'm holding and hoping Karl goes back to Casspi.  If not, then Dammit Karl!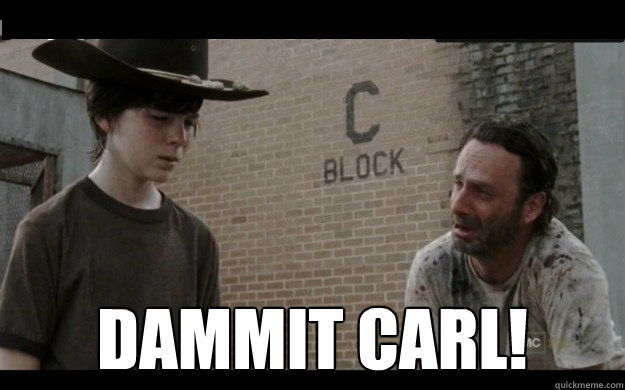 Trey Lyles – Career-high 19 Pts last night, off scoring 16 the game before.  19/3/2/2/0, and while I doubt we can rely on anything consistently, at least the minutes are there for now.  Derrick Favors will through a wrench in it, if he ever gets back from this back injury…  This is lingering so long, that I wonder if there might be a looming surgery.  Which would kill a part of me…  Even if Favors can return the next game or two, The Bookworm Trevor Booker got a concussion, so frontcourt minutes should be there for the time being for T-Lyle.  Deeper league owners might wanna take note.
Lou Williams – If you want consistency, it's the Sweetness of Lou!  Goes ThrAGNOF (21/4/3/0/0 with a trey) with his patented FT volume (10-11).
D'Angelo Russell – 14/2/2/2/0, shooting 6-16 but only 2-10 from deep.  Reign it in, D, stick to your range!  But the TO are trending down, and I haven't been more interested in D'Angelo Barksdale since he taught his kid soldiers how to play chess in the Pit.
Larry Nance Jr. – 6 steals!  Goes 4/5/2/6/1 in only 23 minutes.  Criminal he only got that much run!  I haven't been so turned on by petty theft since Winona Ryder was all over the news…
Kobe Bryant – He played?!  Definitely thought he'd sit, but I guess the farewell tour needs to go to Golden State too…  8/6/3/2/1 for a decent multi-cat, but 2 TO on 4-15 shooting.  Bleh.
Draymond Green – Ohhhhhh, so he DID play last night!  I guess the Warriors realized they can't sit their team MVP!  7/9/5/3/0, 2-7 shooting, and 4 TO.  No bueno in only 27 minutes.  But Dray needs to #Occupy his starting minutes, not #Occupy the bench!
Warriors Bench – Does a lot of the dirty work, with Shaun Livingston getting hot (6-8 FG and 5-6 FT for 17 Pts) and Leandro Barbosa making an appearance after sailing on the Black Pearl for a while (5-7 FG and 4-4 FT for 15 Pts).  Deeper fantasy leagues with daily moves are going to reallllly need to keep an eye on what the Warriors do at the end of the fantasy playoffs.  Might be a lot of these bench guys that are streamable X-factors in your finals.
I hope everyone had a solid week and is looking forward to the weekend!  Shoot your comments below, and we'll see ya bright and early Monday morning Razzball Nation!