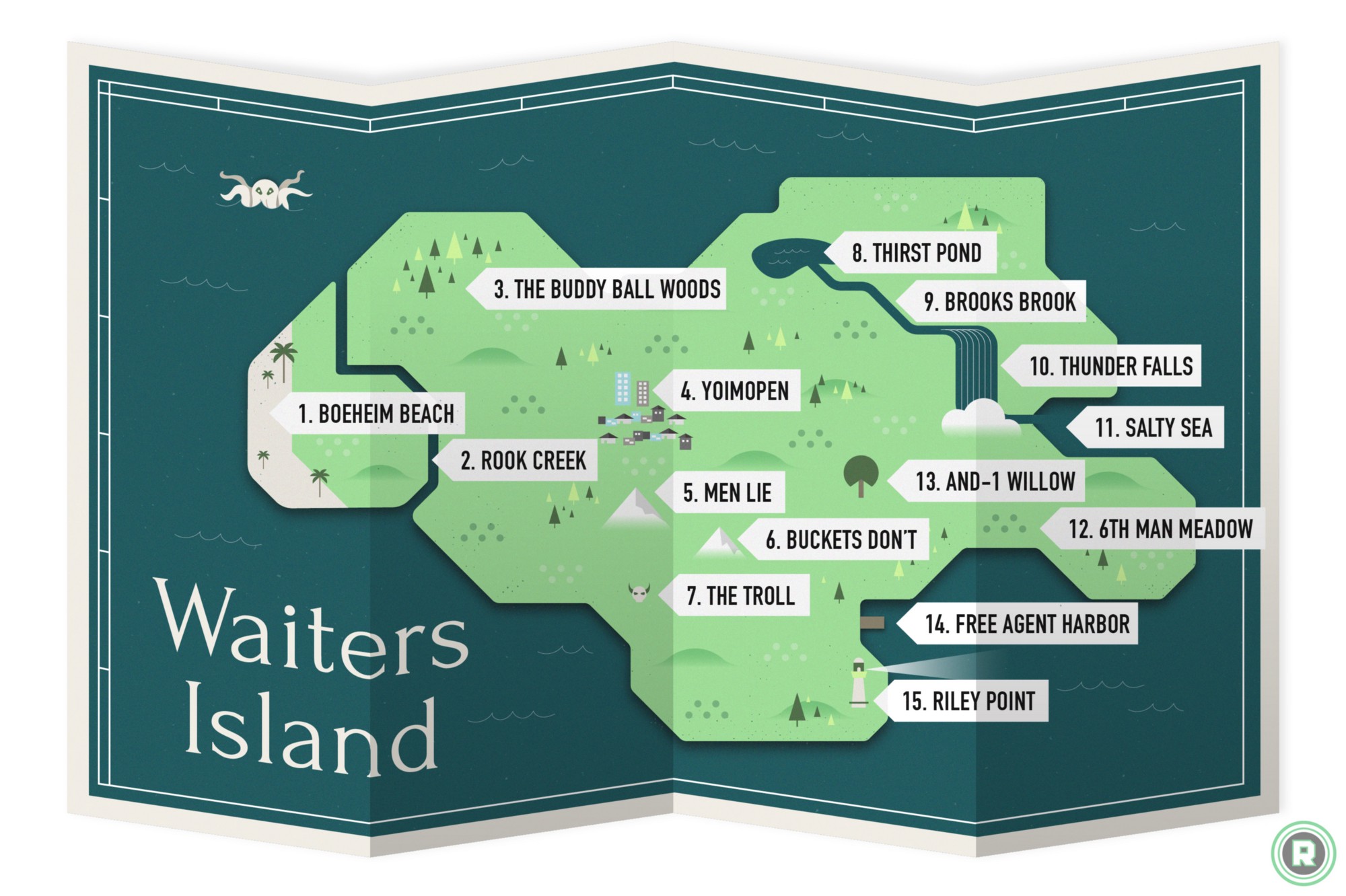 (Photo: The Ringer)
I remember last summer hearing Zach Lowe of ESPN talk about Dion Waiters like he was the missing ingredient in making a delectable dish, like the blueberries needed in blueberry cobbler. Ok, not the blueberry, but making the baking powder? 'Waiters Island' was the term, and he was fully on board.
I thought he was crazy. And I love what Zach Lowe does.
Fast forward to the 2016-2017 season and Waiters was essentially an afterthought as he joined his new team in South Beach. I won't say that he took his talents there, like the rest of the world has at some point, but let's not forget that this guy was the 4th overall pick in the NBA Draft; dude can hoop. His 'hero ball' mentality and lack of interest in playing defense, you know, half of the entire game, makes him hard to watch sometimes, and is a large reason why he's now on his third team in six years. That's a rare feat for a #4 pick that's averaging 12.9/2.6/2.5 for his career. We're not talking Chris Paul here, but we're also not talking Marcus Fizer. Yet he seems to be settling in nicely for the Miami Rileys.
And now he gets four games this week…but let's be clear, with the way he's playing he deserves more than just a streamer nod. This dude should be owned at a much higher rate than 34%. GO GET HIM!
Here are the 7 Ahead for Week 6!
The 7 Ahead
5-game week: N/A

4-game weeks: ATL, BOS, CHA, DET, LAC, LAL, MEM, MIA, MIN, NYK, ORL, PHI, SAC, TOR, UTA




2-game week: IND, PHO, POR



Weekly League Streamers (by Y! ownership percent on Sat/games this week): Cody Zeller (38%/4), Frank Kaminsky (35%/4), Jon Leuer (37%/4), JaMychal Green (20%/4), Dion Waiters (34%/4), Ersan Ilyasova (36%/4), Nik Stauskas (12%/4)
Stream Days: Sunday
Overall Thoughts: Thanksgiving has come and gone for all of America to official go Christmas crazy. And I love it. Put up the tree, hang the stockings and wreaths, light the fires and dream of Santa. I'll personally be dreaming of a White Christmas, which, down here in Atlanta, has never happened in my lifetime. Don't worry, my dreams consist of more than snow in December (just stop right there with wherever your mind is going), I also dream of Christmas because it will essentially end the lull we're about to enter into for the next three weeks. Yes, the NBA is in full roar, but with the NFL entering the last quarter of it's season, college football nearing conference championships, and fantasy football playoffs starting real soon, the fandom landscape is dominated by the pigskin in early December. That doesn't mean there aren't some great contests happening, nor is there a lack of great streamers in fantasy. Ok, actually this week that's exactly what it means. Some of the names listed above will be solid pickups, but after the league took a day off last Thursday the schedule balances out quite evenly across the next 7 Ahead. Monday, Tuesday and Wednesday are almost Stream Days, but Sunday's the only one with less than six on the slate (4). No more days filled to the brim with basketball like last Wednesday and Friday, but the majority of teams spread out the calendar to three games this week. Take note, and take advantage of the 15 4-game squads for your matchups. Game of the week? The Clippers visit the Cavs on Thursday, which in a few universes could be the NBA Finals preview. A close second is the second-half of a Cleveland back-t0-back that gets LeBron James vs. Dwyane Wade with neither in a Heat uni (Cavs v. Heat). But Dion Waiters is!!!
Monday: The battle to the bottom could kick off the week when Sacramento visits the nation's capital to face the Wizards. Seriously, both teams have stars, and both teams suck. Maybe a Bradley Beal and Marcin Gortat for DeMarcus Cousins trade could happen. Bring Boogie home! Well, if home is wherever John Wall is. In other cities, the Heat need to get healthy before their matchup vs. Boston can look really intriguing, but in Memphis the Hornets bring their own version of the two towers to town. Haha, ok, nothing about Frank Kaminsky and Cody Zeller could make them feel like NBA towers. For all their whiteness and lack of jumping ability, though, both guys are playing incredibly well lately. Zeller's averaging 13/8/2 in his two games since returning from a shoulder injury, and Kaminsky is finally playing confidently on the offensive end. Hopefully it's a harbinger of future ascension, because he's such a smooth offensive player when he plays inside himself: 13.1/5.3/2.0 and nearly 2 3PG proves that. It will be fun to watch them try to space the floor against Marc Gasol, but their lack of defensive prowess may open the doors for one of my favorite streams of this week, JaMychal Green, to continue his big man dominate lately (10.6/8.5/0.6 on 58% shooting and 81.5% FT%).

Tuesday: Two matchups should get all the eyes on Tuesday. You'll have trouble watching them, but if you can in any capacity the Giannis Antetokounmpo/LeBron James showdown should be a doozy. The Greek Freak is running point on offense, while playing the 5 on defense on some possessions. The only other person in this generation to effectively do this? LBJ. The Cavs should wax the Bucks, but that head-to-head game should be fascinating. And in the nightcap the Rockets and Jazz give a glimpse at the yin and yang of basketball. The Jazz just completely shut down the Hawks in Atlanta on Friday, and the Rockets score like they don't give two effs. Because, well…I don't think they do. None of our streamers play Tuesday, but you can be sneaky if needed with someone like Larry Nance, if he's healthy enough to go.

Wednesday: The Kings continue their tour of playing teams that sucks when they visit the 76ers Wednesday. This will be a great opportunity to see if Ilyasova can continue his solid scoring, 13.9/6.4/1.3 and 1.7 3PG in the past 14, against a team that struggles defensively (7th worst FG% against, surrendering 10 3PG). While he's stretching the bigs, this is a prime game for Nik Stauskas to continue firing away from downtown. He's owned in less leagues, but Stuaskas is the second best thing going in Philly this year. It's been two weeks since he drained less than 2 3PM in  game, and is averaging 13.3/3.6/1.3 in that time. On 52.5% shooting. It's that final number that makes him the most attractive: he's effective. It may not get better than this game for those two, but let's be really clear: this game's all about Boogie vs. Joel Embiid. Simply put, the Sixers are a viable NBA team with Embiid, and are abysmal without him. Can't wait! 10 games on the docket, so there's plenty of action, but the Baby Lakers v. the grizzled Bulls probably tops my list.
Thursday: The Clippers visiting the Cavs steals the night. Easily. This game should be incredible, even in early December. When two teams face off that are 15-3 and 12-2 it's the making of a Sportscaster classic. I'll put the over/under on dunks in this affair at 15, one from Richard Jefferson, of course, and the over/under of Chris Paul, LeBron James hugs at 4. Is that selling them short? Oh, and from a fantasy perspective the Rockets visit the Warriors. Hahahahaha, the over/under for 3PM in this game should be 74. But in reality, they could break 30. 30 3's!!!
Friday: After two days off I'm hoping the Pistons and Jon Leuer come in strong vs. the Hawks. No, not for the Hawks sake, but for Leuer's. Andre Drummond should command the interior attention of Dwight Howard (interior emphasized since neither can play outside 8′), leaving Leuer open to stretch Paul Millsap and Mike Muscala. Listen, that's not easy, and Atlanta's a great defensive squad, but the chances are here with two days off. Houston finishing a back-to-back at Denver should bring plenty of scoring, the Sixers streams get another great matchup vs. the Magic, and it will be fun to watch Anthony Davis battle Blake Griffin and DeAndre Jordan.
Saturday: It's Dion Waiters Day. Well, not officially, but he gets the gem of the day in facing the Trailblazers. They're allowing 112+ ppg, second worst in the NBA, and it's not coming from a slue of 3PM. No worries there, though, since Waiters will likely drop 20 without needing to go beyond the arc often. He's a poor man's Dwyane Wade. I mean, a really poor man's Wade, but similar game and style, now on the Heat, and a threat to drop 20 whenever he wants. 'He wants' being the key, as he might be his worst enemy. The other streamers have nice matchups, too, but Waiters wins the day. 9 games on the list, so there aren't a ton of openings, but slide them in where you can, especially Green in his contest vs. the Lakers.
Sunday: And we'll end on the Stream Day! Only 4 games on the schedule, so not a lot of your regulars are playing. Get sneaky with your pickups, but if you're in a weekly league, here's the big reason why you go with Leuer if you have a gap. The Pistons host the Magic for what could be a great end to Leuer's week since he's not coming off a back-to-back. And the fantasy highlight of the day clearly lies with the Pelicans/Thunder matchup. It's a race to the better performance between Anthony Davis and Russell Westbrook. My money's on Russ. AD vs. Steven Adams could bring just a sliver of difficulty. And by a sliver I mean maybe a 30/14/6/3/1 line instead of 40/15/6/3/1. Ha!
Now, DROP THOSE COMMENTS! And don't be afraid to send along any questions on trades, pickups or life! Good luck in Week 6, and good luck recovering from the feast on Thursday!