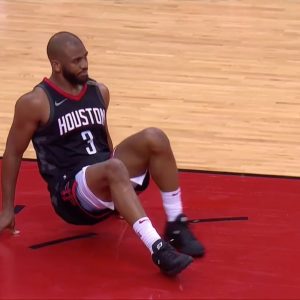 In a galaxy far, far away, Anakin Skywalker designed and created a droid that would assist others in translation. It's name was C3PO. In a land and time that seems so far away, Robin and Charles Paul created a child that would eventually assist others in getting buckets. His name was Chris Paul, immediately nicknamed CP3. C3PO played a pivotal role in the Star Wars franchise, as it served under many of the main protagonists. CP3 also played a crucial role in the history of the NBA: trade to the Lakers which got nixed and hamstring injury in Game 5 of the 2018 Western Conference Finals with the Rockets up 3-2. It was CP3 NO! then and CP3 NO! last night, as he suffered another hamstring injury in the second quarter and was not able to return. It's likely that he will miss an extended period of time so, while Eric Gordon, Gerald Green, Brandon Knight, and Daniel House will likely pick up more minutes, when Paul has missed time this season, Michael Carter-Williams has seen a +4.5% usage bump. The main beneficiary of CP3 NO!, though, will be James Harden, who sees a 5% usage bump increase to a whopping 45.5% usage rate! Good for Harden owners. For Paul owners? CP3 NO!
Here's what else I saw last night:
Please, blog, may I have some more?