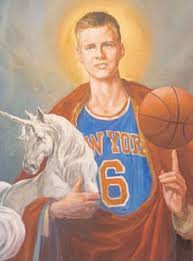 There are many reasons why players ball the F out. Straight cash homie is a popular option. To pay respects for a fallen compadre is a sentimental one. For the love of the game? Often attempted but rarely executed. The number one reason? Survey says?! To get laid, of course. Now, being a Lakers fan, I immediately have to address AC Green, the legend that ended his NBA career as a virgin. Simply put, he's not human. If Drago thought Rocky wasn't human, then he would've bended the knee and kissed the feet of AC. You think a man that played 1,192 consecutive games and did not have sexual relations during that time is human? The definition of outlier does not require words. Only this. Now, Kristaps Porzingis is a giant of a man at 7′ 3″ 240 pounds. His skill on the basketball court is at such a level that many call him a Unicorn. But. But. The dude just wants to get laid. It's been well documented that Porzingis and Jen Selter have started following each other on Instagram and liking each other's post. If you are not following @World_Wide_Wob on Twitter, your life has no meaning. Leading up to the matchup against the Lakers, in MSG, and on the ESPN national stage, things were getting steamy between the two. At least as steamy as things can get over the internet. But that can only go so far. At some point, real life kicks in and it's either YAY or NAY. Well…..
| | | | | | | | | |
| --- | --- | --- | --- | --- | --- | --- | --- | --- |
| PTS | REB | AST | STL | BLK | TOV | 3PT | FG | FT |
| 37 | 11 | 1 | 1 | 5 | 3 | 5/8 | 14/26 | 4/5 |
Enjoy your night Mr. Kristaps "I am warm-blooded human" Porzingis. I think YAY is in the cards or maybe YAHOOOOOOOOOOOOOOOO!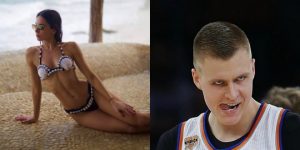 Here's what else I saw last night:
Please, blog, may I have some more?