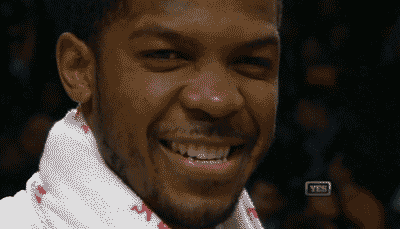 Listen, as a Hawks fan I have a special place in my sports heart for Joe Johnson. It's special because of this strange dichotomy I call reluctant gratitude. The Hawks sucked. Hard. For years. And gave up far too much to get him, but once Joe Johnson arrived in Atlanta back in the '05-'06 season the Hawks became a legit playoff team, with Johnson ascending to perennial All-Star level. Yet that damn contract (only to be rivaled by Allan Houston from 2001 as potentially the worst of all-time) handcuffed Atlanta into the nothingness that is the perpetual second-round, upper-middle tier of the NBA. It was awful.
However, Brooklyn came along and washed our bored tears away when they gulped down his albatross contract to usher in the new era of Atlanta basketball (still perpetual upper-middle tier, though). But when you think about it, that's just what Joe does: usher in the next chapter for a franchise. Well, that and play incredible (dribble) ball-stopping (dribble) isolation (dribble) basketball (five more dribbles, contested shot with 3 second left). It started in Phoenix as Mike D'Antoni and Steve Nash began their revolutionary 8-second offense, then shifted to Atlanta for the next seven years where he made six All-Star teams before becoming the epitome of the catastrophe that was the Brooklyn Nets post-prime project alongside Kevin Garnett and Paul Pierce. And now? Smack dab in the middle of the Rockies, Joe's the biggest free agent signing the Utah Jazz have locked in for the past 10-15 years. At 35 years old he's shooting 49% in 31mpg during their first five contests. Could it be that a new era is beginning in Utah with all of their young talent (and without Gordon Hayward as of yet)? They just crushed both the Spurs and then the Mavs, and I'm getting quite jazzed about the makeup of this team. Could they reach the playoffs for the first time in 5 years? Well, probably. Joe's there now. It's time for a new era.
And for this week...four games for the Jazz. Here's the 7 Ahead for Week 3!