Check out this excerpt from a 2002 ESPN The Magazine article detailing an interview that provided the substance for what I think was an And1 ad campaign featuring Kevin Garnett:
Q: Are you overpaid?
KG: Hell no. If anything I'm underpaid, with everything I do. That's a ridiculous question. I have to do everything for this team.
Q: Are you tough enough to play in the Western Conference? Maybe Minnesota should move to the East.
KG: Man, I've been in the Western Conference for seven years. Holdin' it down. Nobody there scares me. Look at my numbers. You know my rap sheet.
Q: What are your numbers?
KG: Twenty, ten and five. Twenty, ten and five. Three years in a row. And I'm rounding down. Who else has done that?
Q: What does that get you?
KG: It gets you what it gets you.
Indeed.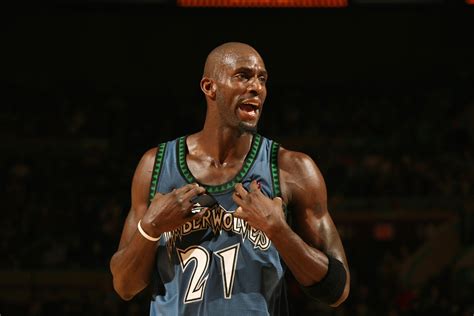 "20, 10, and 5". I remembered hearing that line repeatedly around the time I started playing fantasy basketball, and it always stuck with me as the gold standard baseline for greatness (big men dominated the top of the fantasy landscape) and a main reason KG was a fantasy first rounder for years. Points, rebounds, assists. That's all anybody every really seemed to talk about. And, to this day, those are the numbers to which we all pay the most attention, whether or not we know better. Triple-doubles, double-doubles. "How did LeBron do tonight?" – "Oh, great! 27, 11, and 7!" KG would impressively go on to hit at least 20/10/5 for three more seasons, but that leaves out half his great numbers! Garnett had up to 1.7 steals per game and up to 2.2 blocks per game during his career, and that really sent him to the top of the fantasy rankings. Top 5 in 8-category and 9-category per-game rankings for at least those six seasons. If he'd started playing a decade or so later, I'm sure he'd have been hitting a three or two each game, as well.
Today, I'm going to extoll the virtues of three stats that often get overlooked. Threes. Steals. Blocks.
Please, blog, may I have some more?