If you are wondering about the title, just look at the postscript at the end of the article. It's not basketball related but some things are far greater.
The playoffs have started for most fantasy leagues and I hope your teams are competing in them. May the basketball gods bless you with no injuries to your key players (ahem Stephen Curry) and good percentages to lead you to the championship. If you are instead in a Roto league, like I prefer for the most part, these injuries affect you less but it's still a good time to focus on the categories that can give you the most points in the standings and shape your team accordingly.
On a completely different subject, as soon as I saw Josh Richardson and James Johnson celebrating after a made triple, I knew I had to include it in the article.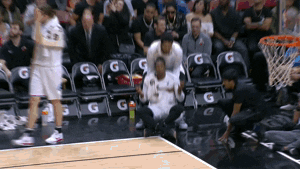 Master Yoda, you sure look taller…..The phrase "teamwork elevates you" gets a new meaning with these guys.
As per usual, let's check the performance from last week's suggested players, but before that, an extra shout out to my man Nemanja Bjelica, who I mentioned 2 weeks ago and is straight carrying my teams for the past weeks (ranked 18th during this period). Larry Nance Jr. has taken full advantage of the starting role in Cleveland, with three double-doubles in his last 5 games and will maintain this production for as long as Tristan Thompson is sidelined. On the other hand, Jakob Poeltl's impressive defensive numbers faded this week as he averaged only 1.0 block after going for 2.7 per game during the previous two weeks. Finally, Skal Labissiere had two solid games before going down with a minor injury, while Marcin Gortat and Al-Farouq Aminu proved good drop calls as they had at best forgettable performances.
Please, blog, may I have some more?