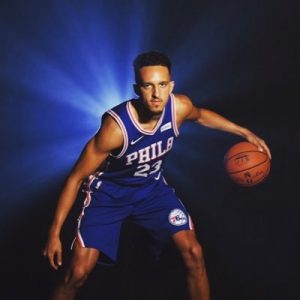 One of the beautiful things about the English language is its vast nature. One of the worst things about the English language is its vast nature. Take the word crane for example. It can describe a type of bird, a machine that lifts objects, or a specific type of neck movement. How about Derrick Rose saying "kill yourself" the other day? In a vacuum, it's a terrible thing to say, but if you delve into the context, it does make some sense. It's basically slang for "shut the F up." Now, what about the expression "god damnit?" It's usually used to express frustration or angst, but it's also a military expression of encouragement. Thanks urban dictionary. Anyways, I'm going through all of this because of what Landry Shamet did last night:
| | | | | | | | | |
| --- | --- | --- | --- | --- | --- | --- | --- | --- |
| PTS | REB | AST | STL | BLK | TOV | 3PT | FG | FT |
| 29 | 3 | 1 | 1 | 0 | 1 | 8/14 | 8/15 | 5/5 |
In 24 minutes off the bench! God Shamet! Am I calling Shamet a God? Am I expressing awe and amazement? Am I frustrated because I did not play him in DFS? It's all about context, right? At the same time, I could answer yes to all three. Gotta love the English language. Shamet has appeared in every game this season, so he has the trust of the coaching staff and fills a specific need for the Sixers, which is to space the floor and knock down shots. From a fantasy perspective, he doesn't have that much value, as he doesn't play enough minutes or jack up the necessary shots. On the season, he's averaging 4.4 threeecola attempts per game and, outside of last night, he had only one other game with more than 10 attempts. With that said, it was nice to have him as the lede, as it was getting boring talking about the same guys over and over. In addition, he's someone to monitor if injury strikes or he does take on a more significant role as the season progresses.
Here's what else I saw last night:
Please, blog, may I have some more?