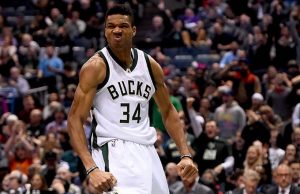 I've always enjoyed the Godzilla franchise. When I was young, it was all about the monsters fighting, special effects, and destruction levied upon the landscape. As I got older and delved into the origins, I appreciated the franchise that much more. As with most things in life, though, the journey is cyclical and it's back to the good old awe-inspiring, destructive force. Which brings me to Giannis Antetokoummpo. All season, I've been calling him G, as he's a straight gangster, and when he balls the F out, it's been Nuthin' but a G Thang. There have been moments of O. M. G. But yesterday, everything became crystal clear.
| | | | | | | | | |
| --- | --- | --- | --- | --- | --- | --- | --- | --- |
| PTS | REB | AST | STL | BLK | TOV | 3PT | FG | FT |
| 52 | 16 | 7 | 2 | 1 | 1 | 3/8 | 15/26 | 19/21 |
A 50-burger and this…..
He called Ben Simmons a "f'ing baby" but then Simmons came back and dunked on his head. In addition, Joel Embiid produced a 40-burger and the Sixers defeated the Bucks, 130-125. I felt like I was watching a Godzilla movie in which he had to fight Gigan, Destoroyah, Mothra, and Ghidorah at the same time. Anyways, Gzilla is a freaking beast. Top 5 player over the past seven games. He's been averaging 30.3 points, 1.1 treys, 13.1 boards, 6.3 dimes, 1 steal, and 1 block while shooting 58% from the field and 82% from the free throw line on a whopping 11.4 attempts! The turnovers are high, but whatever. Now, with Malcolm Brogdon out for a while, Gzilla may be making more appearances down the stretch, as Brogdon had a usage rate in the low-20s. Other teams better hope they have a couple of monsters to negate Gzilla, because he's coming to wreak havoc.
Here's what else I saw yesterday:
Please, blog, may I have some more?