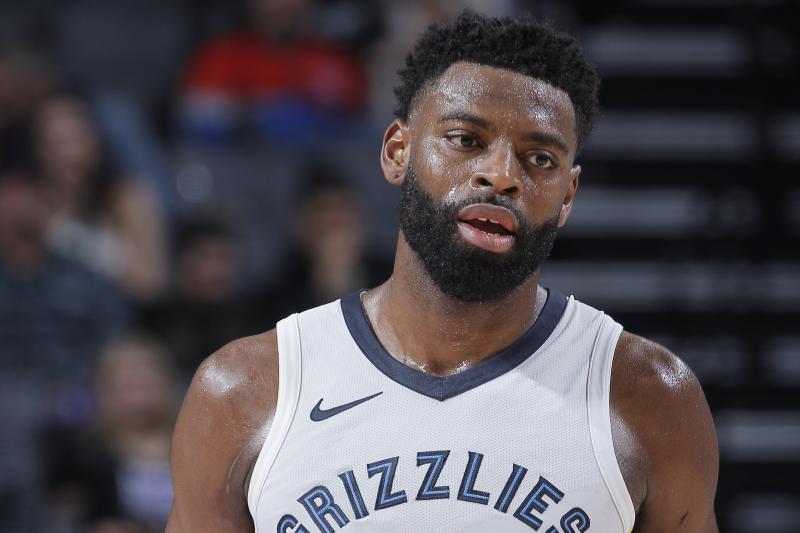 If you have been reading my recaps this season, then you know one of my favorite terms is: Waiver Wire All-Star. I use this to refer to players who started the year undrafted in almost every fantasy basketball league out there. Even in my deeper leagues Tyreke Evans was sitting there just waiting to be added by some lucky owner who is probably competing for a championship right now.
A great draft is super important, don't get me wrong, but it is these savvy waiver wire pick-ups that win leagues. 'Reke has not only been a good pick-up, but he is returning top 40 value in most leagues. That means that a third or fourth round (depending on your league size) pick was just hanging out, playing video games, watching Netflix, waiting to get the call to the big show.
Last night Tyreke Evans went off again and almost messed around for the second night in a row putting up this juicy slash: 2/23/6/10/1/0. So congratulations if you snagged 'Reke in your league. Here is what else I saw last night:
Want the best tools and projections to help dominate your league? Check out the Stocktonator, the byproduct of Rudy and machine making love. Click HERE for a FREE 3-day trial.
Grizzlies over Knicks:  105-99
JaMychal Green: 3/18/13/3/1/0 – It is safe to say that Green is the best JaMychal in the NBA and lately he has been the best version of himself. I may regret this, but it is time to see if he is available in your league (he is) and go get him.
Jarell Martin: 1/17/6/1/1/1 – The Grizzlies are a who's-who of young talent. No, really, who are these guys?
Dillon Brooks: 3/17/5/1/2/0 – The whole team was helped out by Marc Gasol being out, so do not totally overreact to these numbers, but still, these guys can play.
Kristaps Porzingis: 2/21/9/0/3/6 – Porzingod got his Mutombo on!
Enes Kanter: 0/20/9/0/0/1 – Only nine rebounds with no Gasol in this game? Board-Rage
Michael Beasley: 1/18/7/0/0/3 – Like I said the other day, do not drop Beasley yet, but it will be hard to predict when he is going to have a good game (unless Porzingis is out).
Tim Hardaway Jr.: 2/16/4/1/0/0 – Hardaway is a THRAGNOF! that is paid like a star. But don't be fooled by the big bag he got, he is THRAGNOF! all the way through. (a THRAGNOF! player is strictly a 3-point specialist and it stands for "Threes Ain't Got No Face" since the players are interchangeable when you are chasing single categories like 3-pointers).
Frank Ntilikina: 0/0/3/7/1/0 – I am putting The Frenchise in the recap because after his 10 assist game I saw a lot of people considering picking him up. DO NOT cut anyone of value for this kid. His future is bright, no doubt, but that future is not coming this season. He will have some good games, but so will David West and you aren't jumping out of your chair to add him right?
Hornets over Wizards: 133-109
Michael Kidd-Gilchrist: 0/21/4/2/3/0 – MKG is one of the better hyphenated players in the league and should probably be owned in all but the shallowest of leagues. He is hard to trust and doesn't hit threes, but his points, rebounds, and defensive stats make him worth owning.
Kemba Walker: 4/19/3/7/0/2 – Two blocks!? DiKemba Mutombo?
Dwight Howard: 0/18/15/2/2/2 – He also hit 4-of-5 free throws. Doesn't he realize that type of efficiency from the line is killing his punt-FT% owners?
Nicolas Batum: 2/11/3/4/1/0 – I think that next season Batum will make the jump to elite fantasy player and the Hornets may finally scare some teams.
Bradley Beal: 4/26/3/2/0/1 – All these guards are blocking shots. I guess Son's boy, J-Rich, is inspiring a new batch of mini-Mutombo's (going for the recap record of Most Mutombo References)
John Wall: 2/12/2/9/0/2 – More blocks from a guard. The Wizards got rocked tonight, so Wall only played 24 minutes.
Mike Scott: 2/18/2/3/1/0 – This guy can get hot and stay hot, so he may be worth an add hoping this is the start of another run where he can't miss for a couple of weeks. Scott was 7-of-10 including 2-of-2 from deep in 25 minutes.
Raptors over Pistons:  96-91
Kyle Lowry: 4/18/9/5/1/0 – Nice to see Lowry back on the court, as he played 32 minutes. He also attempted 10 threes!
DeMar DeRozan: 0/17/2/5/0/0 – DeDe attempted two 3s but missed both. So let's not go crazy over his new found 3-point shot, but it's coming.
Jonas Valanciunas: 1/17/16/3/0/1 – JV also attempted two 3s, but made one. JV has the skills to put up lines like this regularly, so let's see if he can do it again.
C.J. Miles: 5/21/4/1/1/1 – Attempted 12 threes and hit five of them! THRAGNOF!
Andre Drummond: 0/25/17/2/4/0 – So a bunch of guards are blocking two or more shots but Drummond gets none? Slash Envy.
Avery Bradley: 3/19/3/2/2/0 – Bradley battled through his aggravated groin and put up a nice line. IF he stays healthy, I can see Bradley being a late season fantasy hero.
Spurs over Nets:  100-95
LaMarcus Aldridge: 0/34/8/3/0/2 – LaMaldridge owners are happy to hear that Kawhai Leonard's quad injury is back and out indefinitely. Which means LaMaldridge will be a fantasy stud indefinitely.
Pau Gasol: 1/13/12/7/0/0 – Pau can still do it, but like me in college, it is totally random when he will do it. Most of the time it will be disappointing.
Patty Mills: 7/25/2/2/3/0 – Patty couldn't miss, so don't go crazy trying to grab him. He hit 7-of-10 shots with all seven shots being 3-pointers. That being said, somebody is going to have to step up with Leonard out, but I think it will be a rotation of Mills, Kyle Anderson, and Danny Green.
Allen Crabbe: 4/20/8/3/0/0 – Crabbe started and played 31 minutes because he was hot. He has the skills to contribute, but will be inconsistent.
DeMarre Carroll: 2/11/10/1/0/0 – The lack of defensive stats are no good, but Carroll will usually contribute across the board when healthy. Unfortunately, he is rarely healthy.
Spencer Dinwiddie: 0/9/1/13/2/0 – Even when Dinwiddie cannot hit a shot, he can still contribute. A sign of a true fantasy stud. He is a close 2nd place behind Tyreke Evans for Waiver Wire MVP.
Joe Harris: 4/18/1/0/1/0 – Now that is a THRAGNOF! line!
Caris LeVert: 2/13/2/2/0/0 – This guy should be owned everywhere!
Hawks over Pelicans:  94-93
Kent Bazemore: 1/20/2/5/1/0 – Bazed and Confused hit the game winner in this one, marking a new low for the Pelicans.
Ersan Ilyasova: 3/15/7/1/0/0 – This is a perfect Ersan line. He is likely to be traded, which will probably hurt his value.
Dennis Schroder: 3/13/3/15/2/0 – I love the step forward Blonde Ambition took this season and I think he will be even better next year.
John Collins: 0/18/5/1/0/1 – The Cocktail played 26 minutes and is only going to get better. Grab him now if he is out there and be sure to come back and thank me.
DeWayne Dedmon: 0/4/10/3/1/0 – Is it just me or is there an absurd amount of guys with "De" starting their first names? Anyway, Dedmon Walking did what he does: low points, high boards, and disappointing blocks.
Jrue Holiday: 2/22/4/4/0/1 – How do you know the Pelicans lost? Holiday was the leading scorer.
DeMarcus Cousins: 1/19/14/7/1/2 – Boogie (another "De") always has the juiciest slash.
Anthony Davis: 0/8/7/3/1/2 – He's human! Let's slow down on the MVP talk, ok?
Thunder over Lakers:  114-90
Carmelo Anthony: 4/27/3/2/1/0 – This is why I believe the Thunder have the best chance of beating the Warriors (which is still like a 1% chance) because they have three guys who can step up at any time, which allows at least one of their stars to have an off night. That is going to be really important in the playoffs (look what happened to the Rockets when Harden went cold).
Steven Adams: 0/21/10/1/0/1 – Sky is the limit for this Kiwi and his draft position is the reason why a lot of Adams owners are at the top of their league.
Russell Westbrook: 1/19/6/7/2/0 – Not a great game for Russ, but a great game for anyone else.
Paul George: 3/13/5/3/0/0 – An off night for PG13, but still helped his owners. That's elite.
Julius Randle: 0/16/1/3/0/1 – JR attempted two 3s, but missed both. I like the effort, though.
Kentavious Caldwell-Pope: 2/10/1/2/2/0 – No Lonzo in this one, but nobody could step up.
Warriors over Bulls:  119-112
Klay Thompson: 7/38/4/2/0/1 – 12-of-22 from the field, 7-of-13 from three. Wow. Silent But Deadly had it going tonight.
Stephen Curry: 6/30/9/4/1/0 – Yeah, nine rebounds. A legit argument can be made that Curry is the best fantasy player this season (in fact, check out our Razzball Podcast where Alex, Craig, and I debate the best player in fantasy – PLUG!)
Kevin Durant: 0/19/7/8/1/0 – Fun stat: Only Klay and Curry hit a 3 for the Warriors in this game. Durant was 0-for-5, but still filled it up. Elite.
ZaZa Pachulia: 0/6/11/5/0/0 – Had to give ZaZa a rare recap shout out for the nice slash.
Kris Dunn: 1/16/5/4/3/0 – If you have a strong stomach then check out the video of Dunn falling right on his face after a dunk. Proving once and for all that little guys just shouldn't dunk.
Nikola Mirotic: 4/24/6/3/3/1 – The Punching Bag tried to get the Bulls back in this one, but they were just too far behind. I would think that any trade would hurt his value, but this kid is a baller.
Robin Lopez: 0/16/4/0/0/0 – Yes, this line looks weird for Sparrow. All points and nothing else?
Zach LaVine: 0/5/3/2/1/0 – He got 19 minutes and is only going to get better. This may be a lost season for Zach, but this kid will be an All-Star next year, mark it.
Heat over Bucks:  106-101
Hassan Whiteside: 0/27/13/0/0/6 – Hassan got 31 minutes and gave his owners everything they were hoping for when they used a top pick on this guy. We won't see this as regularly as we hoped, but it is nice to see that he still has it in him.
Goran Dragic: 1/15/4/5/0/0 – The Dragon is the closest thing the Heat have for a superstar and he should be an All-Star.
Josh Richardson: 2/14/6/3/2/0 – With Tyler Johnson out, I predict we will see J-Rich's assists numbers start to rise.
James Johnson: 1/9/7/6/0/0 – It would be nice to see JJ at least get double digits in scoring, but his assist numbers save his lines. Expect this or better going forward with Tyler Johnson out.
Wayne Ellington: 3/11/5/4/0/0 – Wayne is trying to show everyone that he is not just another pretty THRAGNOF!
Khris Middleton: 3/25/5/3/1/0 – The future is bright for the Bucks, but the present is meh.
Giannis Antetokounmpo – 2/22/10/6/2/2 – Wow, now that's the slash of a #1 pick. If Greek Freak can hit a couple of threes per game then watch out.
John Henson: 0/10/10/1/0/1 – The Muppet got 33 minutes. This is why he is owned every year, but he rarely does it two games in a row, so we'll see. Tease!
Jazz over Kings:  120-105
Donovan Mitchell: 1/34/1/3/3/0 – Is this guy really a rookie? I put Mitchell over Ben Simmons for Rookie of the Year. Mitchell is more valuable to a better team. End argument.
Derrick Favors: 0/14/11/1/0/1 – There are rumors that Favors could be traded to the Bulls in a deal for Mirotic. I think that this will sky rocket Favors' value since this line is just a taste of what he can do without Rudy Gobert around.
Rodney Hood: 4/25/8/2/2/0 – I keep seeing people say that Hood is droppable. I don't buy it. There should not be anyone on waivers who has the ability to go for 25 or more in a game. Hood is hard to start because of his inconsistency, but droppable? No way!
Willie Cauley-Stein: 0/26/10/2/1/1 – I heard a rumor that the Kings are going to start resting veterans. This is great news for WCS and the other young Kings.
Bogdan Bogdanovic: 6/25/6/2/1/0 – BogBog has skills. He hit 6-of-6 threes in this game and got 39 minutes. He won't be perfect from deep every game, but this line is not surprising. He has to be owned if he starts getting 30 or more minutes consistently.
George Hill: 4/20/4/5/3/0 – Hill had been in a bit of slump lately, but if he does this again next game, go get him.
Clippers over Nuggets:  109-104
Blake Griffin: 1/20/12/4/1/0 – Don't look now but the Clippers are playing great basketball and Griffin is their main scoring option. He is going to finish the year really strong.
Lou Williams: 2/17/4/5/1/0 – Lou is for real and playing like an All-Star. Come on voters, let's get Sweet Lou in the game!
Milos Teodosic: 3/15/4/5/3/0 – This is what we were all hoping for out of My Toe Itches, but his foot injury derailed it a bit. He should be owned everywhere and will have a ton of opportunity to do this on the regular.
Montrezl Harrell: 0/18/8/0/2/2 – Yes, he is the center to own with DeAndre Jordan out.
Wesley Johnson: 3/15/6/3/0/0 – Should probably still be left on waivers, as he just likes to tease us now and then.
Gary Harris: 1/19/2/4/4/0 – Sexual Harrisment is so consistent and easily one of my favorite fantasy players. One more 3 would have been nice, but I'll take it. Harris Buehler's Day Off!
Nikola Jokic: 1/18/8/2/1/2 – This line would have been a lot better if he hadn't gone 1-of-8 from deep. Jokic should embrace the Andre Drummond school of big manning once in a while.
Will Barton: 1/17/6/6/1/2 – So many good lines from Nuggets and they still lost. That is the mystery of this really deep team.
Mason Plumlee: 0/16/14/2/3/0 – Block Tease!
Trey Lyles: 1/11/5/1/0/1 – Yes, own this guy already!
Wilson Chandler: 0/6/9/3/1/1 – Not a great line, but Chandler and Lyles are still worth owning as long as Millsap is out, which should be at least until after the All-Star break.