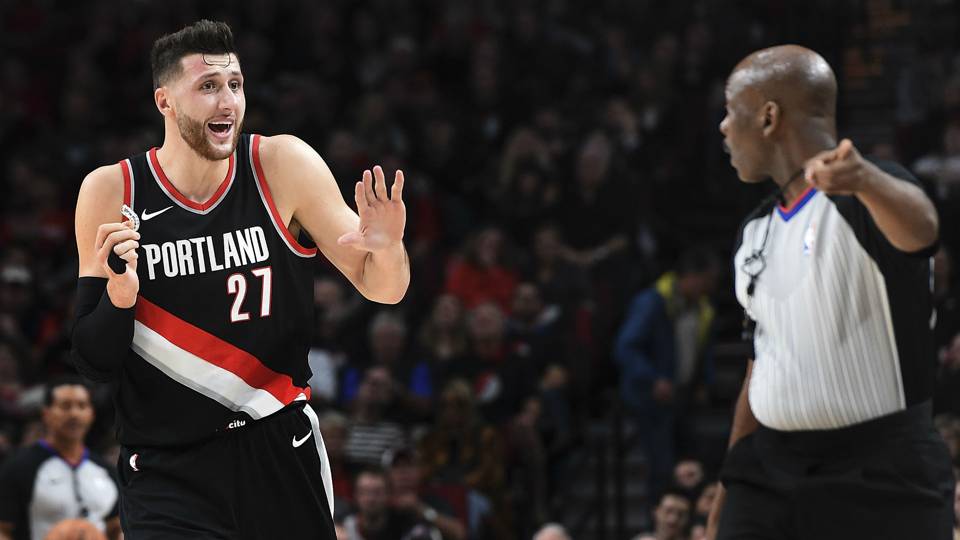 I often think about what it would be like if Denver never traded Jusuf Nurkic to the Trailblazers and they had a starting frontcourt of Nurkic and Jokic. Not that they would be a better team, but just that I am a big fan of rhyming teammates. My dream concludes with Denver trading for Bojan Bogdanovic, Bogdan Bogdanovic, and Cole Aldrich. That team would be itchier than a dog with fleas rolling around in a bed of poison ivy.
Anyway, jumping back to reality, Nurkic makes the lead because of his line last night: 0/27/16/3/0/3. He has been relatively disappointing this season, but lately a double-double and a block or two has been an almost certainty. Not too shabby.
Here is what else I saw last night:
Want the best tools and projections to help dominate your league? Check out the Stocktonator, the byproduct of Rudy and machine making love. Click HERE for a FREE 3-day trial.
Rudy has been hard at work in the lab. His latest creation? DAILY LINEUPS PAGE. So good. So smooth. So helpful. He decided to go with the Sonny Bono red tint, while I prefer the blue tint. What say you?
Trailblazers over the Heat: 115 – 99
Damian Lillard: 7/32/5/10/0/0 – Great Dame nearly made the lead for this recap because he was absolutely awesome. 7-of-14 from three and an excellent point guard line…EXCEPT…no steals. A couple of steals would have put him in the lead, but it was not meant to be.
CJ McCollum: 2/17/2/5/1/1 – Another nice point guard line from a shooting guard. The Blazers dominated the Heat from the start and CJ, Dame, and Nurkic did the majority of the damage.
Evan Turner: 1/13/4/3/2/0 – Turner keeps trying to get off the waiver wire. Every few games he throws on a skirt and wig and some red lipstick and tries to pull a Bugs Bunny, but instead of seducing Elmer Fudd, he is trying to seduce fantasy owners. Don't be an Elmer Fudd.
Zach Collins: 2/10/4/0/0/1 – Another guy who is just begging me to pick him up. I love Collins and I think he is going to be a fantasy stud…next season. Deep leaguers may want to keep a close eye on him, however, or just grab him and hope he is a better version of Davis Bertans and a much better version of Dragan Bender.
Goran Dragic: 0/23/2/2/1/0 – Could have done with a few more assists from The Dragon.
Tyler Johnson: 4/17/3/2/0/0 – I get a lot of questions about TyJo and I tell everyone, I am not a fan. He just doesn't hit multiple threes consistently enough to win my THRAGNOF! heart. I would rather have this next guy:
Wayne Ellington: 3/11/3/0/2/0 – Ellington took 10 threes! Yes, 10. That's a green light. If you need threes, go grab Way-El because he can explode like Krypton.
Justise Winslow: 2/15/13/4/0/2 – Of course he does this right after I give up on him and drop him. Too streaky for my taste, but as long as he is getting close to 30 minutes he should be owned.
Bam Adebayo: 0/4/9/3/1/1 – This is what Bam does without Hassan Whiteside in the lineup. Whiteside is probably out Wednesday, so daily fantasy players may want to try Bam or Kelly Olynyk (1/9/5/7/1/0) or James Johnson (0/8/6/4/0/0), but don't get your hopes up.
Bucks over the Grizzlies: 121 – 103
Khris Middleton: 2/24/6/4/1/0 – Khris is an underrated fantasy basketball player much like Khris Davis is an underrated fantasy baseball player. Is it because fantasy owners can't find them when they do a search because of the K? I Khan't figure it out.
Giannis Antetokounmpo: 1/20/6/4/0/1 – You would think I could spell the Greek Freak's name by now, but nope, I still need to look it up. I would like to find out what the Bucks' record is when Giannis hits a three. I'm sure it's good, but I'm too lazy to look it up, I mean, I couldn't even do this recap the same night as the games.
Brandon Jennings: 3/16/8/12/0/0 – BJ is going to be very popular. Get your mind out of the gutter, I mean the basketball BJ. You should definitely pick him up if someone hasn't already, but this line may be his ceiling. You've been warned.
Eric Bledsoe: 2/14/6/5/2/0 – This is the first time in history that a man may be hurt by a BJ, but Bledsoe may be hurt by the basketball BJ. Bledsoe is still a strong fantasy point guard, don't be too worried.
Marc Gasol: 0/17/7/3/1/1 – The Grizzlies are in full-on tank mode and I would like to take a minute to tell Son that he wins, he was right. The Grizzlies didn't just lower Tyreke Evans' minutes in order to tank, they completely benched him with an "injury." Good Game Son, that's why you're the boss. Watch out for Gasol sitting a lot.
Dillon Brooks: 2/16/0/1/1/0 – THRAGNOF!
Ben McLemore: 3/16/3/2/0/1 – THRAGNOF!
Jarell Martin: 1/16/4/5/0/1 – This guy needs to be on fantasy teams. Now.
JaMychal Green: 0/11/7/1/2/0 – No blocks kind of sucks, but Green has been a very consistent fantasy center when healthy.
Thunder over the Kings: 106-101
Russell Westbrook: 2/17/10/11/0/0 – Russ messed around, what a shocker.
Carmelo Anthony: 5/21/6/0/1/1 – THRAGNOF!
Paul George: 4/21/6/5/0/0 – The Thunder will be scary in the playoffs and Thunder players will be scary on fantasy teams in the fantasy playoffs. George is having a great final season on the Thunder.
Corey Brewer: 1/16/6/1/2/1 – Corey should be owned at this point. He is getting over 30 minutes a night and is producing.
Steven Adams: 0/6/6/2/0/2 – Well, we have found Adams' floor.
Bogdan Bogdanovic: 3/19/8/3/0/0 – Majorly inconsistent, but too good to be on waivers. That is the definition of frustrating in fantasy.
Justin Jackson: 3/15/2/1/0/0 – Just wanted to put JJ in one recap this season and this might be my only chance.
De'Aaron Fox: 1/11/1/10/1/1 – Fox has now played in back-to-back games, so no worries about the injury. Guess we can drop Frank Mason now. Sad face.
Kosta Koufos: 0/6/10/1/0/0 – When Skal Labissiere is out, play Koufos. Easy. Skal may still be out Wednesday.
Garrett Temple: 3/15/7/1/2/1 – See my write-up on Justin Jackson.
Rockets over the Spurs: 109 – 93
James Harden: 2/28/6/6/0/0 – Houston dominated this game and Harden only needed to play 28 minutes. On a side note: I really think the Spurs may not even make the playoffs, wow.
Chris Paul: 2/18/3/9/1/0 – All this in just 22 minutes. The Rockets will be dangerous if they keep being able to rest Paul and Harden.
Trevor Ariza: 3/15/5/1/0/0 – THRAGNOF!
Clint Capela: 0/13/9/0/1/1 – 25 minutes. The starters were just not needed in this one.
Gerald Green: 4/14/9/0/1/1 – Performed even with Harden back, but a big reason was because Eric Gordon (0/1/1/2/0/0) was ice cold and this was a blow out. Grab Green if you need threes.
Rudy Gay: 1/13/5/0/0/0 – This was the best line on the Spurs, really. This is why I could see them not even making the playoffs. Are the Spurs better than the Jazz? Than the Pelicans? I don't think so.
Bryn Forbes: 1/14/2/3/1/0 – Yes, the second best line on the Spurs.
Derrick White: 4/14/4/1/0/1 – Yes, the third best fantasy line…from Derrick White. Uh-oh.
Davis Bertans: 3/11/3/1/1/0 – THRAGNOF! I would probably rather have Zach Collins.