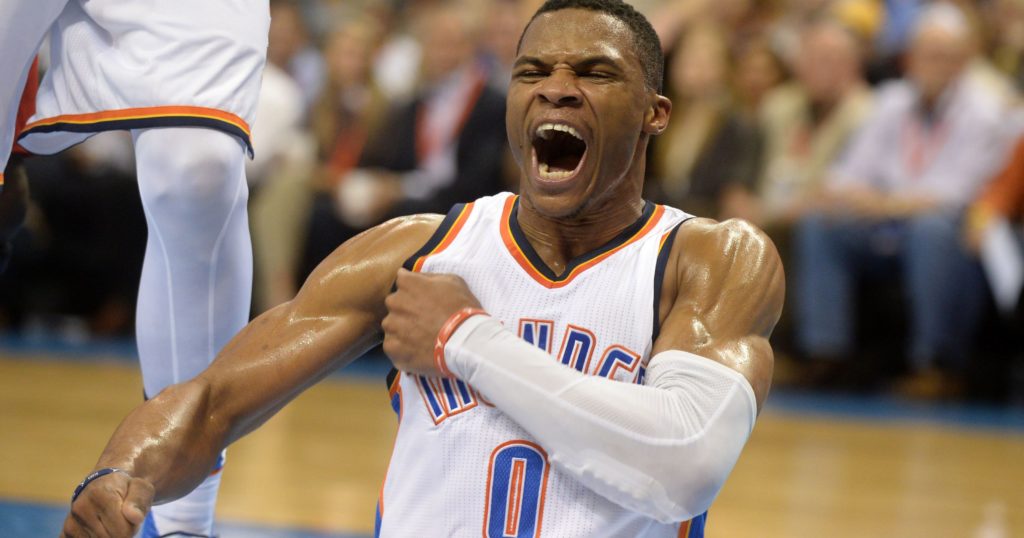 Half man, all amazing.  Or something like that. 49 points, 8 boards, 5 assists, and 2 steals.  Oh yeah, he also went 8-15 from deep.  He had 5 TOs, but I feel like we can forgive him with all of the extra 3s tonight.  The assists and boards have been off his triple double place, but man can this guy ball.
Jeff Teague – Absolutely slaughtered the depleted Nets backcourt with 21 points and 15 assists.  Throw in 9-13 shooting, and this tells you more about the bad defense than the good offense.
Myles Turner – Also dominated with a 25/15/0/1/5 line.  It's sweet, but expected.  Dude is a beast.
Paul George – Suprisingly only put up a shallow 26/1/3/3/0 line.  He's fine, and only played 30 mins.
Justin Hamilton – 16 points, 8 boards, a steal, a block, and 4 treys.  By far the best Nets player, but that's not saying much.
Kemba Walker – Put up a 32 spot on the Pistons, but it just wasn't enough.
Spencer Hawes – Had a rare outburst with 18 points, and a few treys.  I'm not reading much into it.
Tobias Harris – The bench is treating him well.  25 points, and 3 treys.  Not much else stat wise, but the percentages are sweet.
Reggie Jackson – 22/2/11/0/0.  A nice little double double.  Looks like he's coming around nicely.
Marcus Morris – Also had a dub dub with 20 points and 10 boards.
Shelvin Mack – 17 points on 7-9 shooting.  A nice little burst, but tough to buy into it.  He's worth owning while he's getting minutes though.
Rudy Gobert – 15 points, 16 boards, and 3 blocks.  He does what he do.
Kyle Lowry – A massive 33/6/5/3/0 line with only 2 turnovers.  Hard to beat that.
Jonas Valanciunas – 18 points 13 boards.  Nothing, but points and boards, but he does that pretty well.
Dennis Schroder – 23/7/4/1/0 but he had 4 TOs.  It's just hard to get excited about him.
Kent Bazemore – Only put up 2 points this game, but with Korver out of town, his value definitely goes up.
Tim Hardaway Jr. – 14 points, 6 boards, and 4 treys.  He gets a nice boost as well.
Jrue Holiday – Still can't seem to find his shooting rhythm.  18 points, and 5 assists on 5-13 shooting.  He did shoot 4-6 from deep though, so it's getting better.
Enes Kanter – 15 points, 13 boards – not bad in only 22 minutes.
Andre Roberson – 14 points, 9 boards, and 2 blocks.  A solid night, but the lines are a bit inconsistent.
Eric Gordon – Came off the bench for 22 points and 5 threes.  He's a fantastic scorer when healthy.  Those are the key words though.
Nene Hilario – 18/3/1/1/0.  He hit the game winning free throws, so there's that.
Devin Booker –  22/2/0/0/1. He had 3 treys, but he's pretty much a THRAGNOF play with bad TOs. (4 Tonight)
Eric Bledsoe – 27/0/7/1/0. Not his biggest line, but 9-16 isn't bad.  Meh.
Tyson Chandler – 3 points.  Oh yeah 18 boards too.  That's the only reason to own him.
Deron Williams – The old man put up a solid 20/4/6 tonight on 8-14.  Again, good when healthy.
Harrison Barnes – The young buck put up 18 points, 6 boards, a couple assists, a steal, and a block.  8-13 shooting capped off the solid performance.
Dirk Nowitzki – The older man put up 13 points on 5-14.  Blehhhh.  I don't want him anywhere.
Tony Parker – 21/3/9 on 10 of 11 shooting.  Crazy efficiency this game, but he's pretty much only ownable for the assists.
Pau Gasol – 17/9/4/0/3. It's a shame the playing time isn't consistent.  Oh yeah, He also made 7-9.  Hard to top that.
Lamarcus Aldridge – He's turned it around from his slow start lately.  28 points on 11-18 tonight.  Unfortunately the other stats weren't there in any quantity.
Nikola Jokic –   19/11/5/1/1. A sweet line with 8-10 shooting.  The man is a beast, but he's also clogging up the center position, unfortunately.
Darrell Arthur – Started tonight and put up 13 and 4.  Who can figure this big man rotation out…
That's it for today folks!  (I'm not staying up to recap the Lakers-Trailblazers game, so I'm afraid you'll have to check out those highlights yourself.)
Stay Razzy!