Remember Carlos Boozer? He of the lead feet on defense, yelling "HEY!" every time he missed a shot in hopes of getting a foul call? At least that's my recollection of him during his Bulls years. He actually did play decent enough team defense to not hurt the team much while putting up 15 and 10 many nights with his no-jump fade-away rainbows. Anyway, sometime around the end of his Bulls tenure, I remember finding out that this old man on the decline was younger than me. So, I guess I couldn't really call these NBA players that were considering retirement "old" any longer. Over the years, I've even embraced these guys and found that veteran players can be fantasy steals because of our ageist tendencies. And if you play in a dynasty league, they come even cheaper, of course.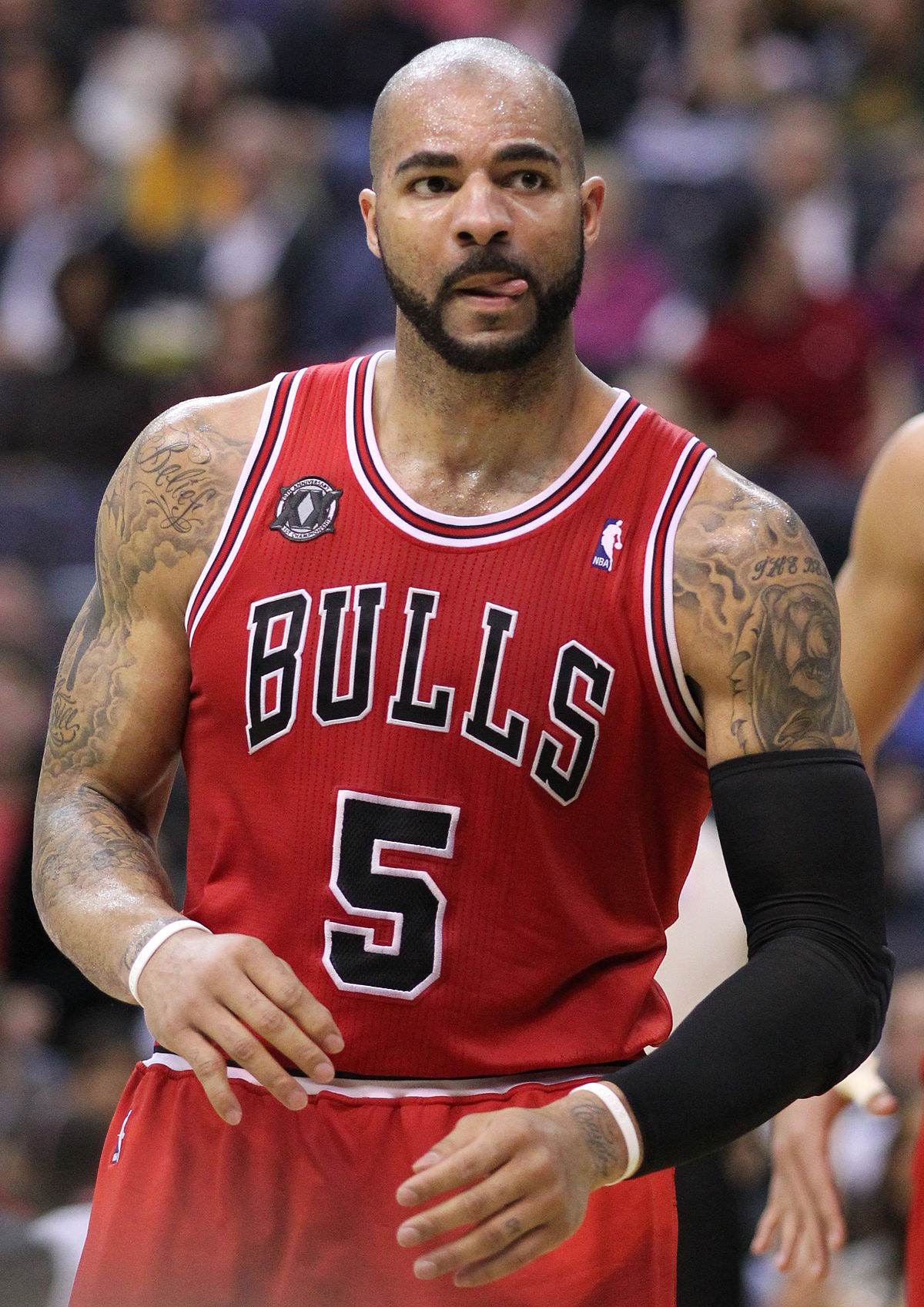 Of course it's fun to pick, trade for, and add young players right before they break out. We all want upside. But I think a lot of us don't realize that older, boring players do have upside because of their depressed draft values. Let's see how the NBA's advanced age players are doing on the ESPN Player Rater compared to their Average Draft Position. I do this to hopefully show that you can win with old reliable dudes, even if they're on the decline. You can even take this information to help you figure out who to target in trades for young, upsidey players.
Want the best tools and projections to help dominate your league? Check out the Stocktonator, the byproduct of Rudy and machine making love. Click HERE for a FREE 3-day trial.
Players age 30 and older (drafted in the top 200):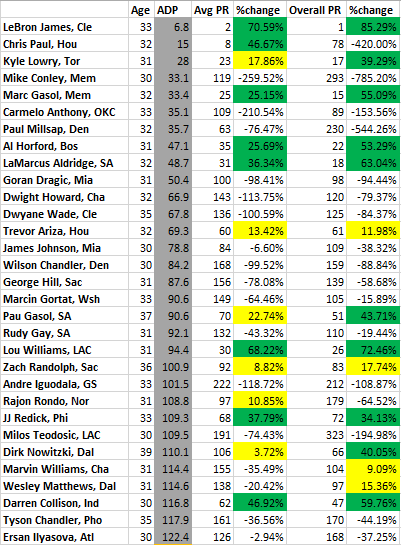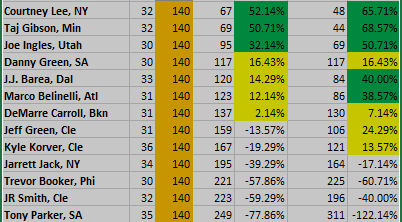 Green means greater than a 25% increase in ranking. Yellow means between 0 and 25%. Each of those 140s actually means picked somewhere between 140 and 200, so each of those players should have better percentage jumps. Also, Dwight is having an excellent season for free-throw-punting teams. There are a few others, like David West, Thabo Sefolosha, and Wayne Ellington, that were drafted outside the top 200 and are currently in the top 150.
Sure, there's a lot of noise in those rankings. Older players might be more likely to get injured and/or lose relevance all together. Many of these players are in different situations, so there might be unexpected growing pains. Also, even though it feels like a guy drafted at #100 and performing at #105 is underperforming, there are always players that leap into the top 100, for example, so that's about what you'd hope for from a consistent, low ceiling player.
Overall, the per-game and total value of more than half of these drafted players has exceeded their draft position. Not an overwhelming majority, of course, but not bad for these old-timers. Give them a chance to provide some veteran leadership on your squad.
This week's classic fantasy line:
This story is of the opposite of buying low on an old guy, but it's a fond memory. I started playing fantasy bball in 2000. Michael Jordan unretired for the second time the next summer, and, of course, in my league of Bulls fans, he went first overall. Because, how many chances are you going to have to get the GOAT on your fantasy team? The following season, his last, in which he turned 40:
82 games/37 mpg/45% FG/82% FT/20.0 ppg/.2 3pg/6.1 rpg/3.8 apg/1.5 spg/.5 bpg/2.1 tpg