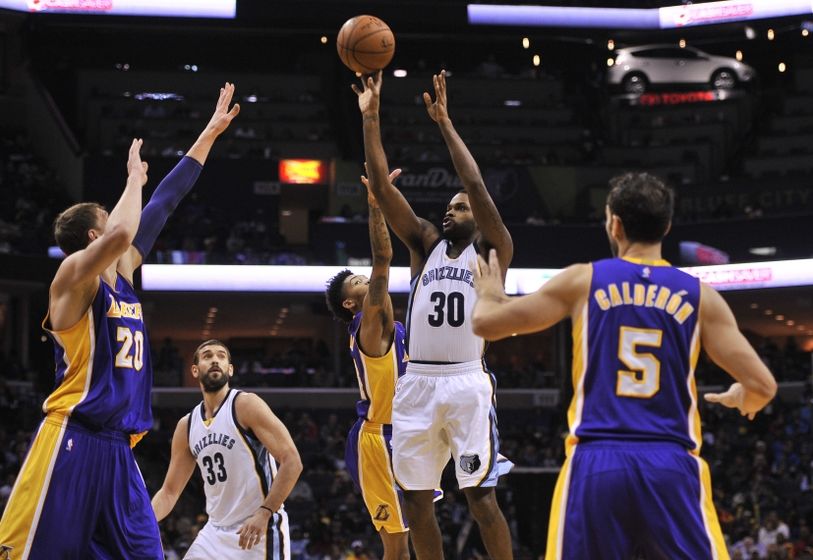 I was incredibly bummed out about not getting a hold of Troy Daniels in the REL.  He's purely a thragnof option, but he's been one of my favorite players for the last few years.  Troy is the type of guy that you can bring off the bench while playing NBA 2k, and after you splash 5 threes with him, your opponent won't know what hit them.  Unfortunately, the secret is now out.  Troy Daniels can shoot the lights out.  Since he isn't available in that many leagues at this point, I won't spend any time outside of this section on him, but if he is floating around on your wire, then grab him if you need a whole lot of treys and points.  Enough about my pet players, let's get into it!
Swishers – These are the guys that should be picked up if you need 3s.  They're all definite buys in the short term, but they could have upside for minutes down the road as well.  I'm gonna make this easy and list them from most upside to least.
Troy Daniels 
Patrick Patterson – He is getting better at rebounding, so he may leave the Thragnof section soon!
Allen Crabbe
Marco Belinelli
The only player on that list owned in over 40% of leagues is Troy Daniels, the rest are closer to that 20% range.  I may just add this list in every column, so I don't have to repeat guys that are just streamers to win a category or two.
Dishers – These are the guys who are gonna help out your assists.  In my opinion, this is one of the harder categories to get off the wire.
Sergio Rodriguez – 36% – Over 7 assists per, in his last 5 games.  Definitely a must own if you need some PG help.
Matthew Dellavedova – 37% – Nothing fancy, but chips in a couple 3s, a steal, and 5-7 assists.  No upside, but very little downside.
Andrew Harrison – 30% – Muh boy!  2 treys, 5 assists, and over a steal per game.  He's getting the minutes, and he's going to keep producing til Mike Conley returns.  Definitely worth a look!
Patty Mills – 41% – Almost put him under Thragnof, but he's having a career contract year.  11/2/4/0.6/0 over the past week, and it's been a down week for him.  He gets you 2 treys, 49% from the field, and 94% at the line.  Plus, his TOs hover around 1.  Low end production, but all of the percentages are great!  He's a must own this year in all standard leagues.
Wade Baldwin IV – Possibly, but I like Andrew Harrison a lot more.
*Deep League Special*
Malcolm Brogdon – SG – 2% – About 4 assists per game this week, and he's creeping his way up into 14 team relevance.  He has solid all around upside.  Keep an eye on him!
Boards and Blocks
Lucas Nogueira – 10% – He's back on the radar.  2 blocks per game this past week, with 7 boards, and Jonas Valanciunas continues to struggle.
JaMychal Green – 43% – Not a huge blocks guy, but he's getting massive minutes, and he posted 15 and 13 boards in the last two games.  He's been must-own for a while.
Jon Leuer and John Henson – both over 40% owned, and both are must-owns at this point.  Even with the risks.
Thieves – Self explanatory
Tony Allen – He's back!  Lower end production, but he should be a consistent source of boards and steals while healthy.
Thabo Sefolosha – 87th overall on the season, he has put up a sneaky good line.  Good percentages, over 2 steals per game, some boards, some assists, a trey, and low TO rate.  He's a must own in my opinion.  Thabo is the perfect kind of guy to have as a back end producer, who will help you in multiple categories.
That's all for today!  Let me know if you prefer this format.  I can actually use this format to keep a running list of players that are still relevant, even if I have already recommended them in the past.  Then players would be removed if their ownership tops 50% or if they just become unusable.  I'm kind of leaning that way, but I'd like to hear your thoughts!
Have a Razztastical day everyone!